Design direction is evolving in an almost understated way, Max Wilker, style director, media and magazine major Dotdash Meredith advised recently.
Consumers are driving the change as they become more confident in addressing their own lifestyle needs, including the arrangement of their home environments, Wilker observed.
Design remains dynamic, but it continues to heave closely to a specific range of trends during the past decade or so. The last major shakeup in home fashion, at least as it affected the bulk of the marketplace between the highest and lowest end, was mid-century modern, a style that got a big boost from the television show "Mad Men." For at least a decade, major trends have intertwined and drove subtle changes in each other and if the mid-century modern influence has faded, it remains a factor in the current expression of the emergent design champions.
Influences from without the style dynamic remain critical, and nature remains important in the general and sometimes specific sense, as in the proliferation of houseplants. Then, outdoor recreation, after a period where the yard, deck or balcony might have been the main space consumers occupied outside the home, is influencing how consumers think about their indoor living conditions.
"What's outside is what's coming in," Wilker said.
A large proportion of consumers are searching the Internet and Dotdash Meredith magazines, Wilker said, for information on natural materials information, including real wood and marble, they can incorporate into the home. The searches have built up to three times the pre-COVID number.
Luxury is becoming more prominent, too. The Luxe or Glam trend was gaining pre-COVID, but today, Wilker said, people are looking to use more velvet, gold and crystal. Glamorous finishes complement the glam fabrics for those embracing luxury.
It might not be surprising that, in his Inspired Home Show Innovation Theater presentation "Essential Elements: Design, Decor and Consumer Insights for 2022," Wilker reported that Meredith research indicates 60% of women said they planned to make home decor improvements, and 44% were considering remodeling projects in the months ahead. The focus is on rooms in which they spend the most time, including the living room, family room, master bedroom, kitchen, bathroom and outdoor spaces.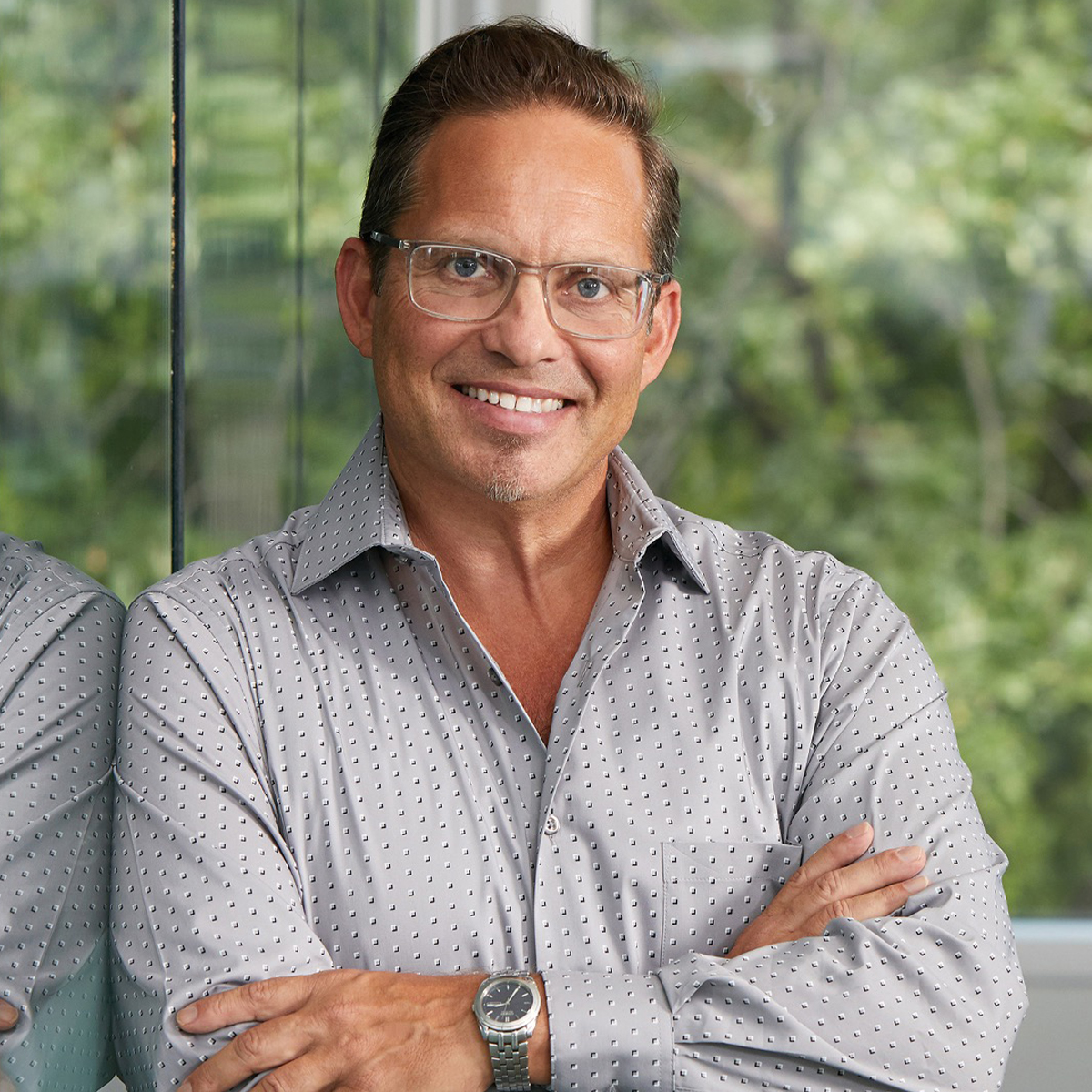 In some cases, it's significant remodeling, which tends to have consequences. In the research, just more than 20% of consumers said they were considering a change to their flooring, Wilker pointed out that it is rare for anyone to do a flooring project and nothing else to the home. For the most part, a flooring project begins a "spillover effect," he said, that can include decor, appliances and fixtures.
He emphasized that living room refreshes remain popular. In the pandemic, folks spending more time doing more in the living room had little choice but to think about its condition.
Once that might have prompted more formal redecoration, given the living room's basis for entertaining guests. In the pandemic, though, the living room became an area where the people populating the home could spend time together chatting and engaging in activities. So, Wilker said, consumers started rearranging the living room space to make it more comfortable and casual.
In turning to bathrooms, consumers are making improvements, especially to accents and incidentals such as towels and mirrors, to make them more decorative and relaxing: spa-like, according to Wilker. Kitchens are moving away from white on white to include soft contrasts, such as gentle greens and the occasional pop of color in deeper shades, such as navy blue.
In General
Several general themes are influencing how consumers today are thinking about home-related purchases. In terms of color, neutrals are the starting point for whatever happens next. Overall bright, sanitary white is giving way to creamy whites, beiges and grays; and unique blends of those bases tones, Wilker says.
Gray has hung on as central to color trends for a remarkable 14 years, he observed, but change is coming gradually.
"Our research shows people still have gray as their number one choice but it is no longer way ahead of the pack as we're seeing the browns and other colors coming up," Wilker said. "So gray is losing its footing in the marketplace."
People are pairing gray with beige, cream and tan, and all of those non-white neutrals can go with blacks, greens and blues.
Greige, the tone between gray and beige, is indicative of a change in color combinations, Wilker said.
"We're seeing the modern gray tones mixing with the warm tones together," he said. "You're seeing black, gray, tan and green all together on a pillow. Before, you really wouldn't see browns on the same product as grays. The grays and blacks and whites always had their own channel then you had your beiges and your browns on another channel."
Beyond that, blues are standouts, with their beach associations. Blues from navy to seagrass not only have a happy aura but, in their various tones, can match just about any color, Wilker said.
Greens derive their attraction from nature and the fondness for it. Just as nature layers its greens, Wilker pointed out, product developers have seen the advantage of doing the same in products including those in the tabletop category.
Taken a step further, the mix of greens and blues, as in floral prints, has emerged more prominently.
Even black and white isn't black and white anymore, but black and bone, a tone that provides less of an utter contrast and has become more popular everywhere from furniture to dinnerware, Wilker said.
Gold and brass, but subtly antiqued, buffed and otherwise finished, alone and mixed will influence design going forward.
Appliance Application
On the appliance front, Wilker pointed to an air purifier/mister he saw at The Inspired Home Show, in an organic wood instead of plastic white or black.
"It could actually sit out and look like a decor piece," he said. "It was a beautiful wood in a natural shape."
A trend that is developing is for a duality of frequent-use products expected to sit out in the open purchased as hard-working, decor pieces
The trend is true for large and small appliances and large, Wilker said.
"We're looking at products that can sit out, and they have to have a purpose, but they could sit out amongst the décor," he said. "How can it be designed to look pretty and part of the home? In the kitchen, the other trend is, for some people who don't want to buy all new appliances to sit out, we're seeing more second kitchens. You may have the pantry room. Or the bigger luxury homes may have their big pretty kitchen but all the work is done behind in the second kitchen."
With all the various dynamics moving the marketplace, Wilker summarized developments under four defined design trends: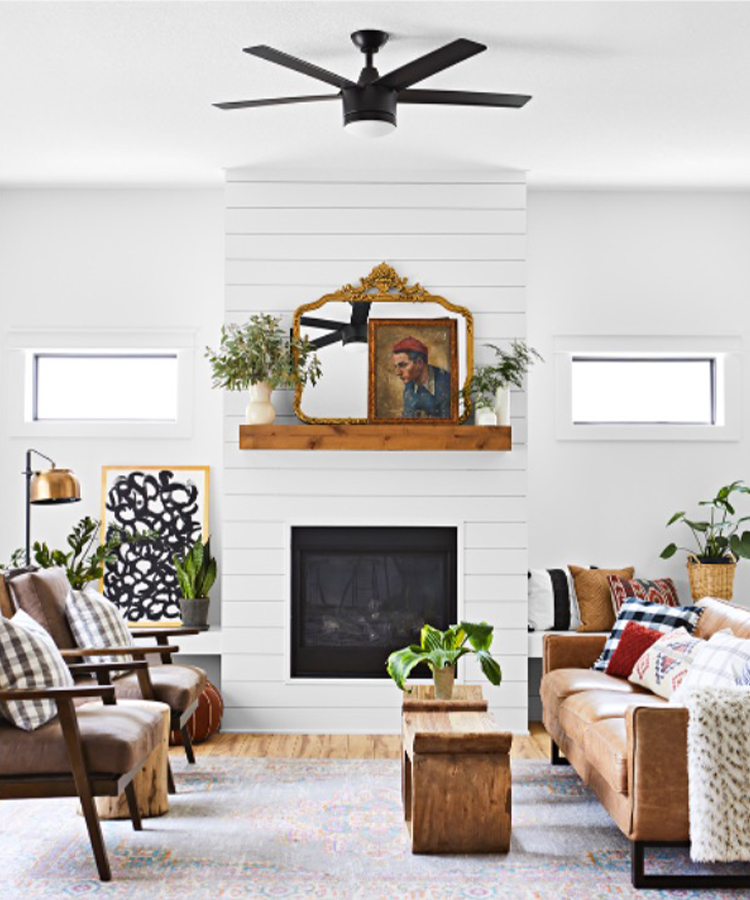 Refined Farmhouse
"Farmhouse keeps evolving. We've had industrial farmhouse, we've had modern farmhouse, we've had chicken farmhouse, we've had a variety of other farmhouses, but today we called it the Refined Farmhouse," Wilker said.
Refined Farmhouse combines modern clean lines with hints of the industrial in elements such as lighting. Light and medium-toned woods, shiplap walls, apron-front sinks and shaker cabinets can contribute to the look, as can neutral colors in high contrast tones, with black accents and occasional pops of color such as a towel or other product that remains visible and, so becomes part of the overall room effect. Plants can bring in a calming, natural touch.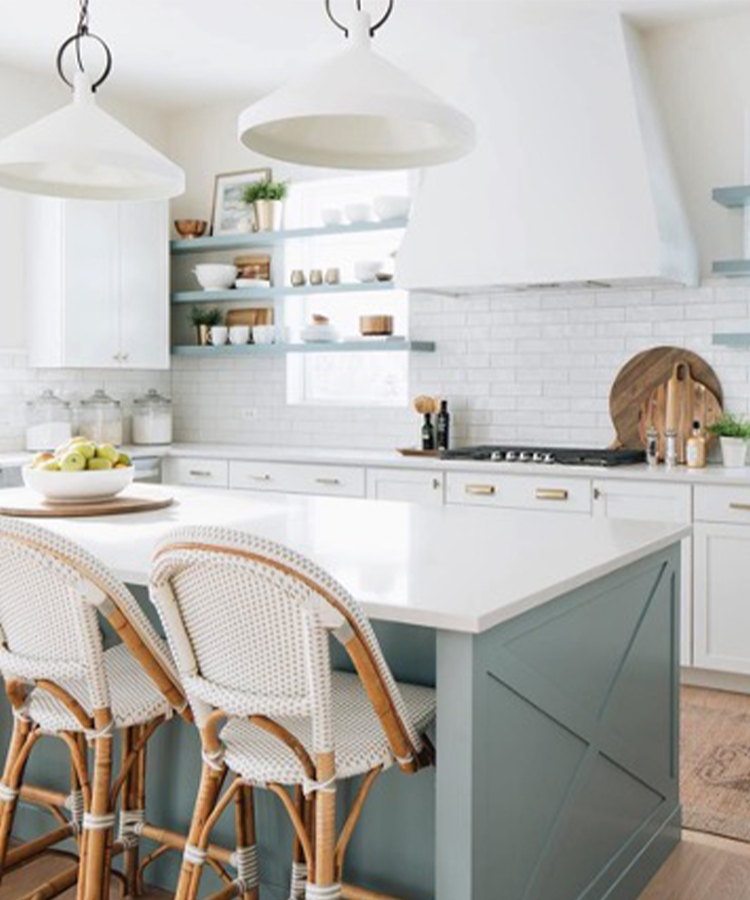 Coastal Casual
"Coastal casual," Wilker said. "This is one of the biggest trends we are seeing right now. It was really starting last year. Everyone wants casual, casual, casual, and they're bringing in that nod of coastal."
The nautical motifs of a few years ago, such as mermaids, have become rarer, while the use of color and texture has become more important. Sandy tans, water blues and creamy white colors create a palette for the style accented with navy, yellow and coral pink. Light, bleached and white-washed woods are prevalent as are natural textures such as rattan and jute. Those textures apply to rugs in tans, blues and shades of white. Fabrics are touchable cotton, linen and boucle, and deep-seated furniture encourages relaxation.
Accents bringing in navy, yellow and pink pops of colors can occur anywhere, including kitchen counters where appliances might provide an enrichment.
White on white kitchens isn't as popular, as color slips in to bring a little more personality to the space. White is still important, Wilker said. Yet, a watery blue kitchen island, natural wood charcuterie board or rattan chairs can ring up a more diverse space. Appliances also are an element where subtle color variations that maintain the casual feel come in. The application of more color in the kitchen isn't limited to coastal casual design, but it is one style where the application of tonality enhances the vibe by rattling it.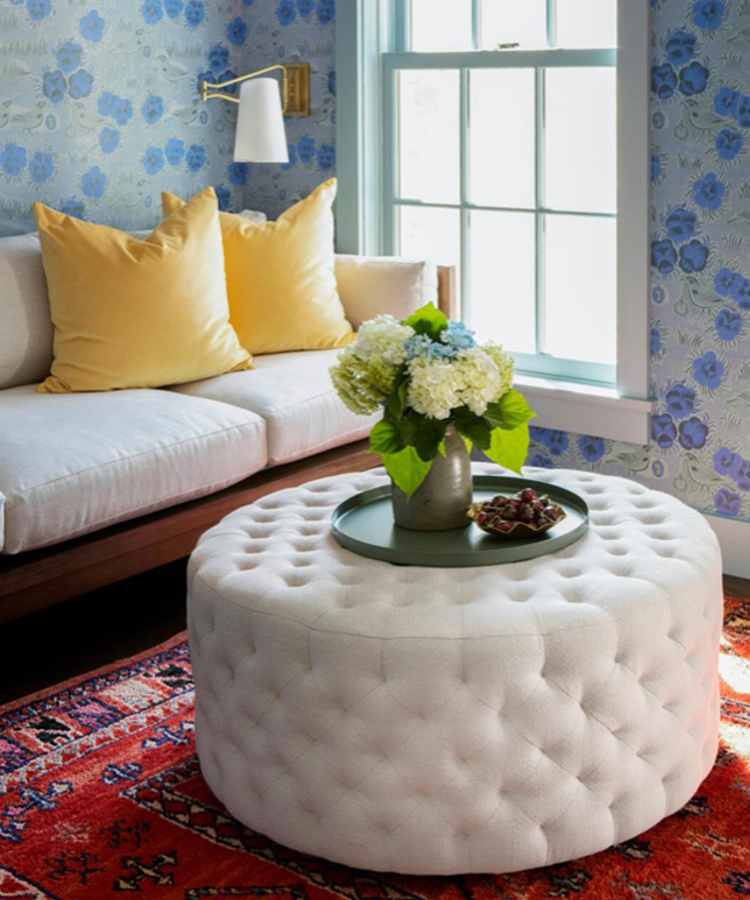 New Traditional
"Traditional has always been a lifestyle but now there is a New Traditional," Wilker said. "It's really mixing your old pieces with your new spaces to create a space you love and you want to live in."
Colors include deep rich green, blue, purple and burgundy balanced by softer and more neutral tones. Furniture has classic lines and minimal ornamentation in a look that also features a mix of wood stains, layered fabrics including velvet and textiles with embroidered details, and bold and brass lighting.
So, a room can mix a large creamy ottoman with wallpaper featuring pops of blue. A simple side table can serve a large comfortable even old-time wingback velvet chair in deep happy green or blue. Wilker said it's about bringing back something old but fresher.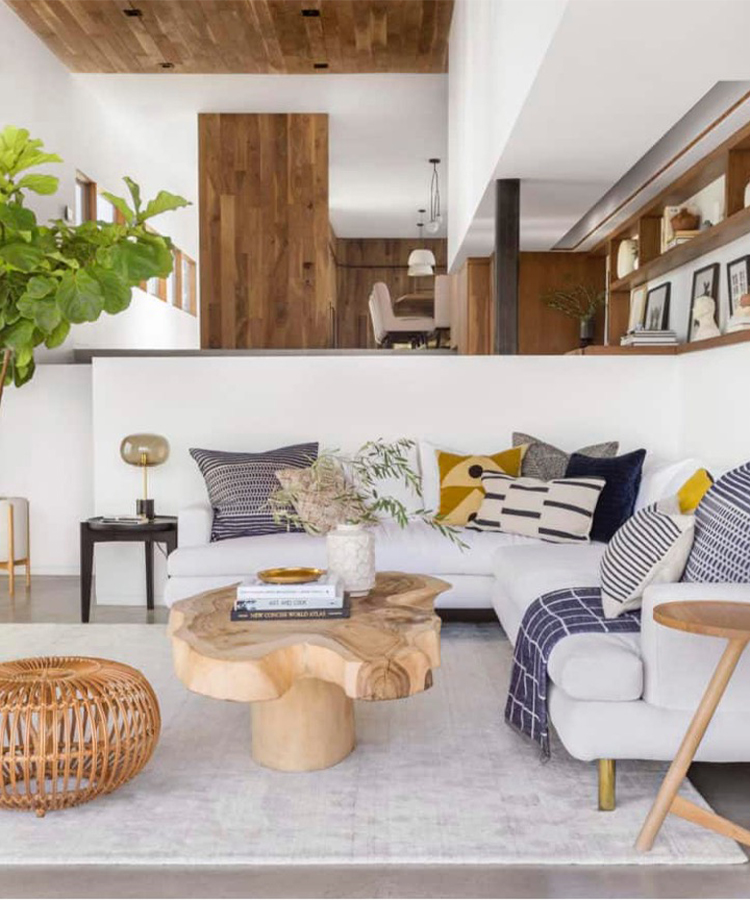 Organic Modern
"Organic Modern, it's really that simplicity of modern and nature coming together," Wilker said, "and plants are really so important with this. So many of these trends are bringing the outside in and this one really needs that touch of color and life to the room."
In this case, white, cream, beige and soft gray find their complement in brown rather than black leather in such applications as natural and light wood furniture and accessories, as well as rattan and bamboo pieces and accessories. Greens and blues are important access tones. Also, in accessories, handmade and reclaimed variations, as well as organic forms, are important elements. Texture in rugs, pillows, bedding and curtain panels is part and parcel of the style.