The Summer Atlanta Market will showcase a wide array of home goods, including gourmet housewares, tableware, textiles and décor. The show at AmericasMart runs from July 11-17 for showrooms and July 12-16 for temporaries.
Scroll through the slideshow below for a preview of new products that will be on display in Atlanta.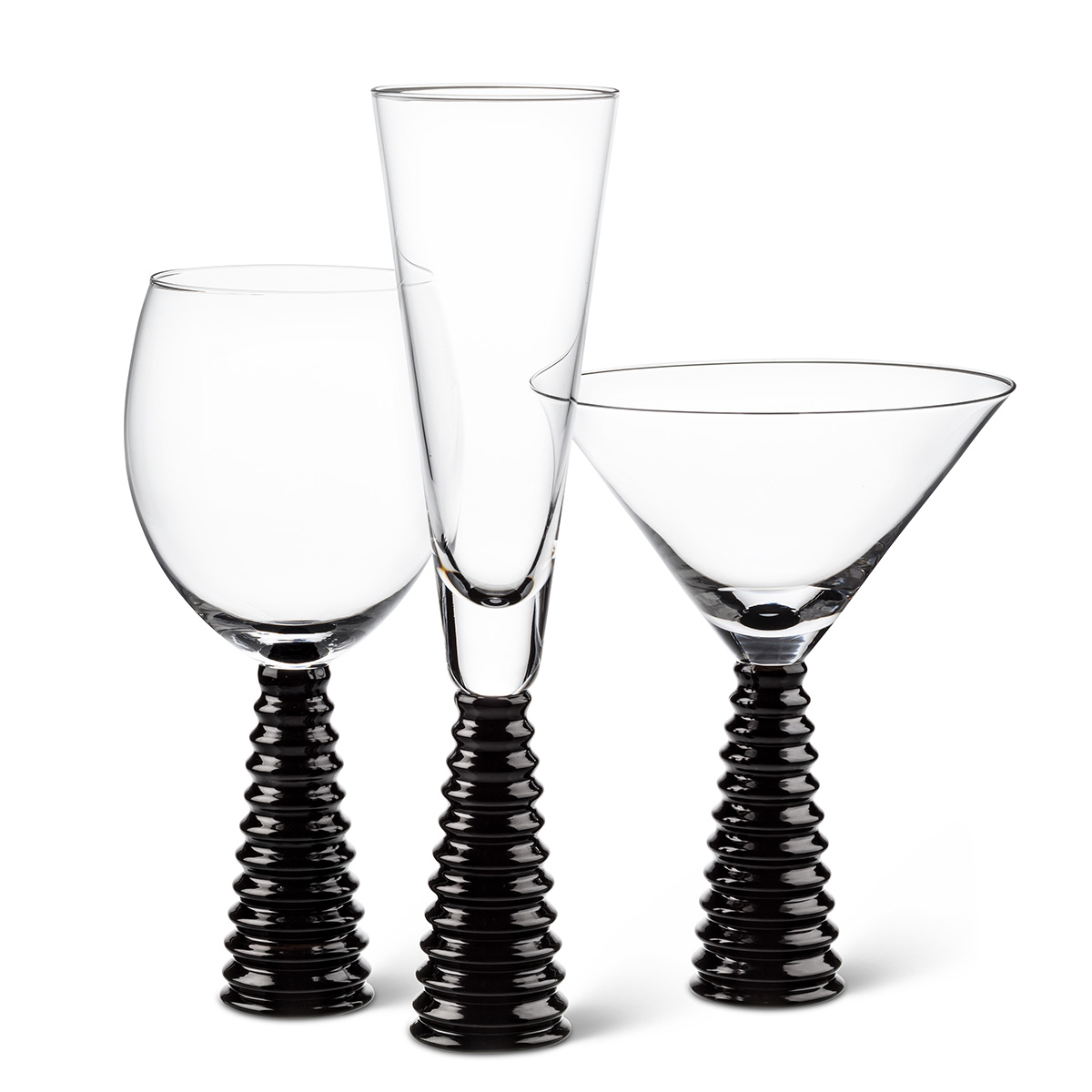 Abbott Giftware Stack Base Glassware
Made for entertaining, the Stack Base Flute, Goblet and Martini Glasses are crafted out of glass with a geometric shape and black and clear handle. The glasses are hand wash only.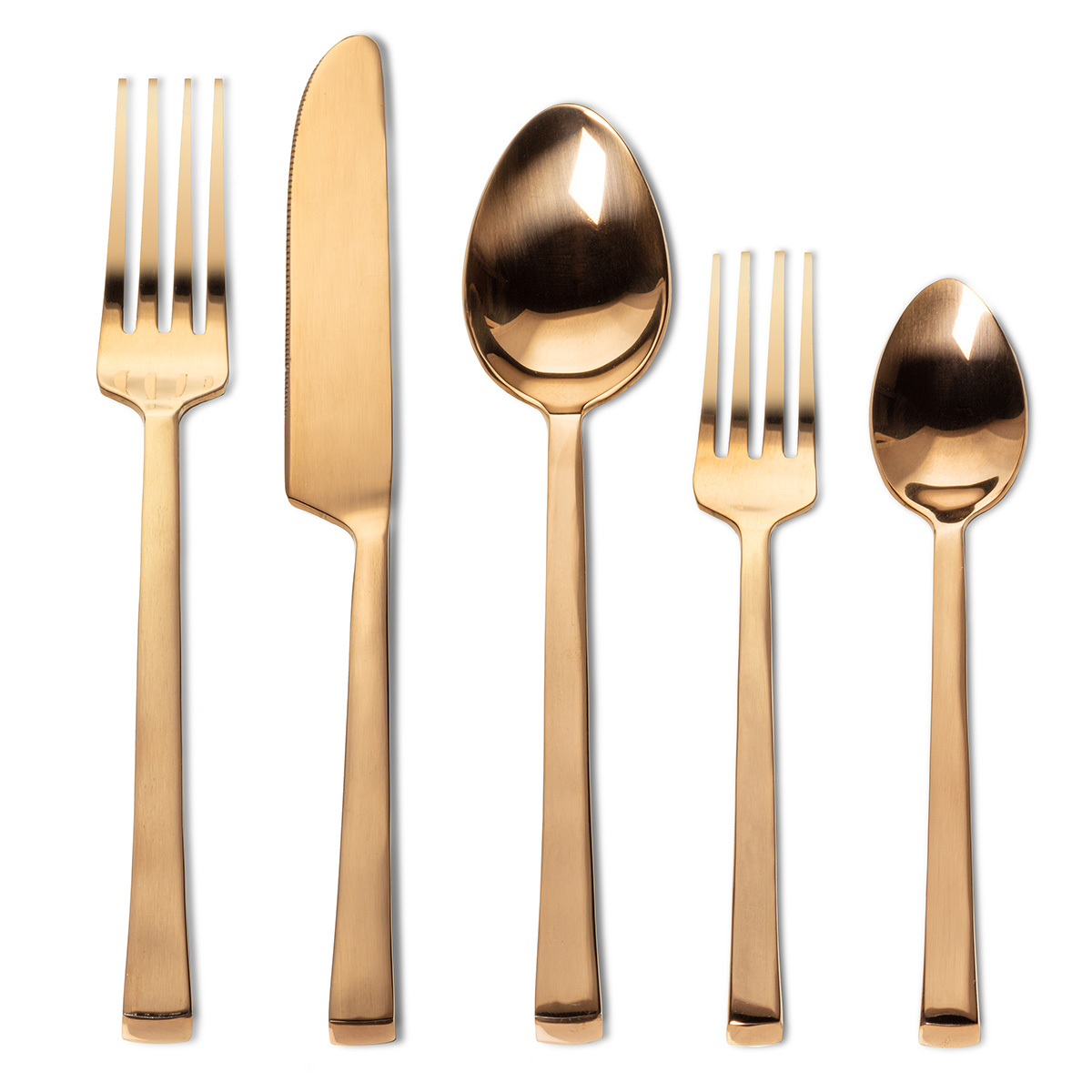 Abbott Giftware Square Handle Flatware
Made in a contemporary style, the square handled flatware is crafted out of stainless steel with a copper-colored PVD vapor finish for consistency and durability. The flat, matte color of the fork's handle is complemented by the shiny finish on its head and tines. The flatware is dishwasher safe.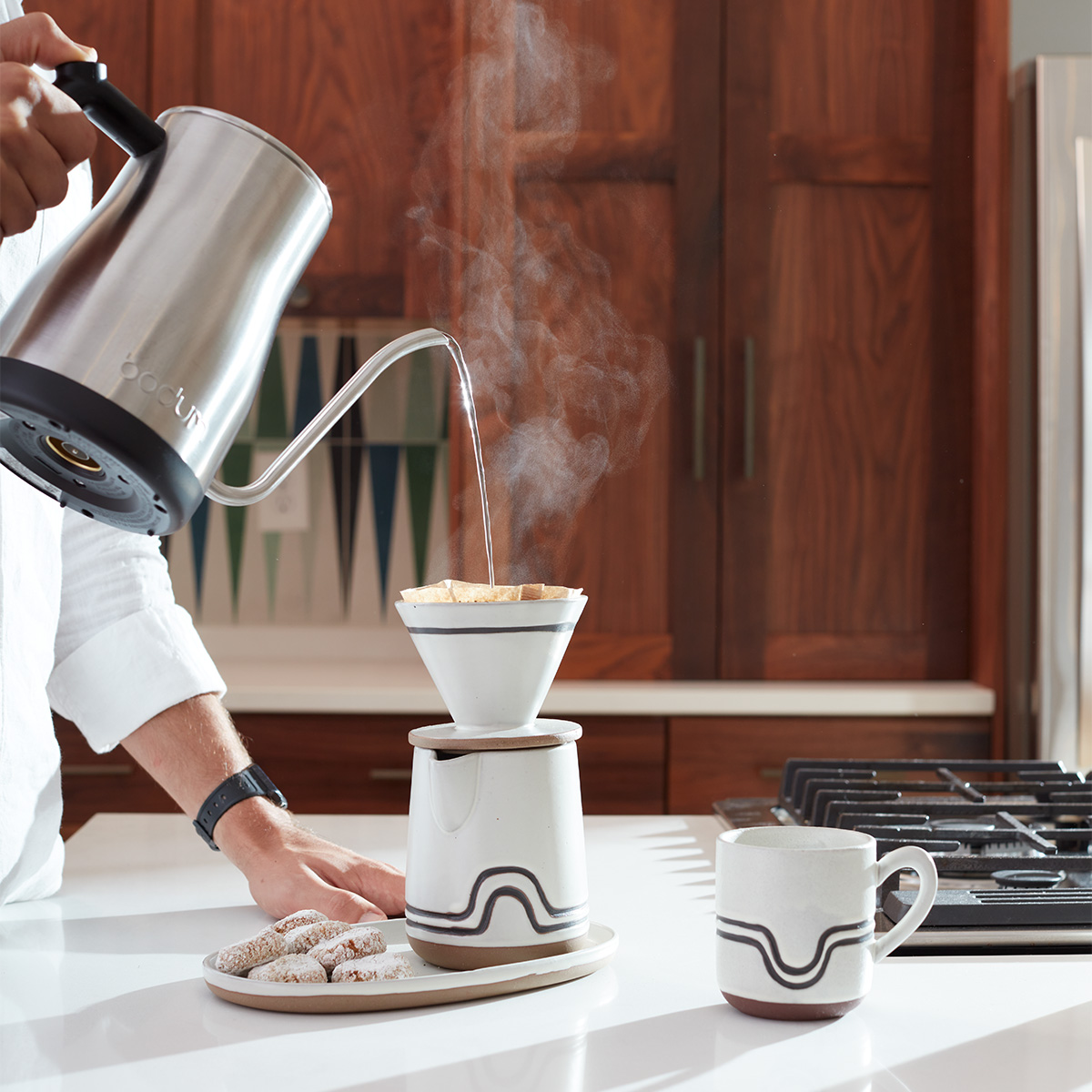 Accent Décor Lanquin Pour Over Coffee Dripper
The V-60 style Lanquin Pour Over Coffee Dripper makes an evenly-brewed cup of coffee by adding a cone-shaped paper filter and coffee beans ground for pour-overs. The hand-painted dark terracotta is made by a mold and pairs with other items in the Lanquin collection: a pitcher, mug, tray, pots and vase.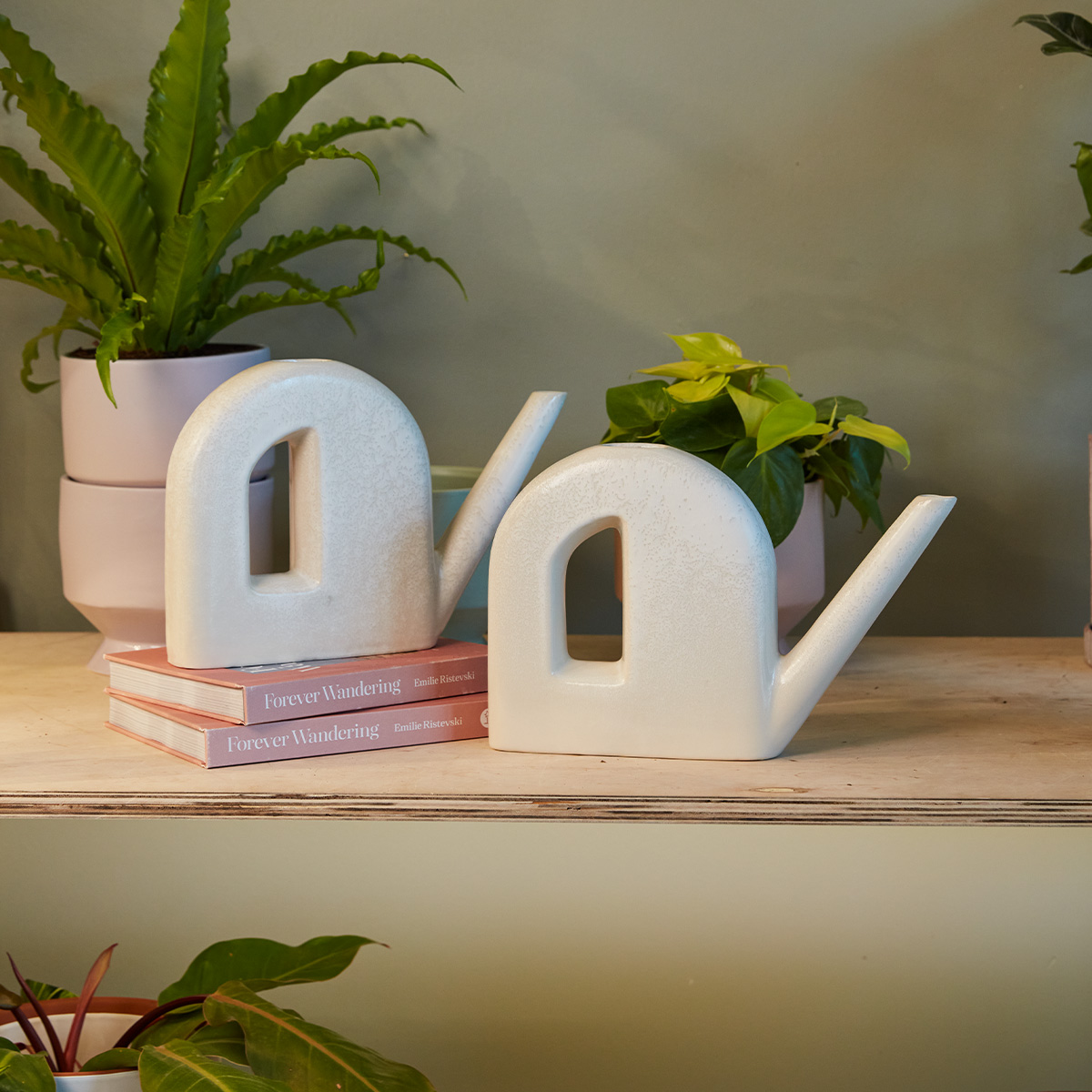 Accent Décor Belair Can
The clay cut-out Bel Air Watering Can is designed to be both functional for watering plants or decorative when filled with dried or fresh stems as a bud vase. The chunky handle is made to be comfortable to hold, while a smooth, reactive glaze and modern shape give the piece an elevated, sculptural quality,  The Belair Can has an MSRP of $15.95.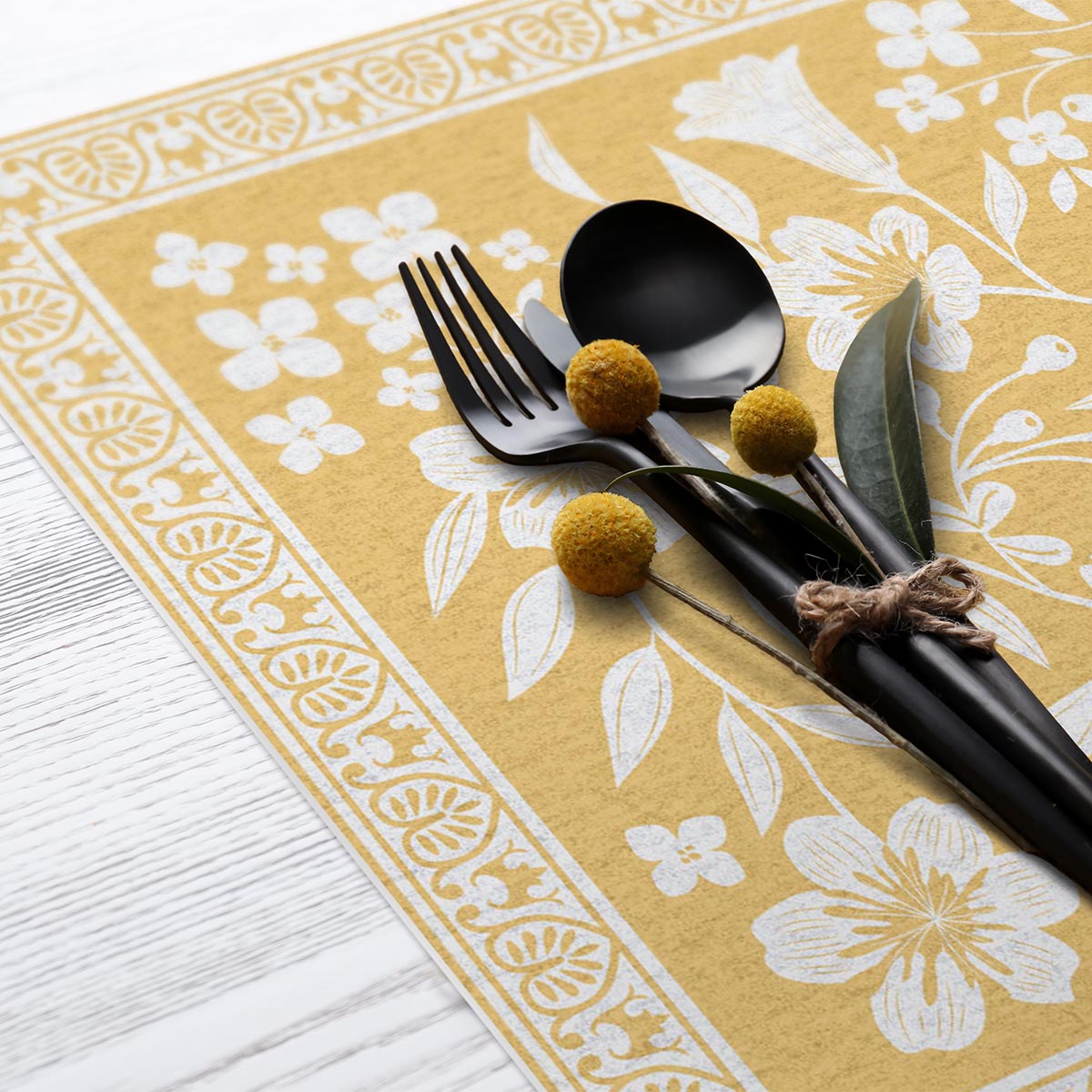 Adama Vinyl Placemats
Adama's vinyl placemats are made for the modern home bringing beauty and style together with functionality and ease of use. They come in a wide variety of designs and are stain-resistant and easy to clean.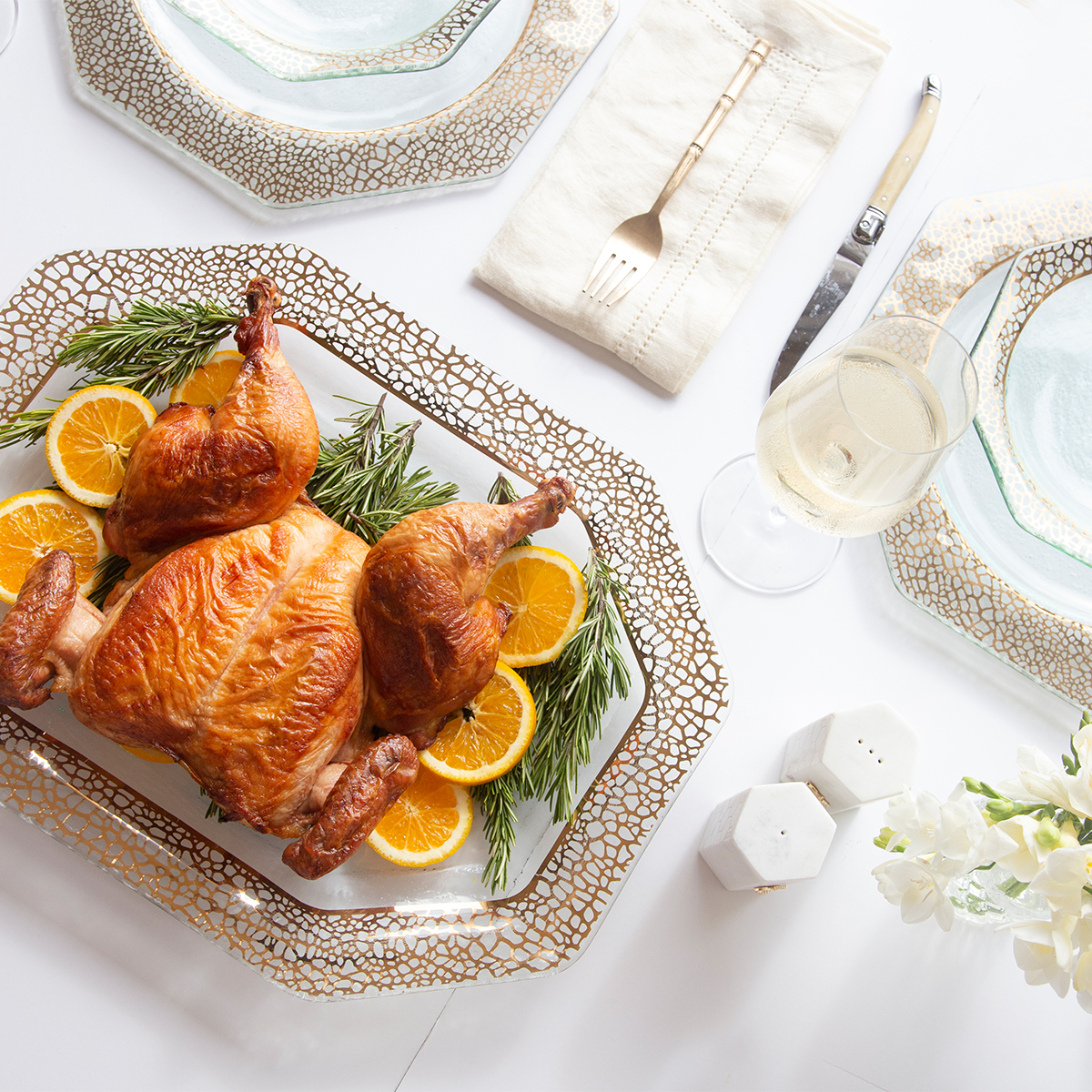 Annieglass Mosaic Collection
Annieglass is celebrating its 40th anniversary with a new Fall 2023 Mosaic Collection. The mosaic design features an intricate, elegant border pattern in 24K gold inspired by tesserae, the tiny mosaic squares used in Italian medieval mosaics. The Mosaic collection's introductions include a 13" octagonal charger and 8¾" deep bowl, a large 14¾" serving bowl and large and small steak platters. The collection will be available for purchase at fine retailers nationwide, online at annieglass.com, and at the Annieglass studio and company store in Watsonville beginning in Fall 2023. Prices range from $95-$368.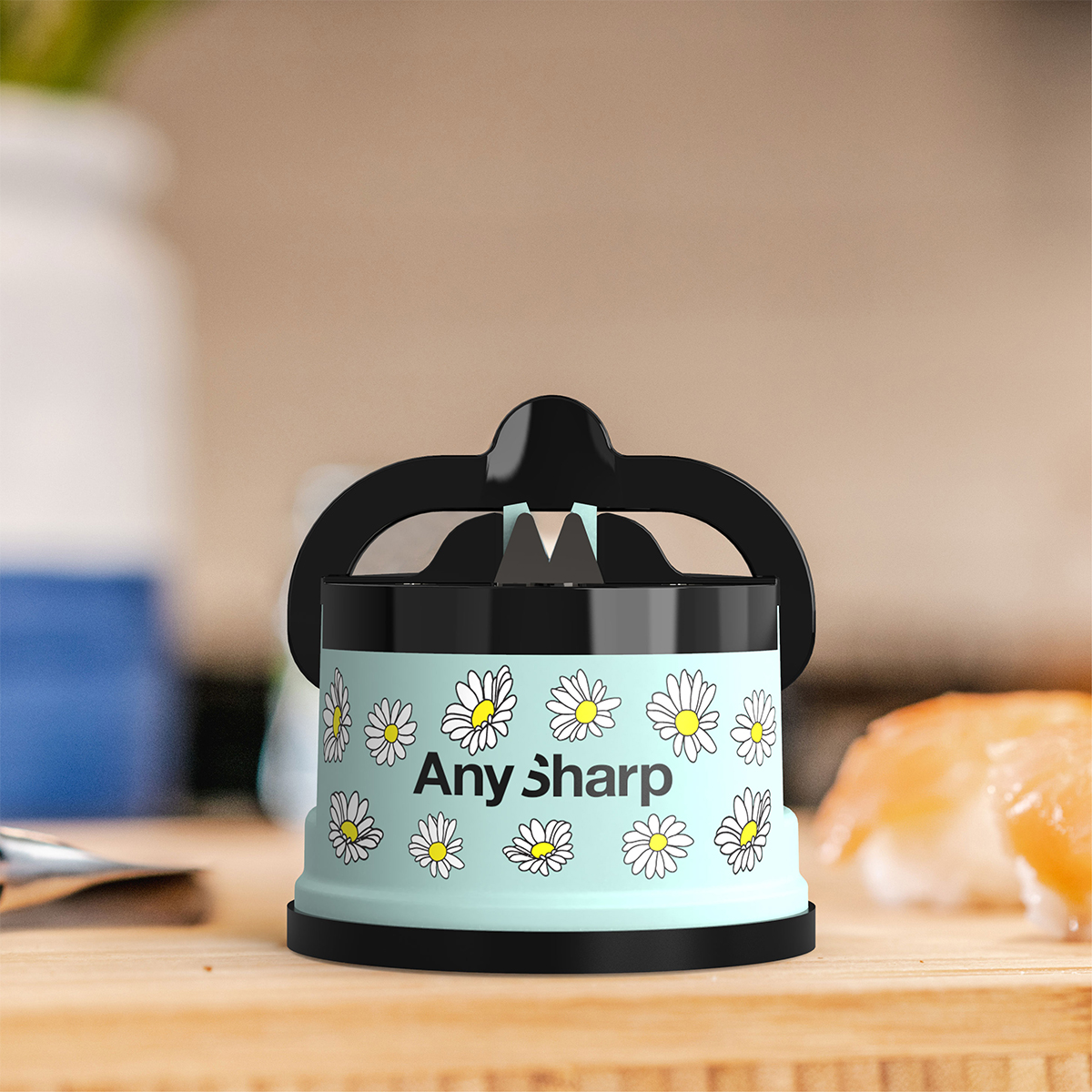 Aydya Limited AnySharp X-Blade Knife Sharpener
The knife sharpener has AnySharp Hands-Free Safety technology with a self-adjusting angle and stroke pressure for all knives from 12.5" to 22.5", covering hardened professional knives as well as standard steel knives.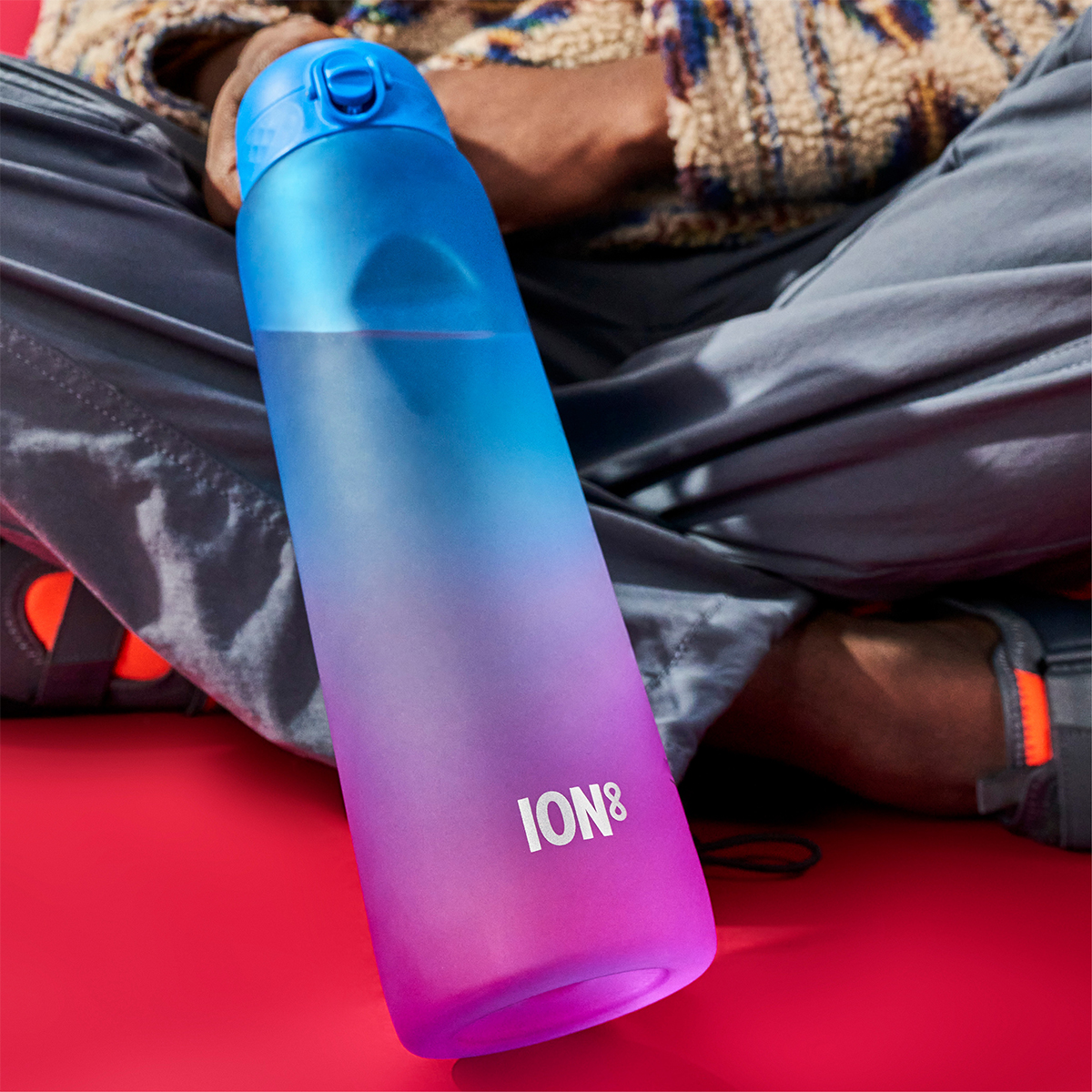 Aydya Limited ION8 Leak-Proof Sports Water Bottle
The lightweight, impact-resistant sports bottles are made from BPA-free, food-grade Recyclon, a carbon-neutral polymer that's odor-resistant and easy to clean.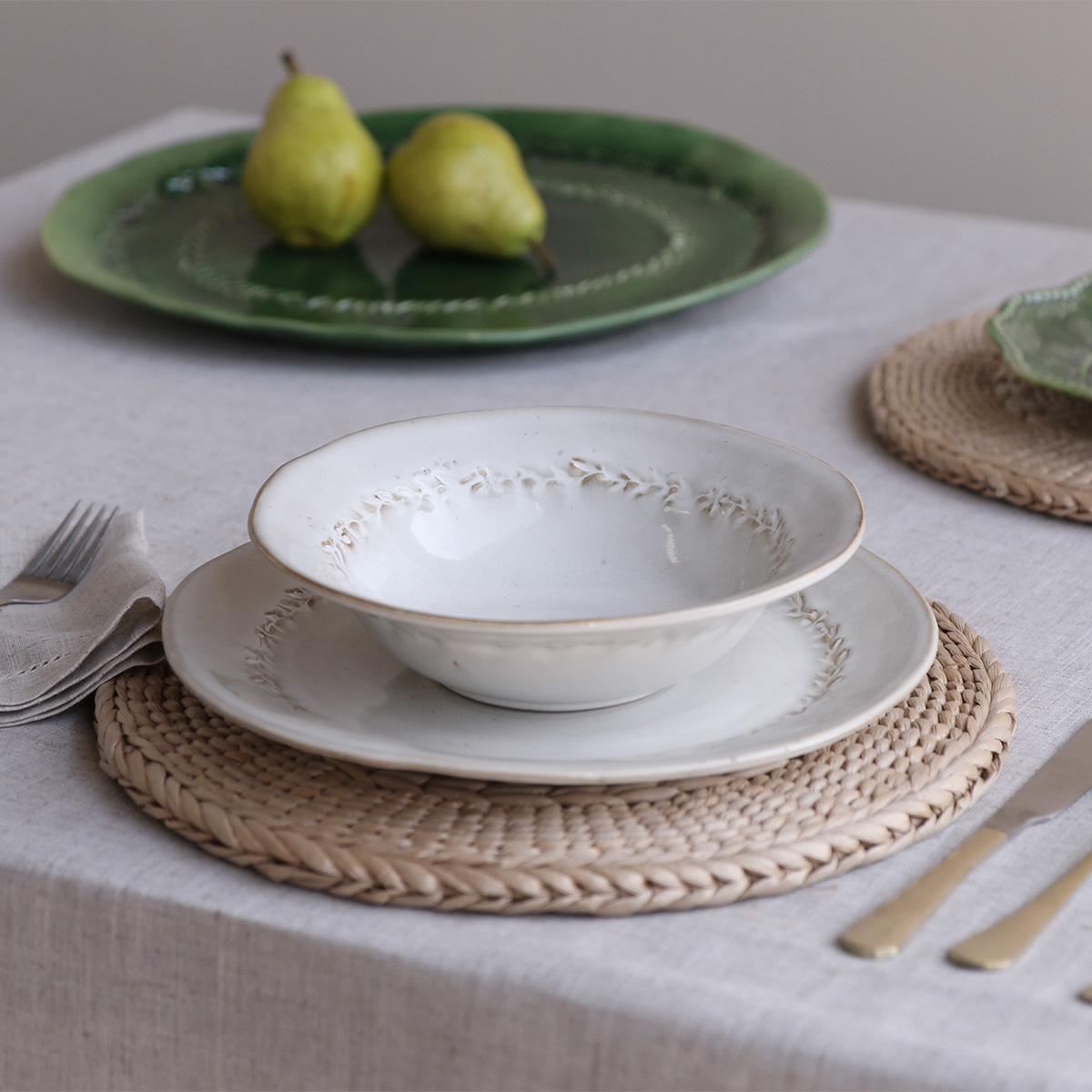 Beatriz Ball Glazed Stoneware
The Valentina collection includes items in off-white and in green with an incised laurel wreath pattern around the edges. Chiara has off-white items in an organic shape. The colors and shapes are intended to mix and match. Serving items include a rectangular platter, a large bowl and a dip bowl in off-white as well as a side plate in green with scalloped edges. The dinnerware can be combined and layered with the linens, placemats and other tableware items of the brand.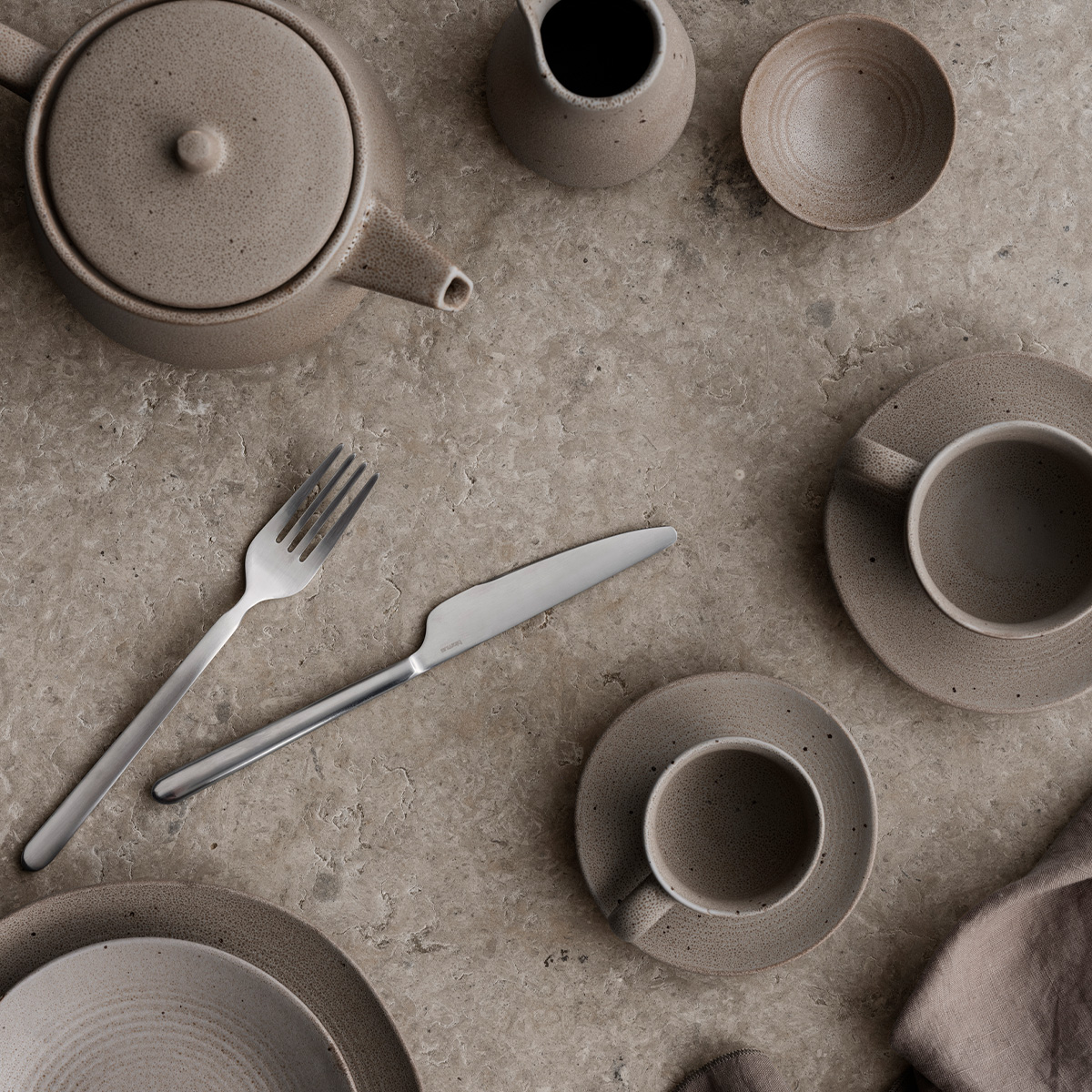 Blomus Kumi Stoneware
The Kumi Stoneware tabletop range features Japanese shapes in natural colors and in addition to typical tabletop items includes Japanese items such as a small bowl for soy sauce and a tea mug without a handle. Kumi is created with the Japanese process of reactive glazing and comes out different with every firing, reacting to the slightest variations of oxygen in the kiln.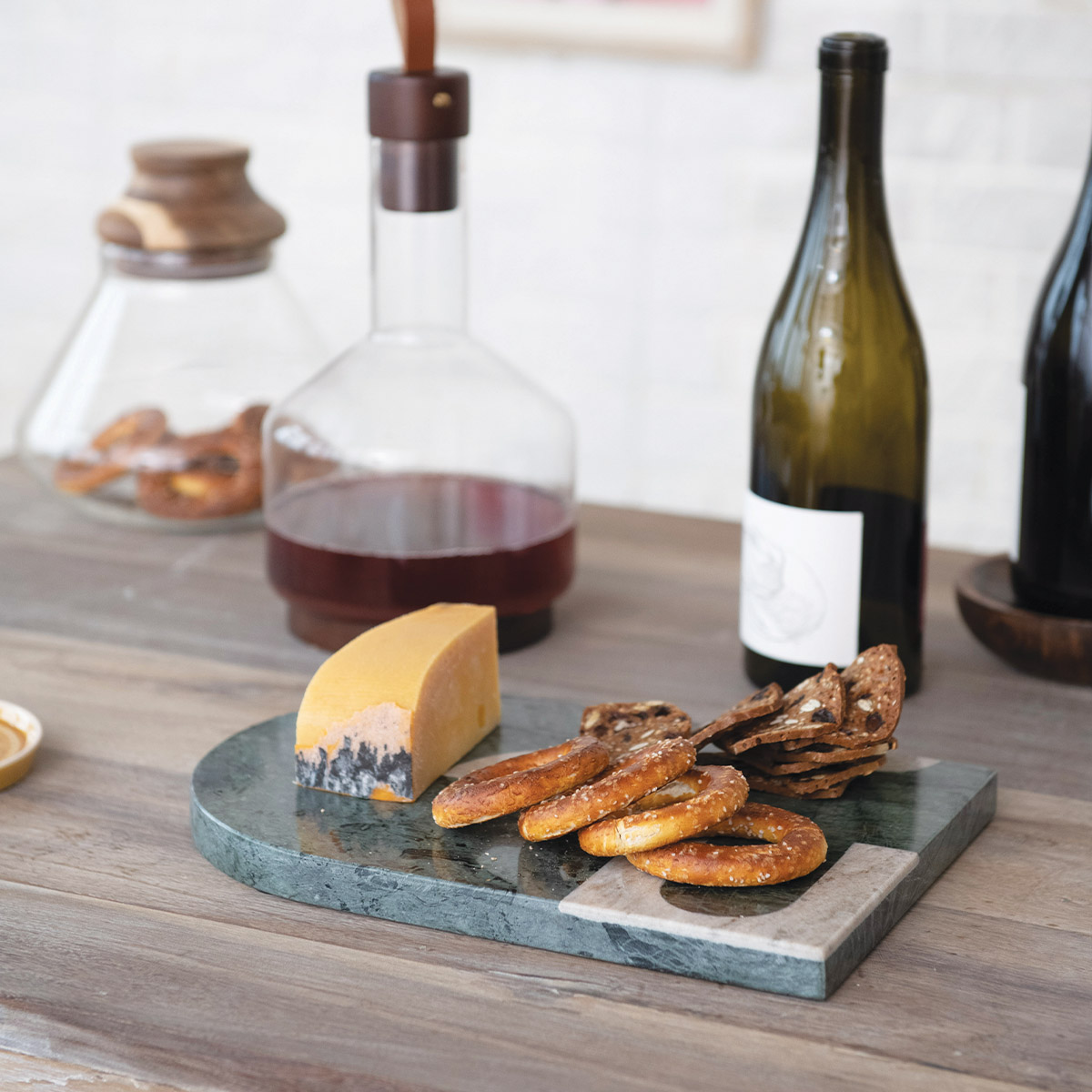 Bloomingville Marble/Cheese Cutting Board
The marble cheese/cutting board has an abstract design in buff color and green. The cutting board doubles as décor for the kitchen and can elevate cocktail hour or evening gatherings as a cheese and charcuterie board. The board has an MSRP of $32.99.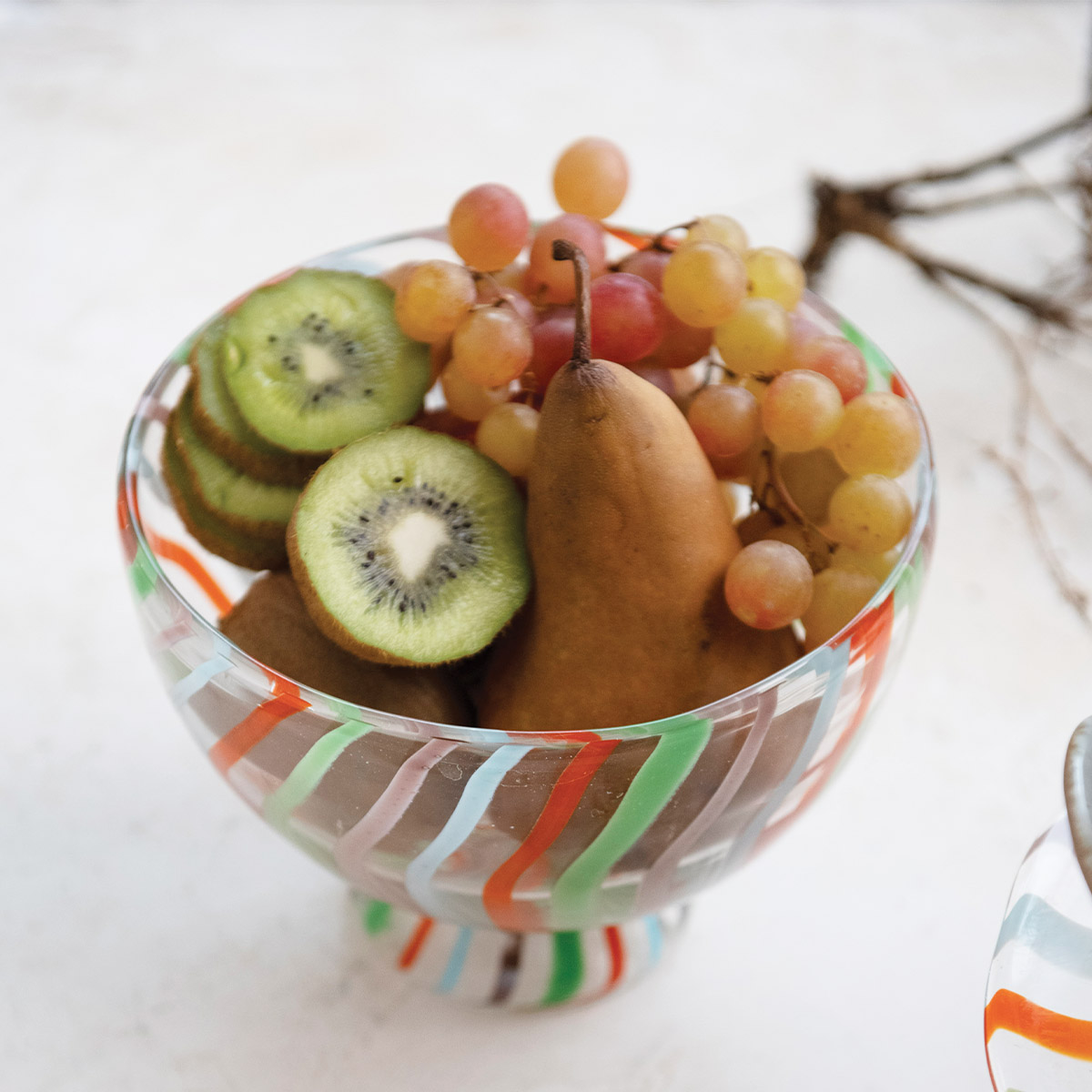 Bloomingville Hand-Painted Glass Footed Bowl
This serving piece, a multicolor footed glass bowl with stripes can add a pop of color to any kitchen while also doubling as a home décor piece. The bowl has an MSRP of $39.99.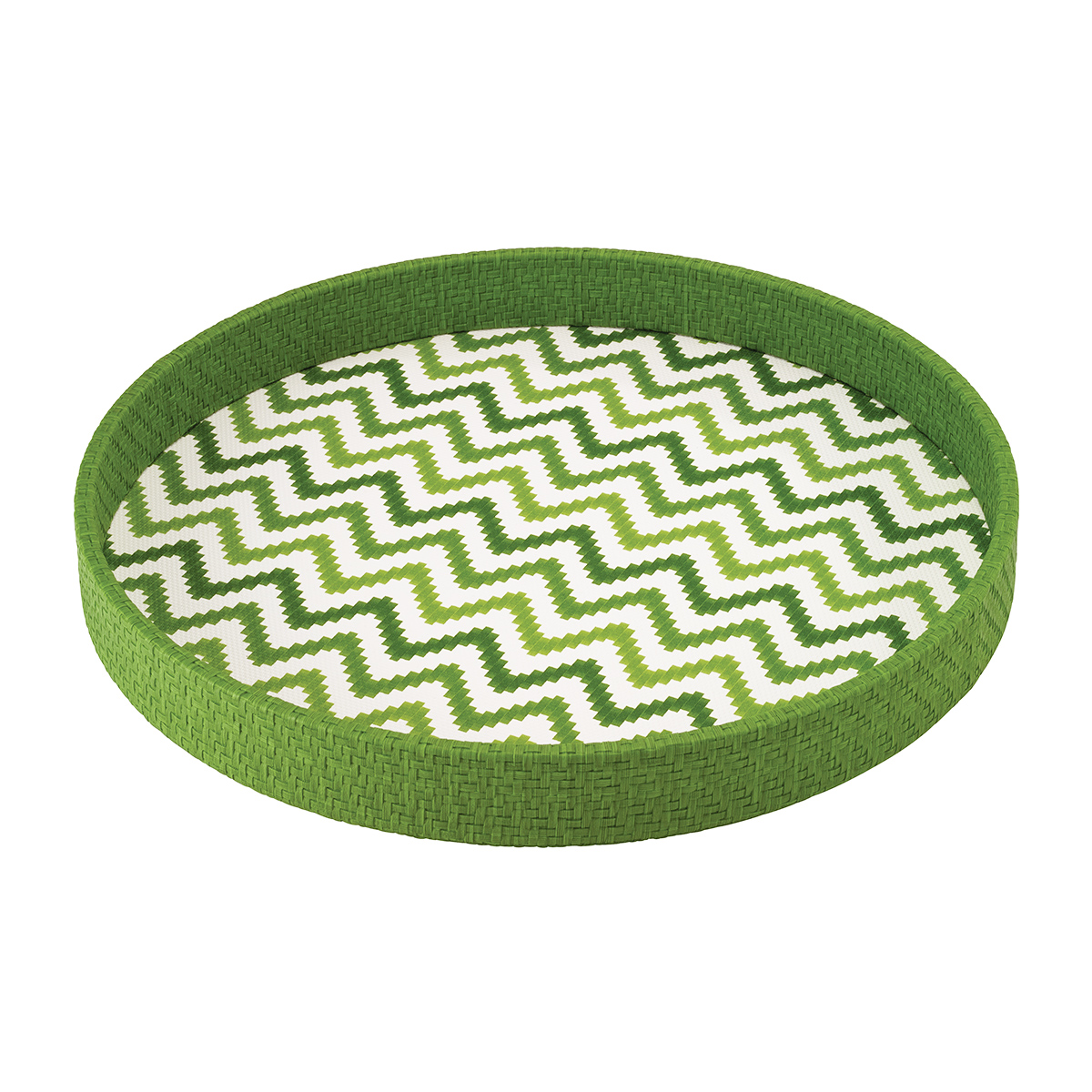 Bodrum Ripple Tray
The Ripple trays have a colorful zigzag pattern on the bottom part of the tray and matching solid colors on the outside.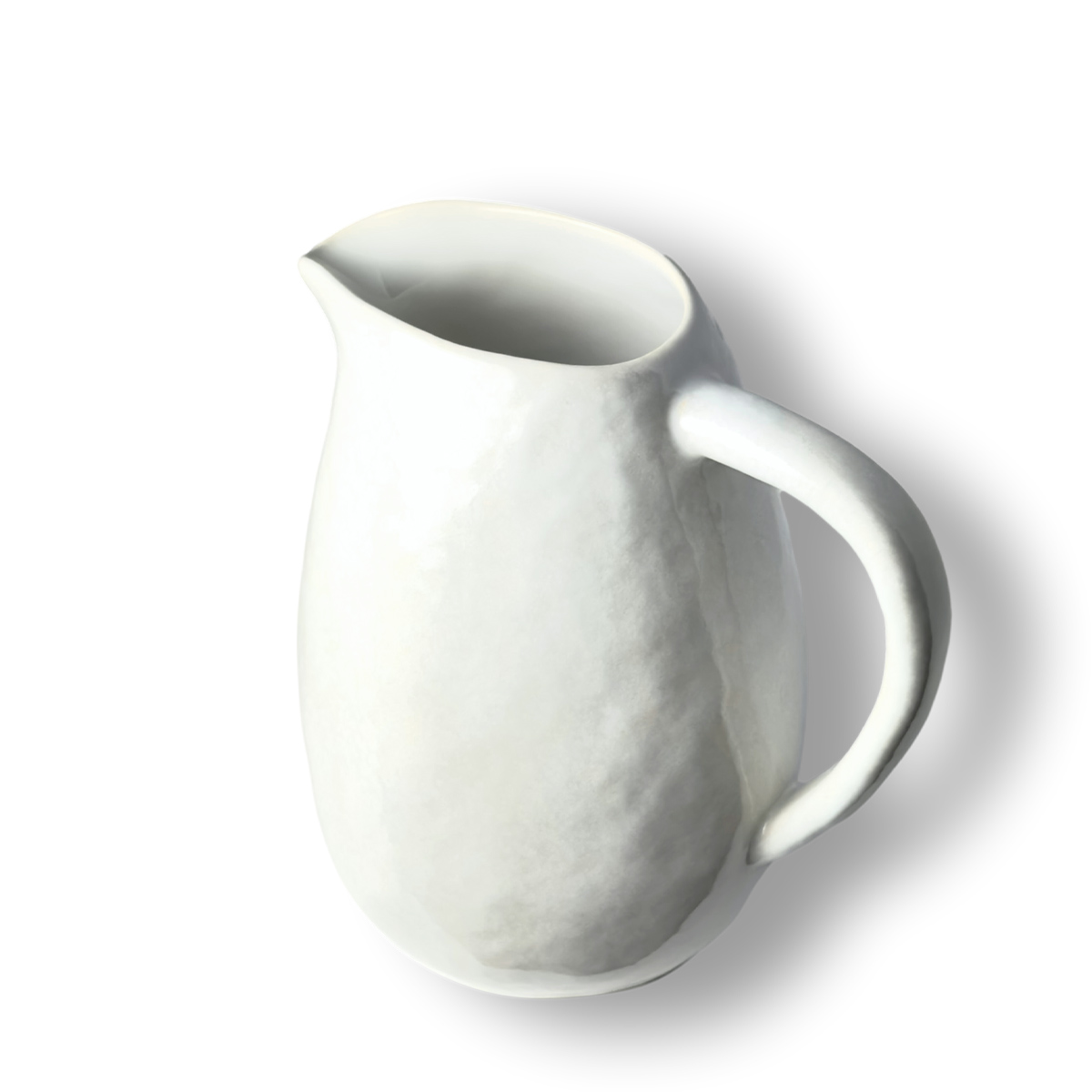 Carmel Ceramica Cozina White Pitcher
The pitcher has a custom white, softly sponged glaze made to give it a casual but elegant look. It holds eight cups and is 8" high. The durable stoneware pitcher is dishwasher and microwave safe.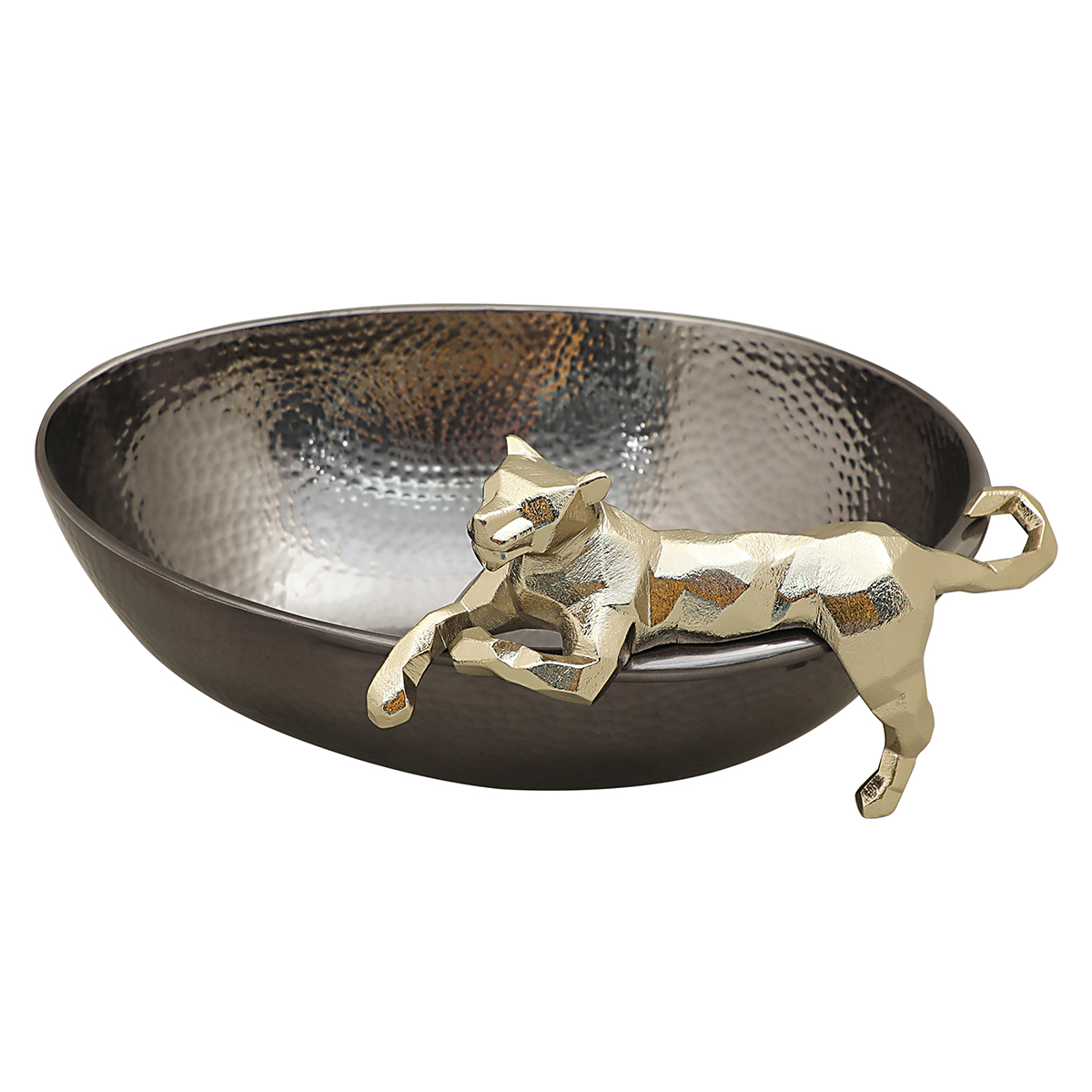 Cloud9 Panther Bowl
The panther on this bowl is designed to be an edgy addition to liven up any room.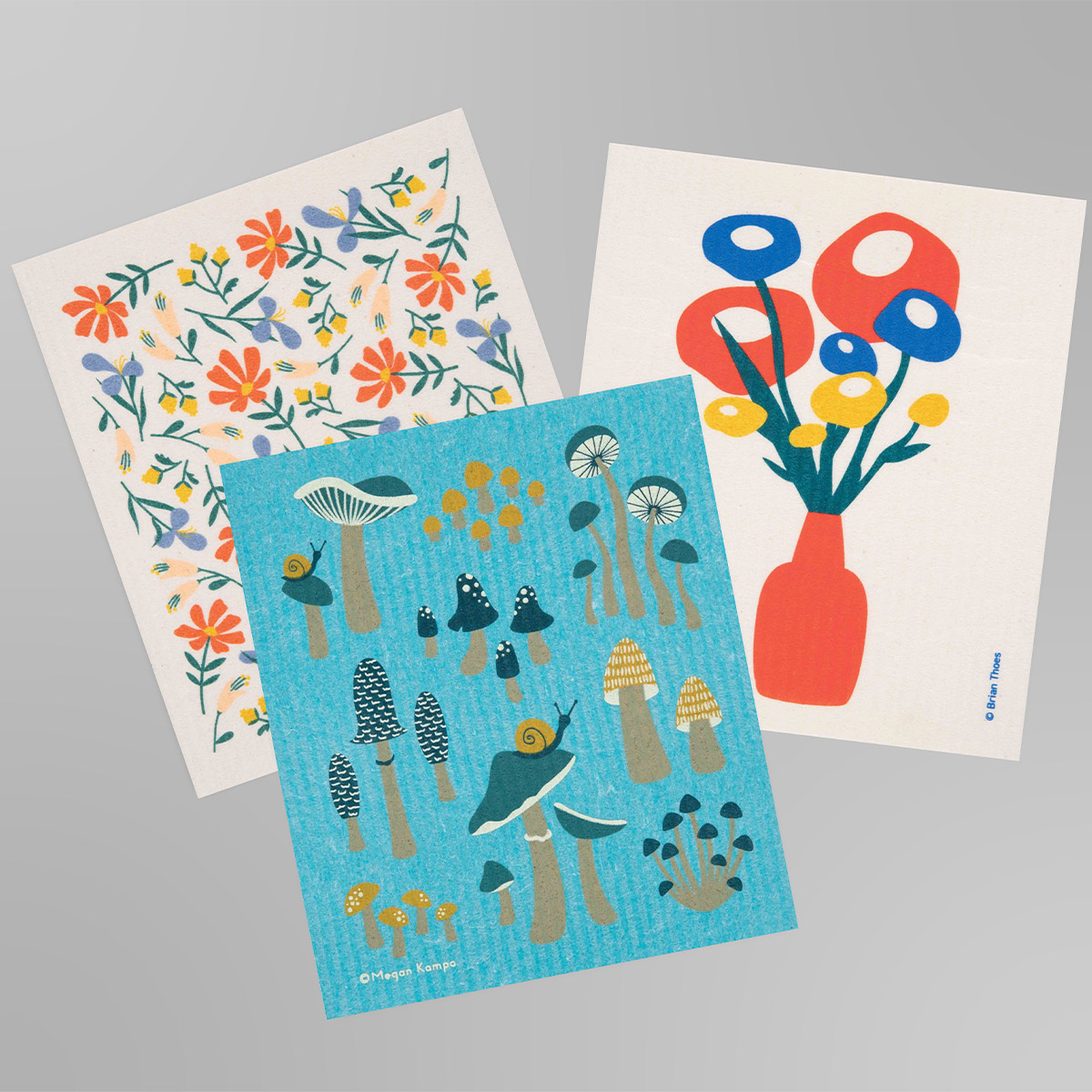 Cose Nuove Swedish Dishcloth Collection
These Swedish dishcloths feature new designs for summer 2023 featuring motifs from festive florals to on-trend toadstools. The dishcloths are made using the original, sponge cloth material and hold up to 15x their weight in water. They are machine washable and compostable.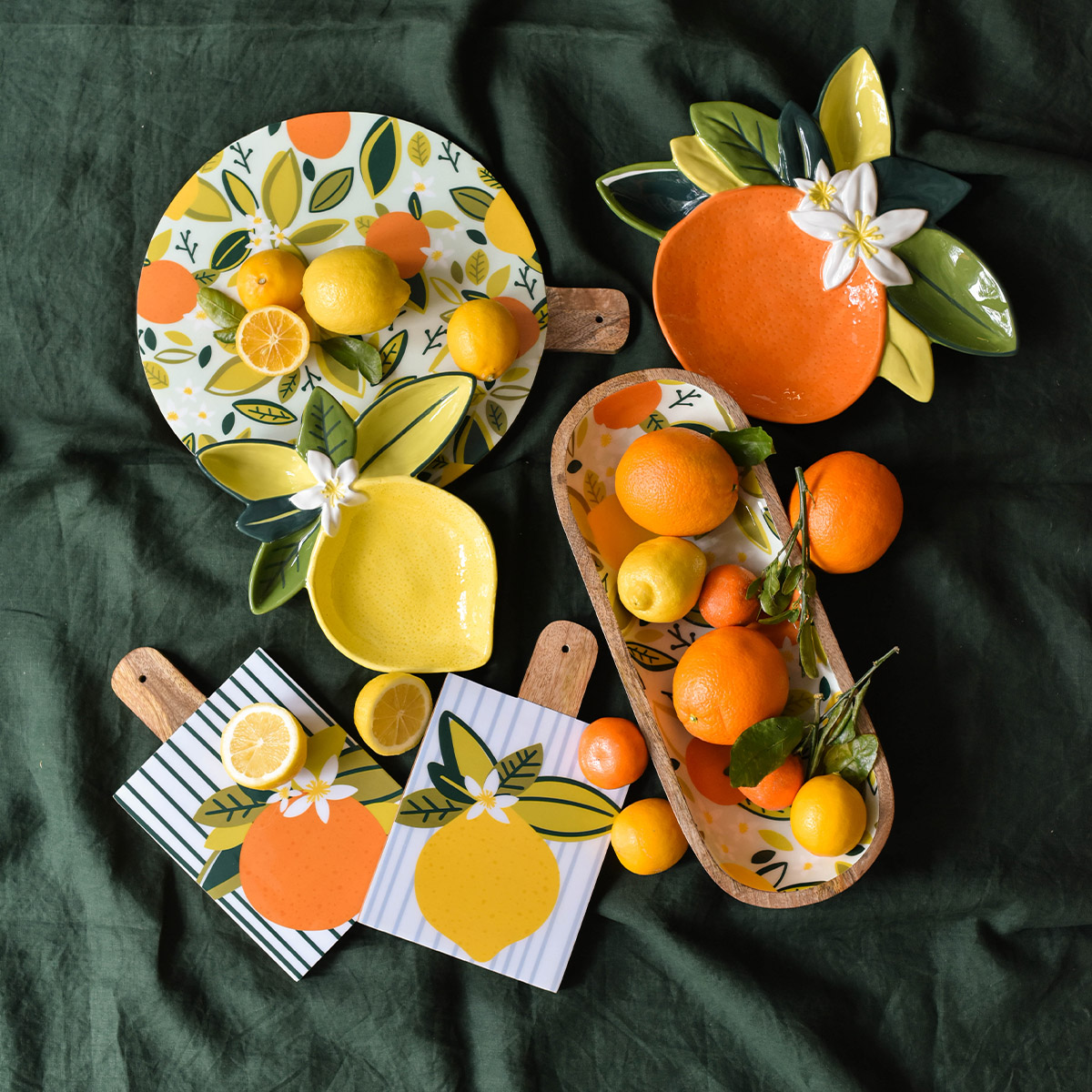 Coton Colors Company Citrus Collection
New additions to the Citrus Collection include the Orange Platter, Lemon Platter, Lemon Mango Wood Small Rectangle Board, Orange Mango Wood Small Rectangle Board, Citrus Mango Wood Dough Bowl and Citrus Mango Wood Medium Round Board.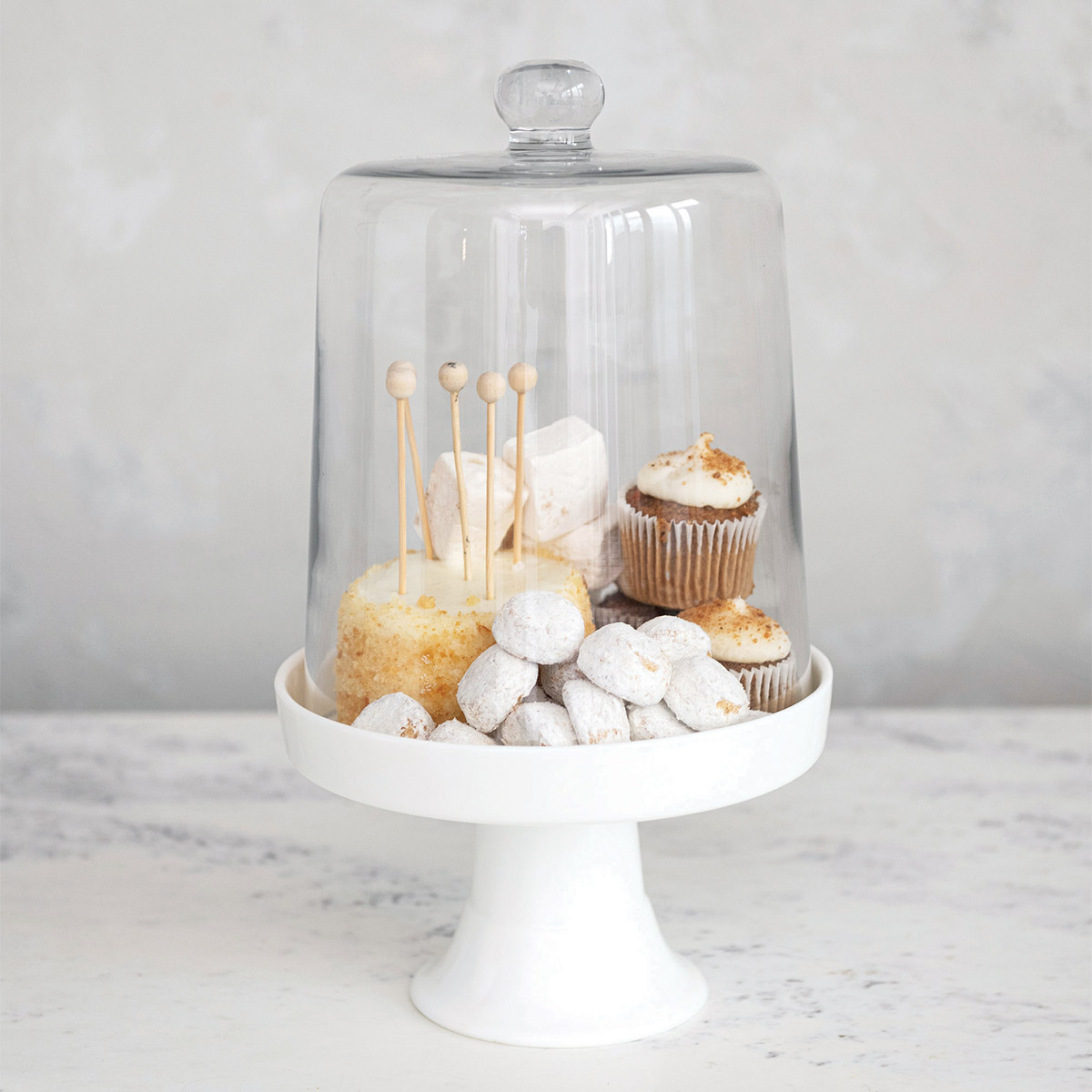 Creative Co-Op Glass Pedestal with Cloche
This cake stand is ready for a birthday party, fancy event or simply serveware for a sweet tooth craving. Part of the At the Table collection, the cake stand has an MSRP of $56.99.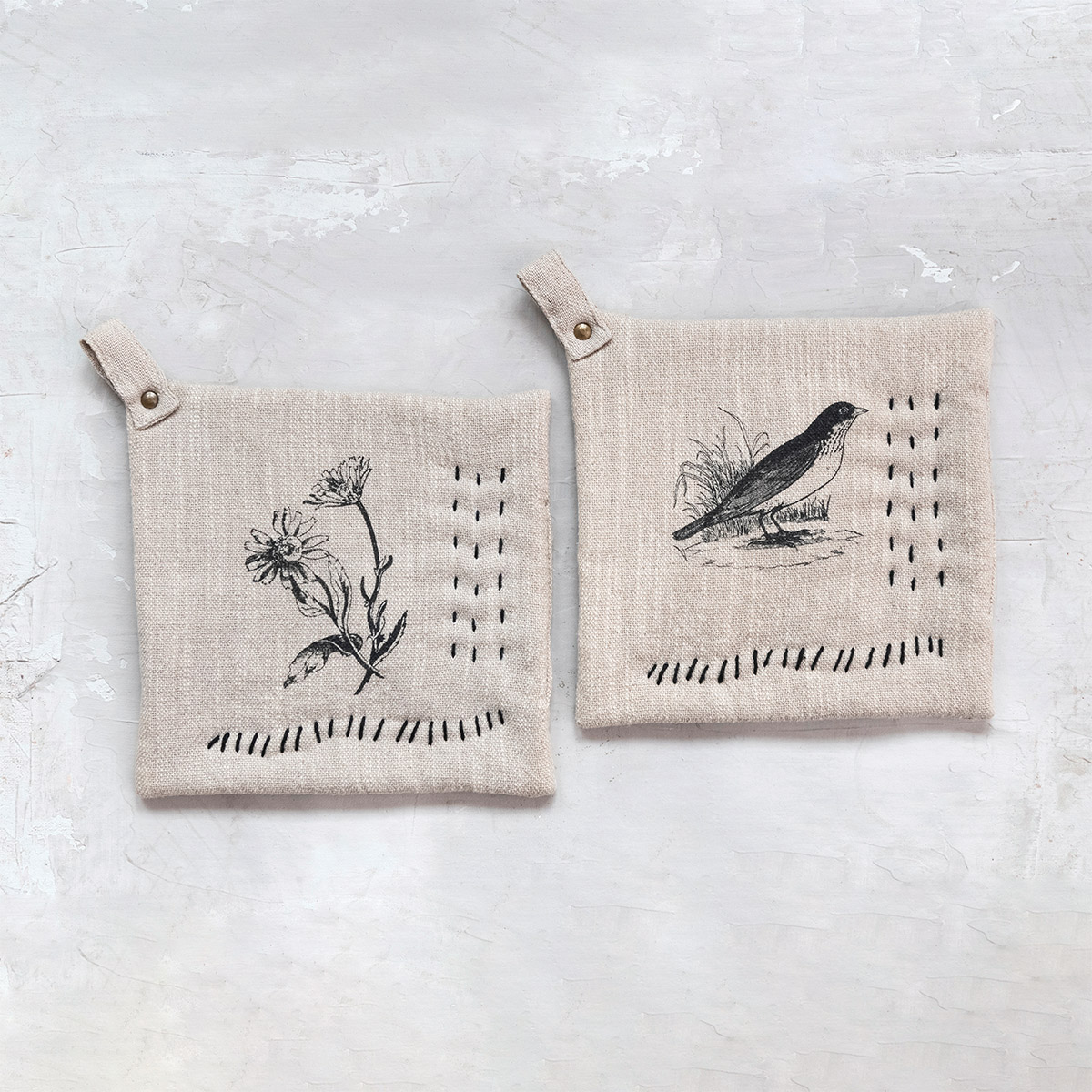 Creative Co-Op 8" Square Cotton Pot Holder
This printed slub pot holder is hand-embroidered with a Kantha stitch and brass rivets. The set of potholders comes in two styles, natural and black, and has printed nature designs. The pot holder set has an MSRP of $7.99.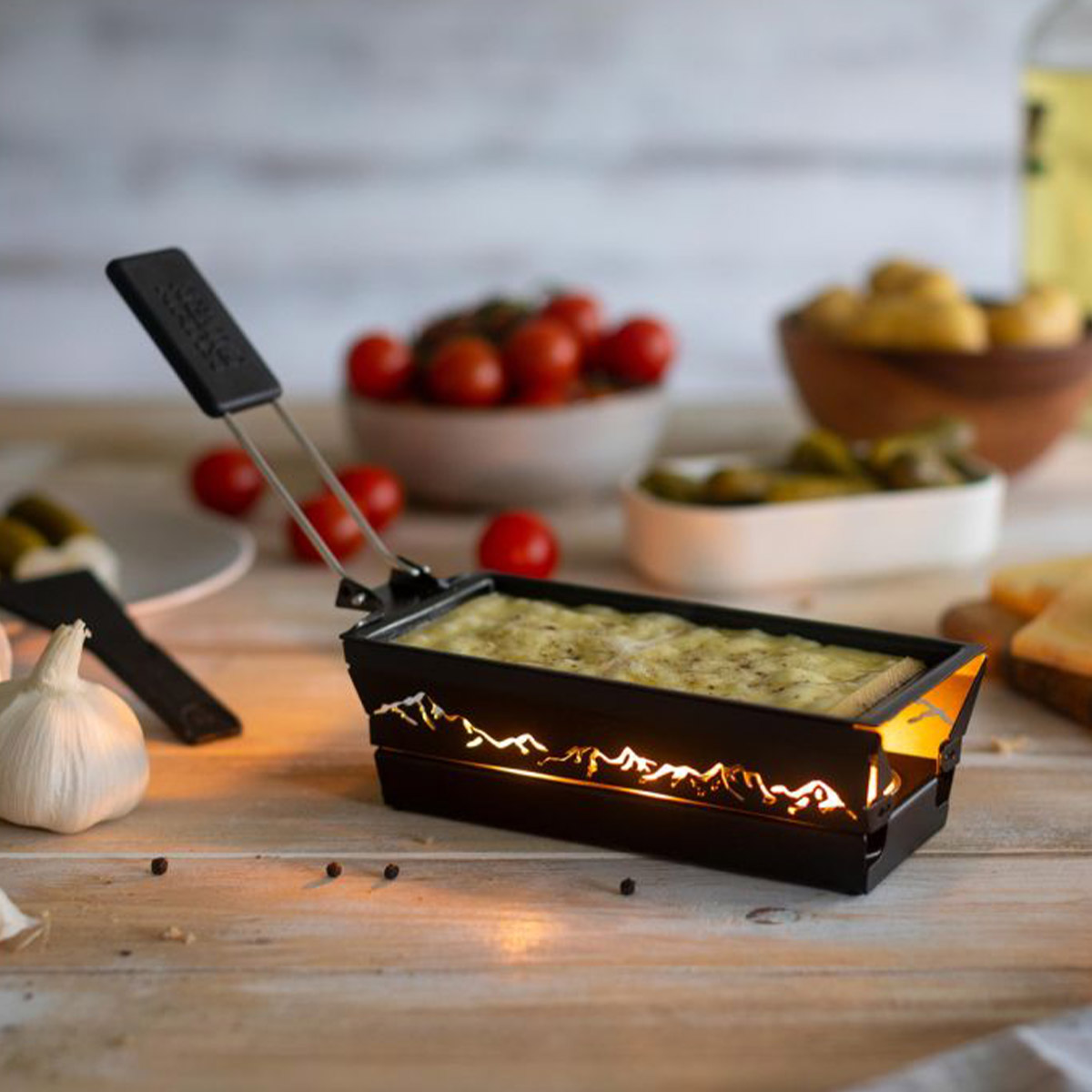 Kuhn Rikon Raclettes
The raclettes being introduced all include power candles for grilling. The compact raclettes are perfect for date nights, accessories to charcuterie boards, hiking and camping.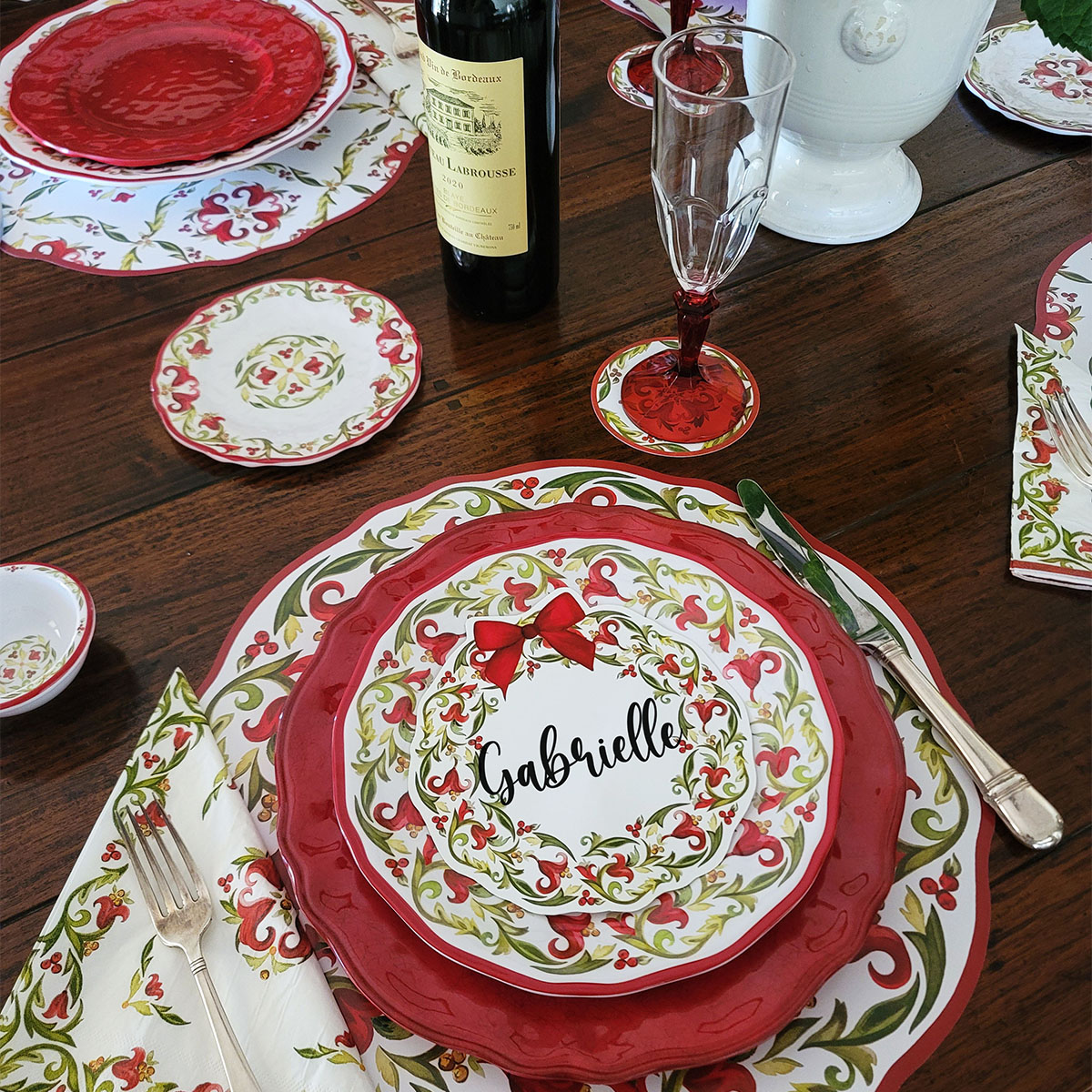 Le Cadeaux Holiday Vischio Collection
This melamine collection was designed to be the perfect pairing of modern traditional with bursts of classic holiday red and greens. The Vischio can be mixed and matched with the solid red Garnet collection. The paper placemats and napkins pair well to complete the look of the table. The tableware works for an indoor or outdoor gathering and is shatter-resistant, dishwasher-safe and BPA-free.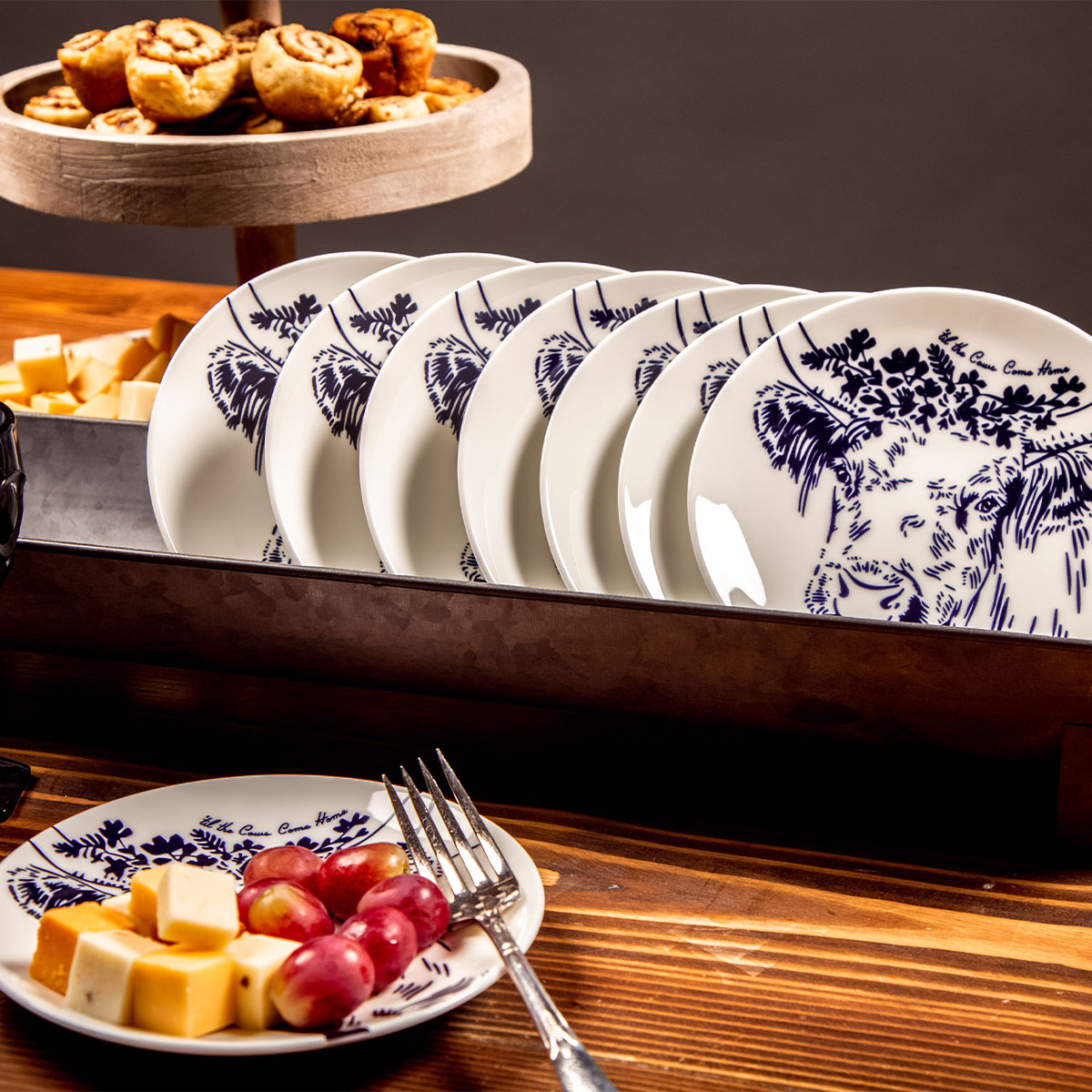 Lovegrass Designs 'Til the Cows Come Home Canape Plate in Midnight Blue
Lovegrass Designs crafts Southern-inspired quality dinnerware with roots in Lubbock, Texas.
Lynn & Liana Designs Jade Large Cheeseboard
This large cheeseboard blends Acacia hardwoord and an eco-friendly epoxy to create a one-of-a-kind piece of serveware. The jade color is rich-toned with metallic running through it. Each one is poured by hand by in-house artists in Manitoba, Canada.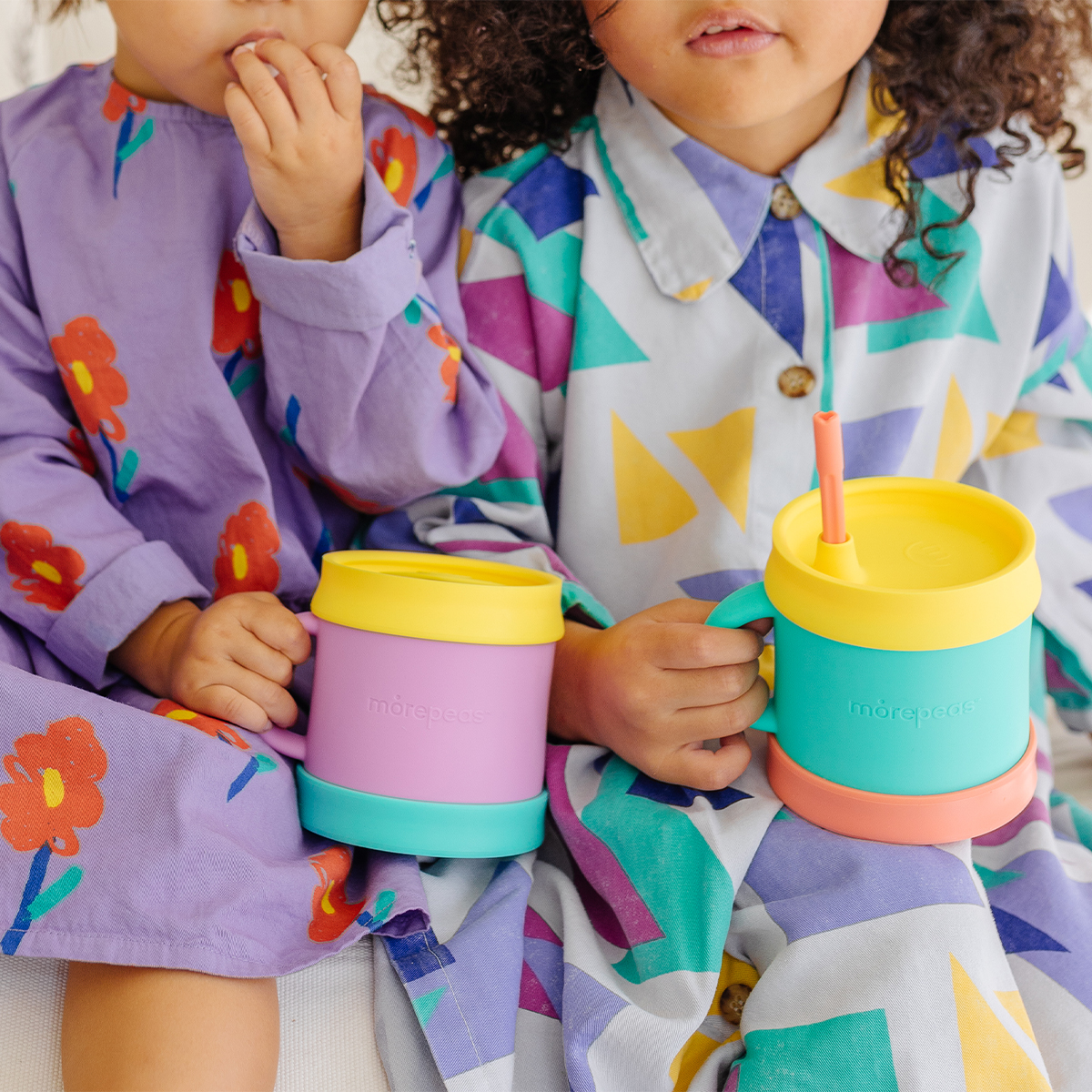 Morepeas Essential Sippy Cup
The Essential Sippy Cup is designed to grow with your child from a sippy to a straw to an open cup and will transition from baby to toddler. The 100% silicone cup is plastic-free and doubles as a suction dining bowl. It is designed by moms in Seattle, Washington.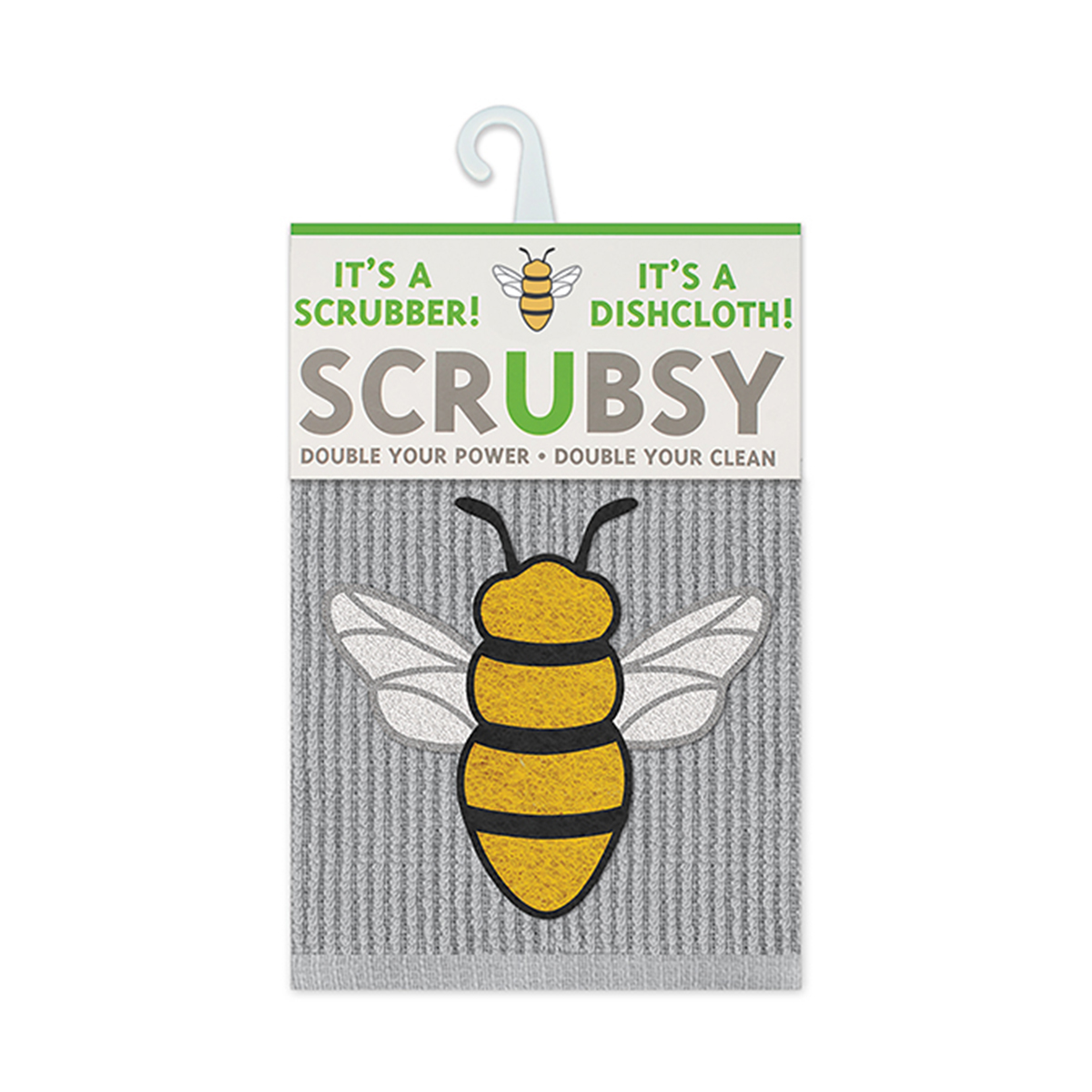 MUKitchen Scrubsy
This absorbent dish cloth with a built-in scrubber won't scratch but gets the dishes clean. It is available in over 15 designs.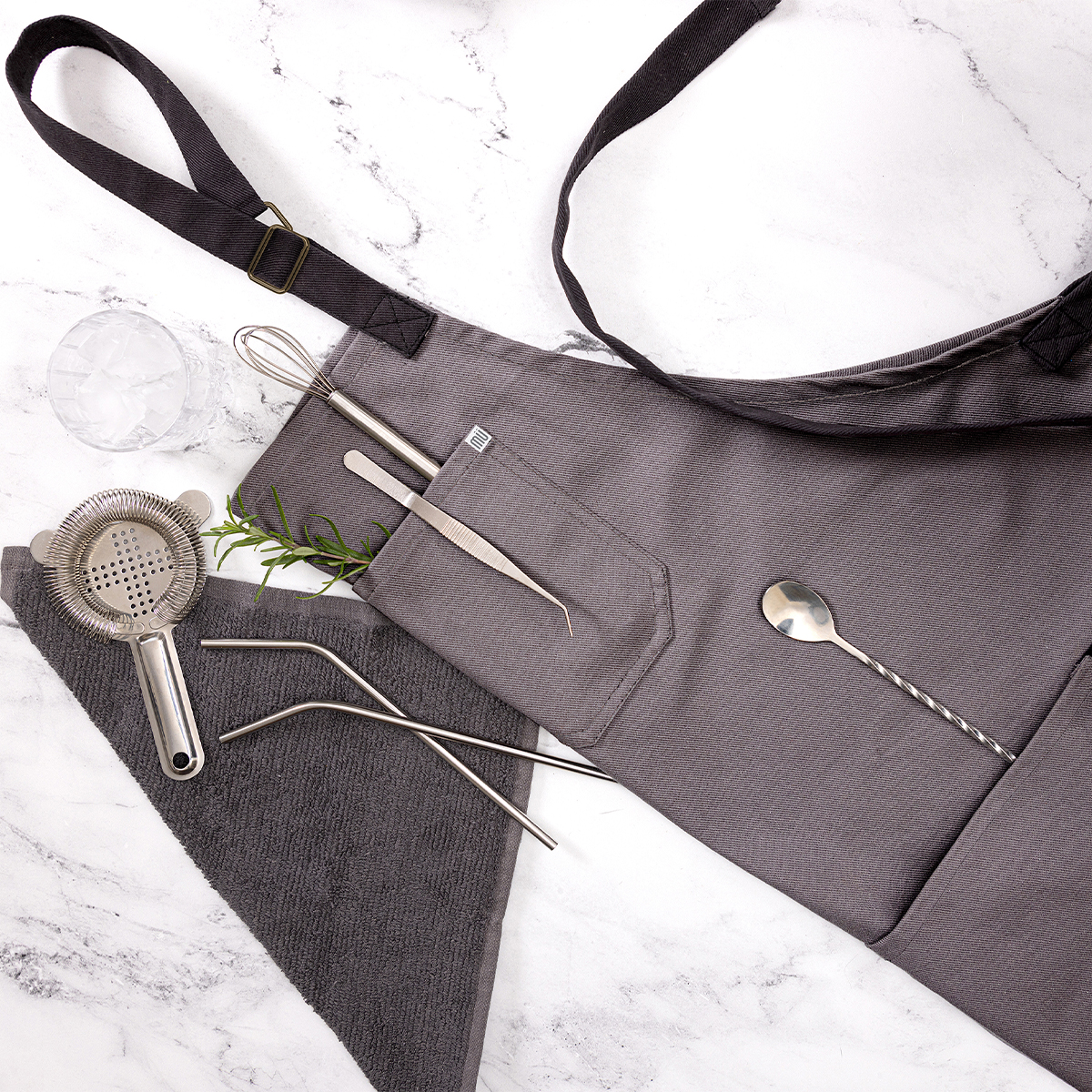 MUKitchen Heavy Utility Chef Apron
The chef aprons offer more protection in the kitchen. Gadget loops and heavy-duty pockets are available to keep tools in. The apron has five pockets: a chest pocket, two extra large waist pockets and a hidden cell phone pocket insides the large waist pocket. The apron has a retail price of $49.99.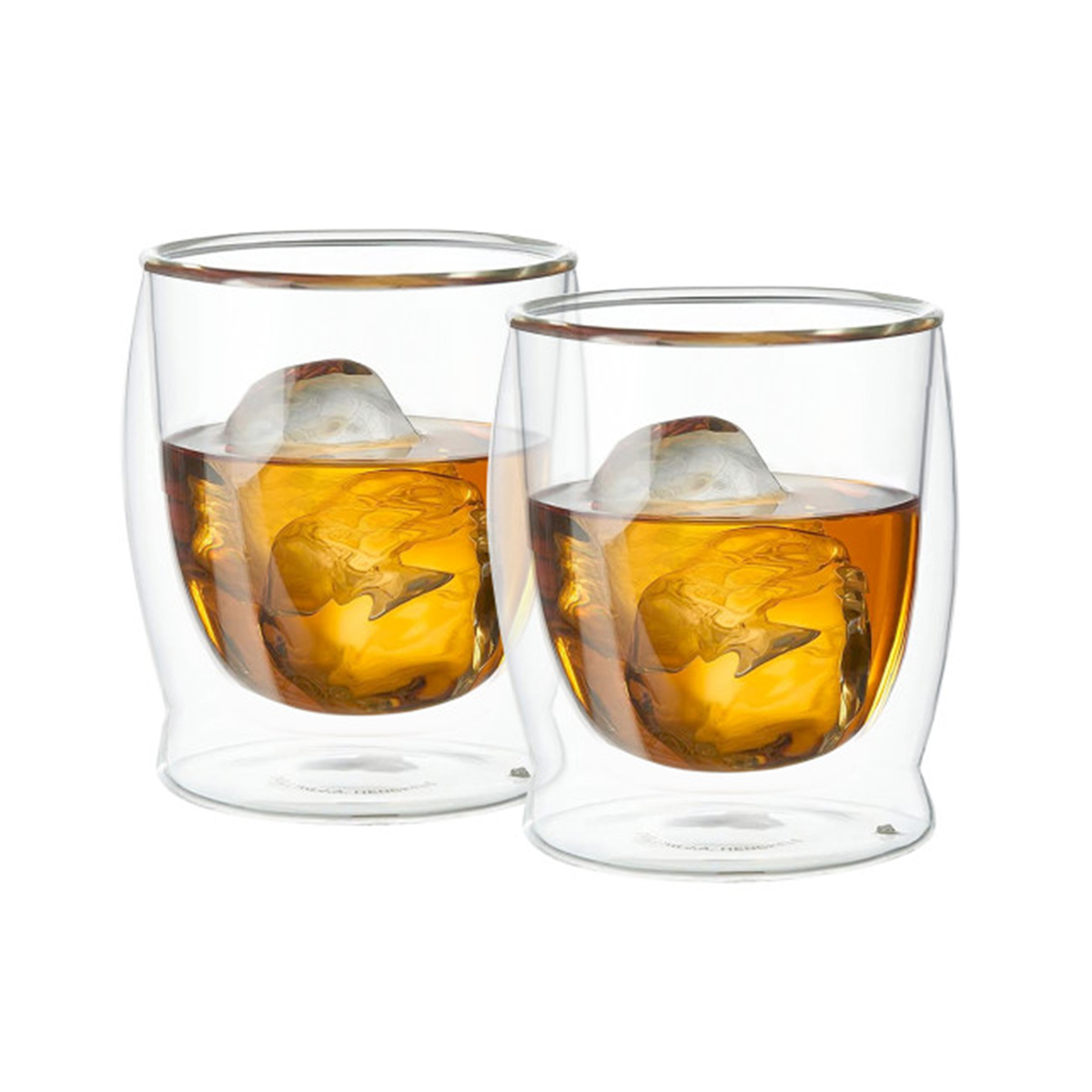 Oggi Double Wall Borosilicate Bar Glassware
This new collection that combines elegance and practicality was designed for an elevated drinking experience. The collection includes Margarita Glasses, Martini Glasses, Sipping Glasses, Champagne Flutes and Pilsner Glasses.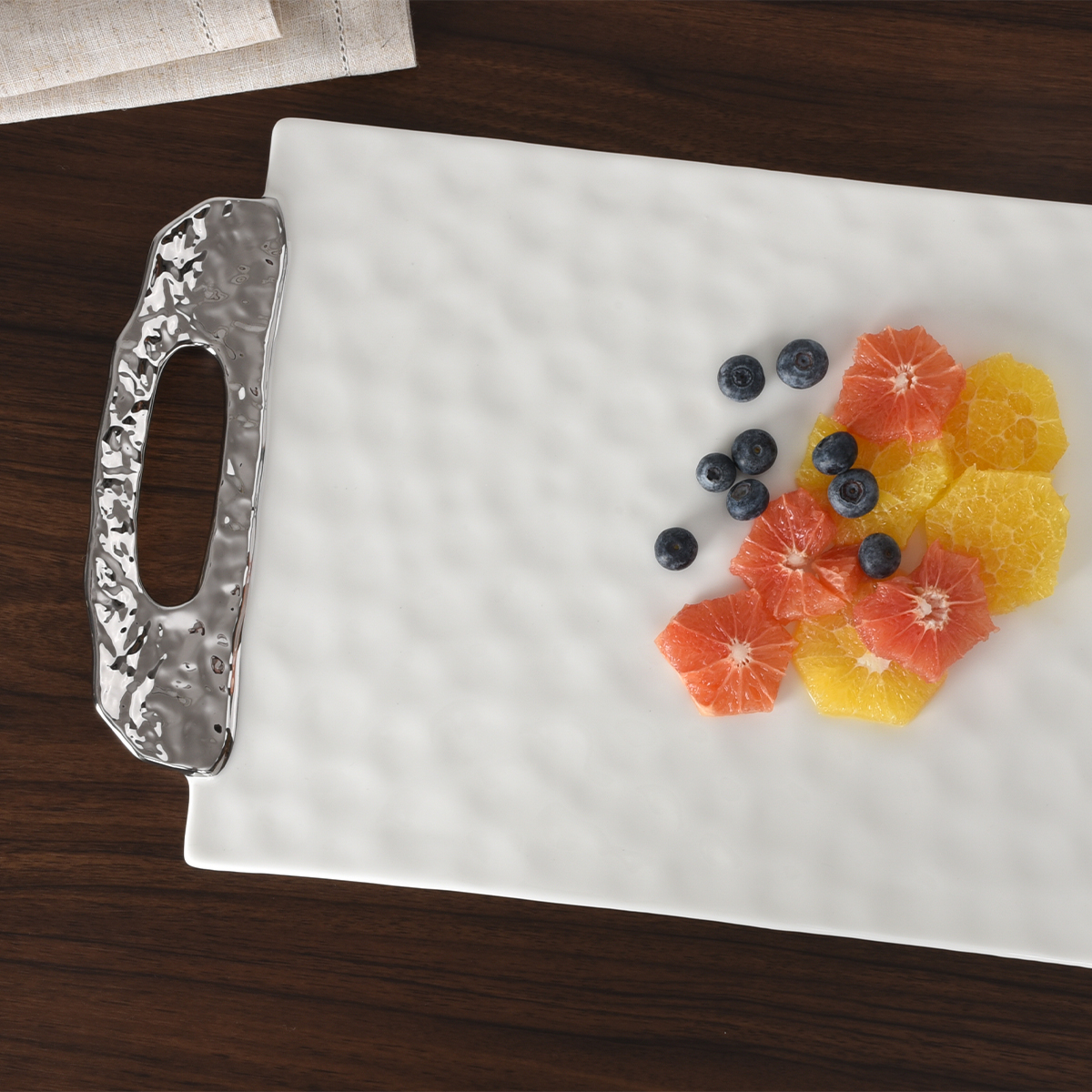 Pampa Bay Texture Tray
The new Texture Tray is made for dinner parties, holidays or as a dining room table centerpiece. Whether it is a charcuterie board for two or desserts for a few, the tray can be used for casual parties as well. The tray can be chilled in the refrigerator to keep all servings fresh, The tray is made of white porcelain with silver textured handles. It is food-safe, dishwasher-safe and oven-safe. The Texture Tray has an MSRP of $125.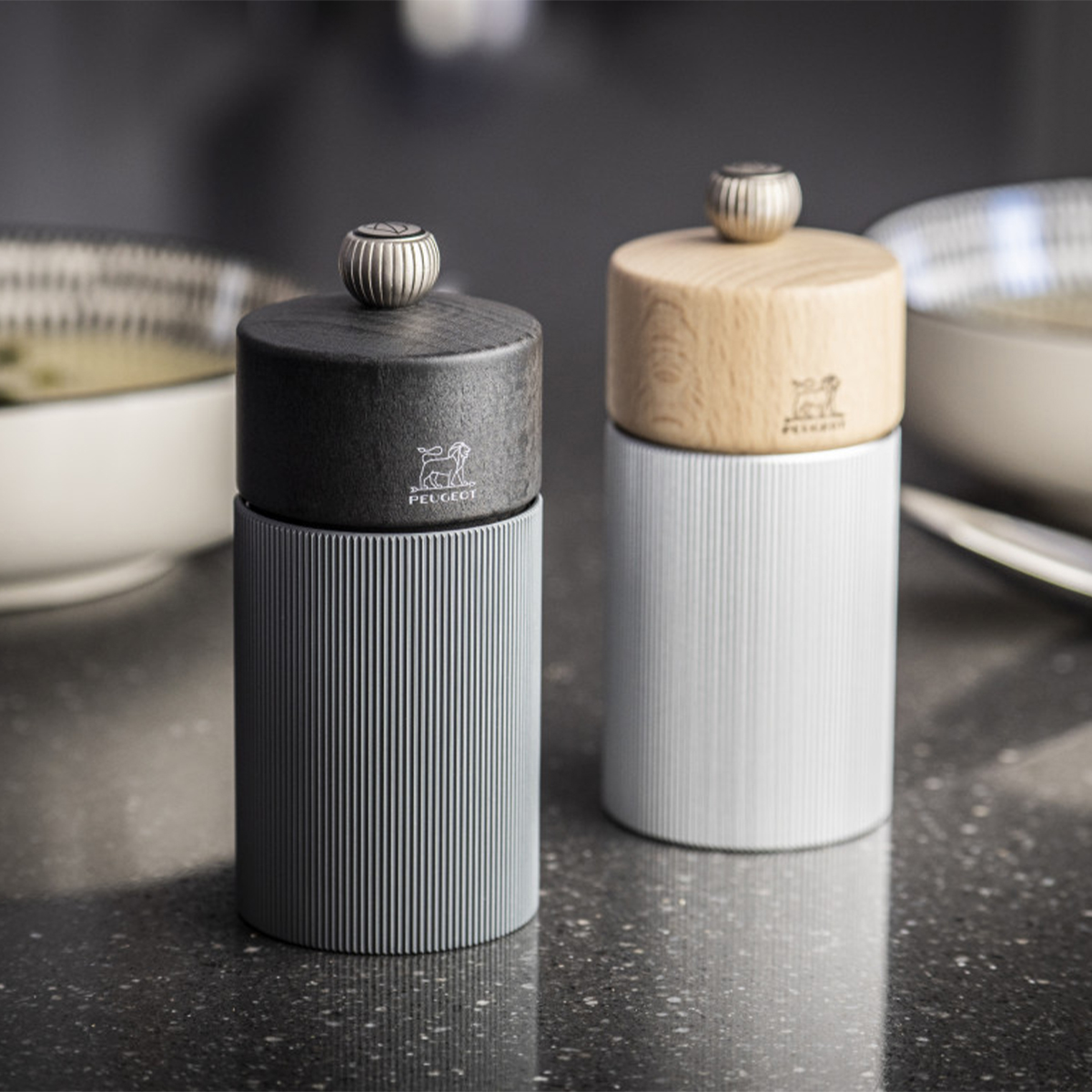 Peugeot Line Salt and Pepper Mills
The Line Collection design combines wood and aluminum as part of a mix and match design. The striated aluminum body of the Line mills has a wooden top to produce a graphical and visual effect.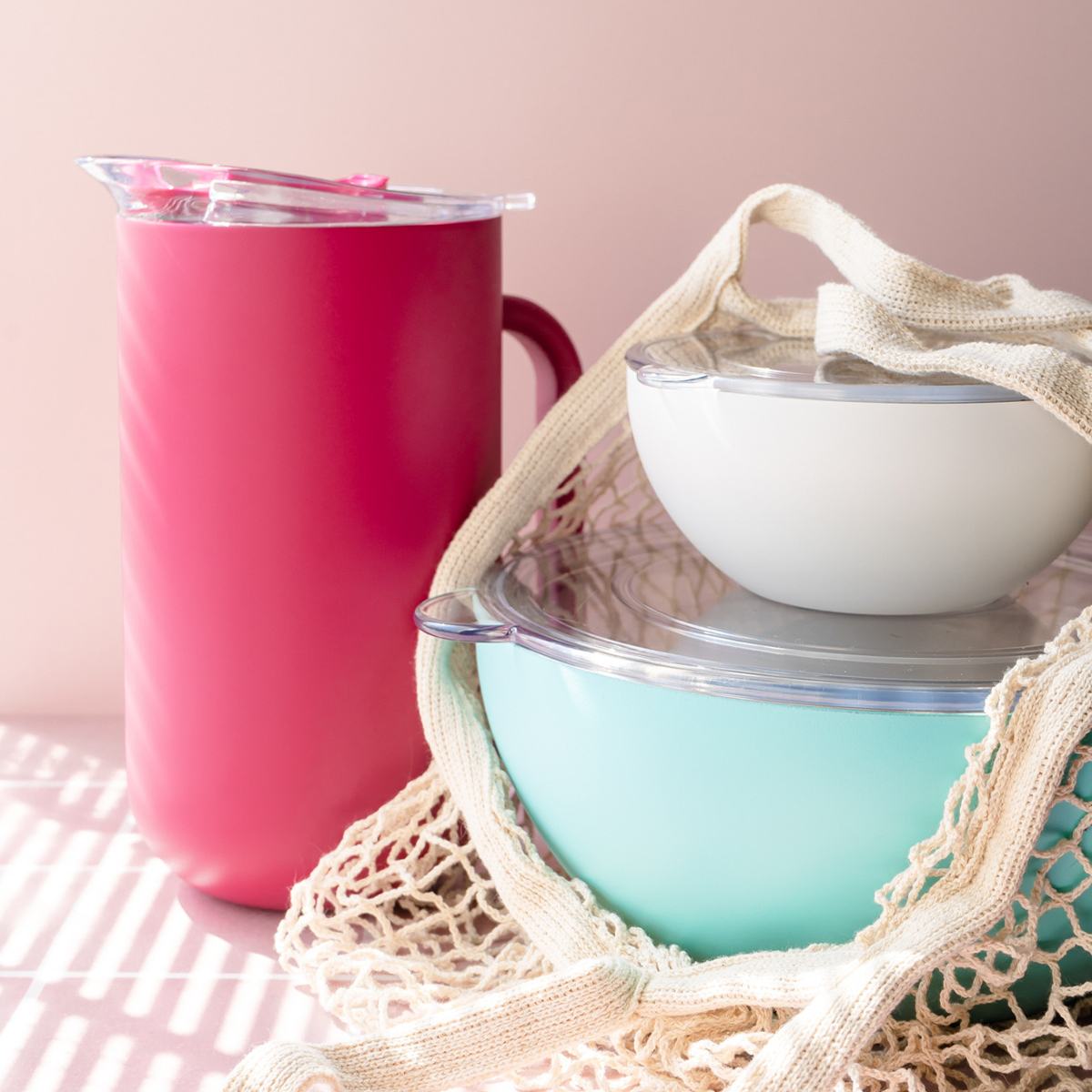 Served Vacuum Insulated Collection
The collection includes a vacuum insulated pitcher, small serving bowl and large serving bowl designed to keep food and drink to temperature and easy to transport due to their cool exterior and tight-fitting lid.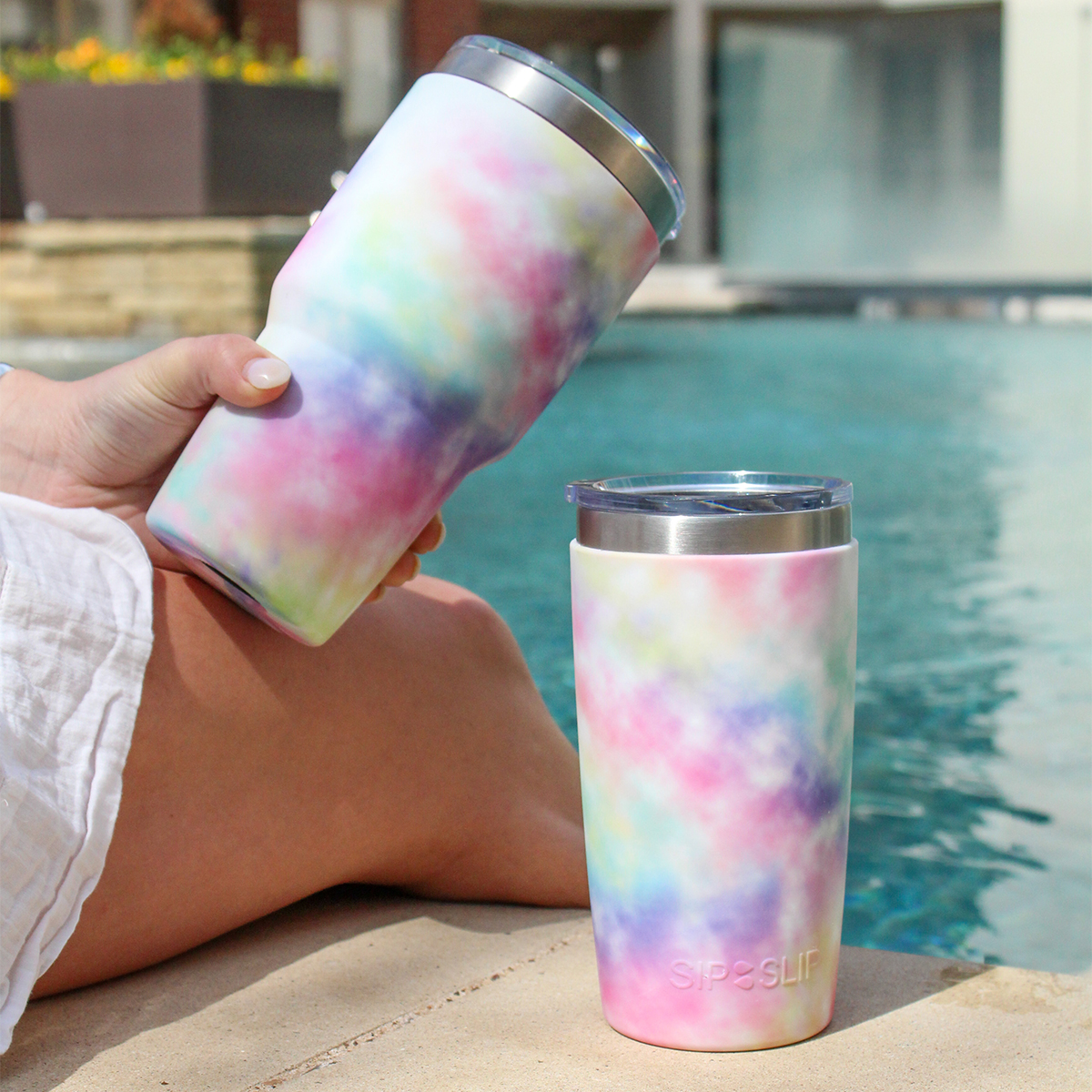 Sip Slip Silicone Sleeve
The Sip Slip is a silicone sleeve that allows the user to personalize and protect their stainless steel tumbler. With several custom patterns, users can show off their personal style and stand out in the crowd while protecting their tumbler from dents and scratches while increasing insulation.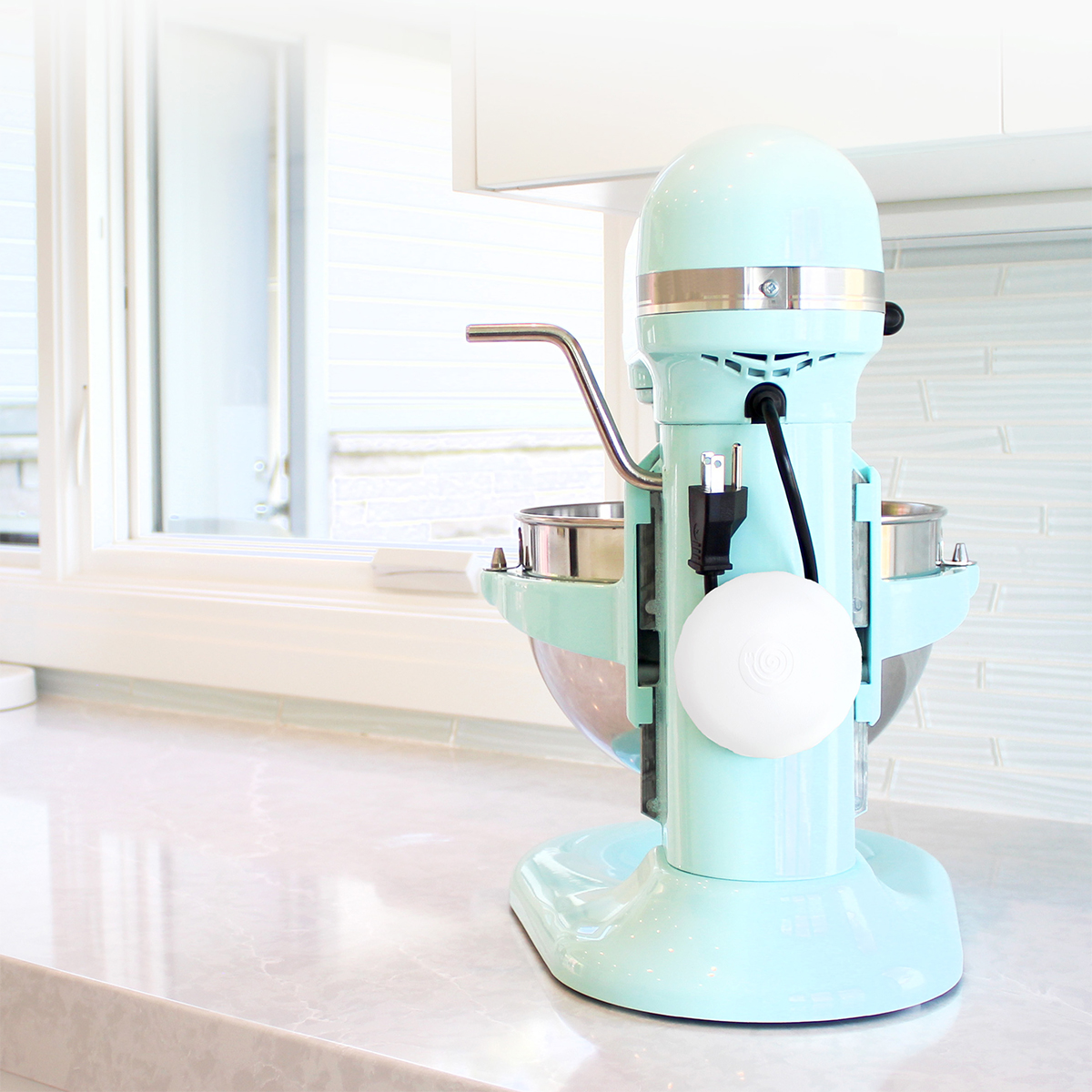 The Cord Wrapper
The Cord Wrapper is a cord organization gadget used on small kitchen appliances, office devices and more. The product applies to most surfaces in four simple steps: wipe it, peel it, stick it, wrap it, for users to wrap their cords around.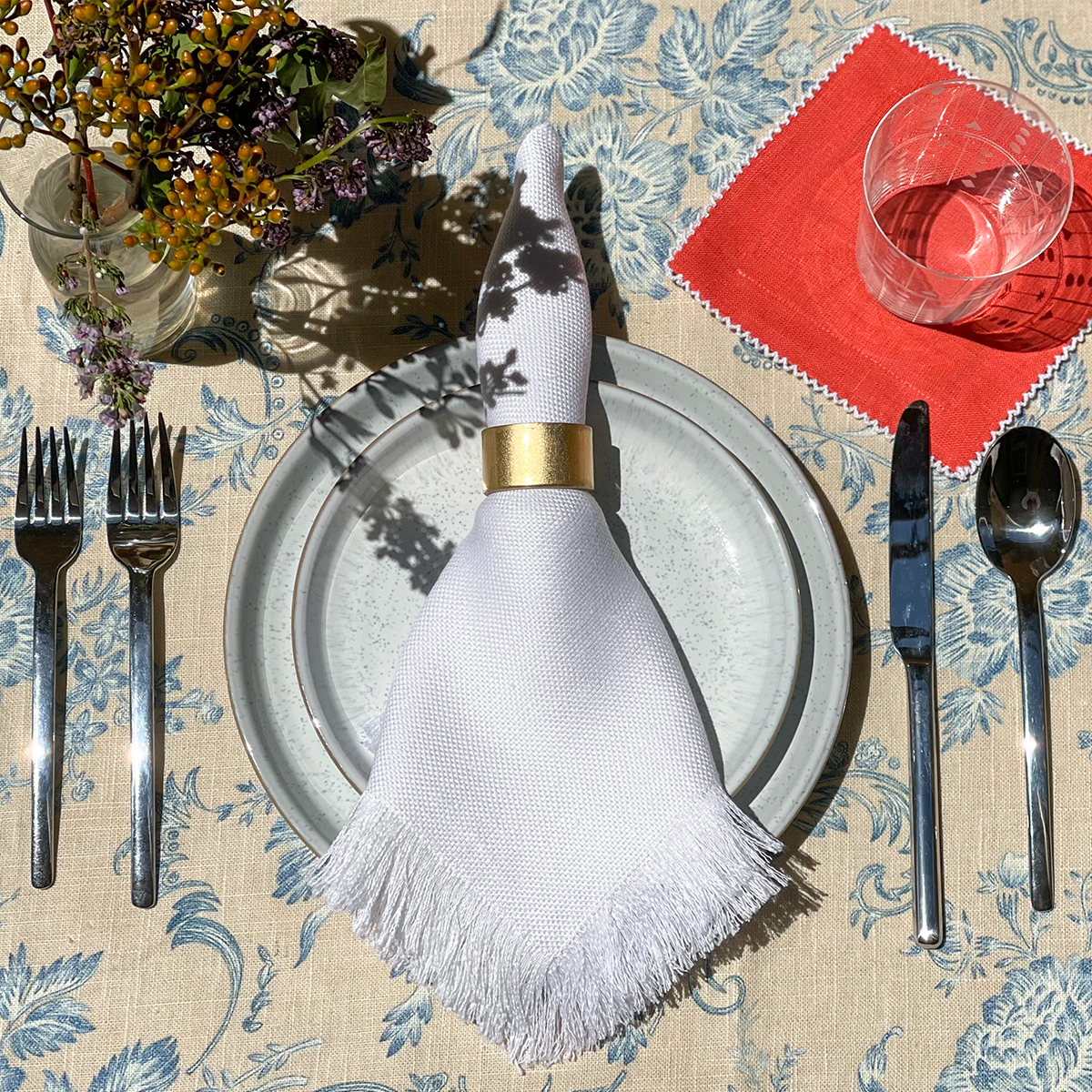 Tina Chen Designs Dinner Napkins
The texture fringe dinner napkins are designed with a 2" fringe hem and woven from 100% European linen.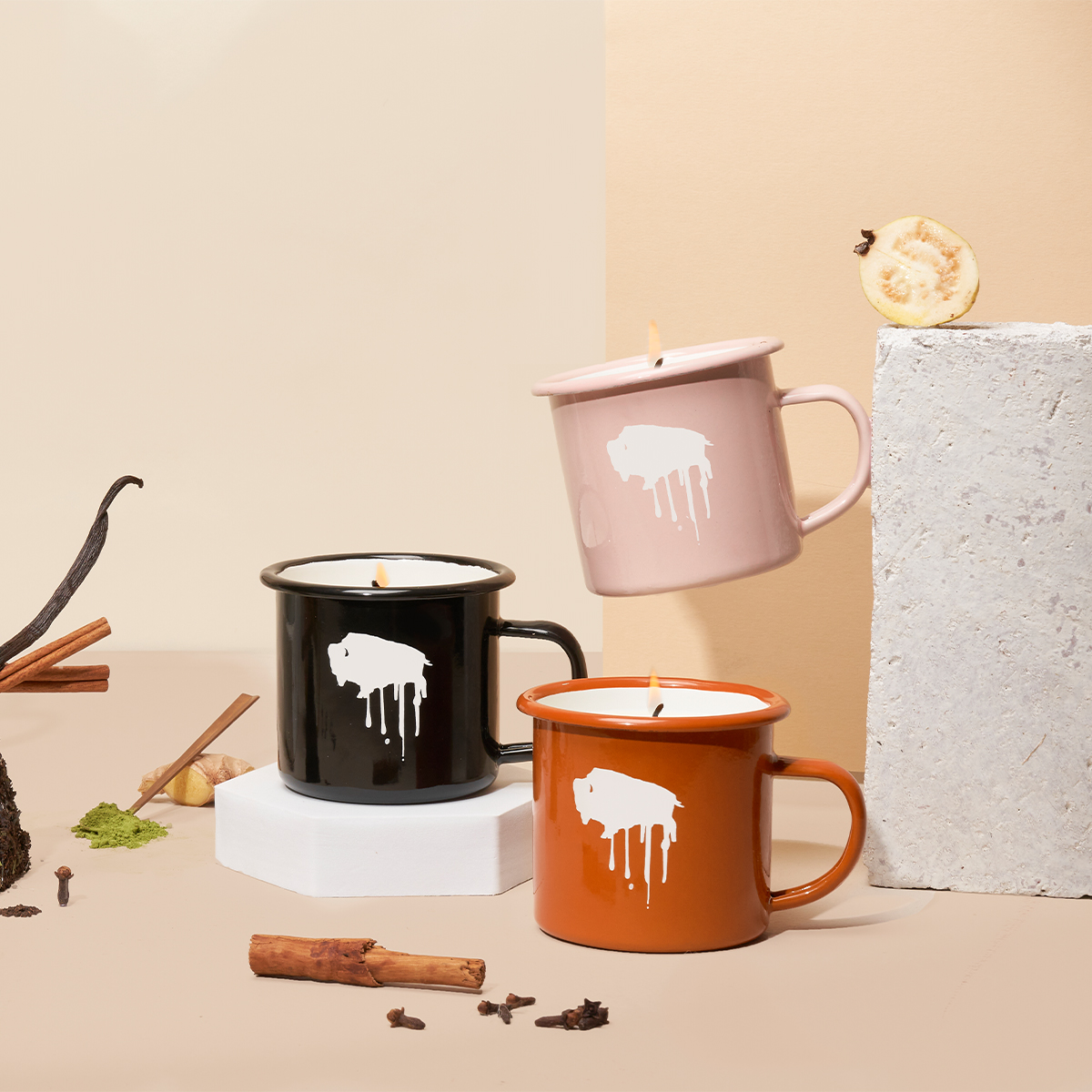 Wax Buffalo Campfire Mug Collection
The collection of candles in mugs comes in four options of scent and color. They're sold in cases of six with each mug costing $15 with an MSRP of $30. The Rust option is scented of Chai with chai, clove, heavy cream, black pepper, cinnamon and vanilla. The Blush color is scented of French Press with espresso, cinnamon, almond milk, vanilla bean, clove and pistachio. The Greyn color is scented of Matcha with matcha leaves, black honey, almond milk, stevia plant and lemon balm. The Mustard color is scented of Turmeric Latte with coconut, oat milk, turmeric, ginger, pistachio and guava.