Sh​ein is an e-tailer that's growing in the United States by growing with the Gen Z consumer, and how Shein is adapting could provide some insight into addressing this now-critical consumer group.
Gen Z is a main topic of interest, but the group still is a little tough to nail down given how the generation straddles the fence between child and adult. Yet, something may be gleaned from looking at Shein and other retailers serving the younger consumers and how they are responding to changes in priorities.
Shein doesn't define itself as a Gen Z retailer, but its focus is clearly on teens and young adults through their 20s. As an operation, the China-based company describes its business model as unique and supply-chain driven. For each new product sold on its website, Shein confines the initial production run to as few as 100 to 200 units per SKU, compared to the thousands of pieces initiated by traditional peer retailers. The company then employs algorithms to gauge customer interest in real-time to provide feedback to its vendors so they can increase or stop production based directly on market demand. As such, it employs a data-driven, test-and-learn approach to improve efficiency and minimize production waste.
Founded in 2008, Shein has become among the world's top "fast fashion" retailers. Statista ranked it second among online fashion retailers with sales of $10.41 billion in 2021, trailing only jd.com. Among fast-fashion retailers with store and e-commerce operations, Shein trails leader H&M significantly given the Swedish retailer's sales of $22.25 billion. However, Shein beats H&M, which generated $5.83 billion in digital revenue in 2021, as an online fashion seller.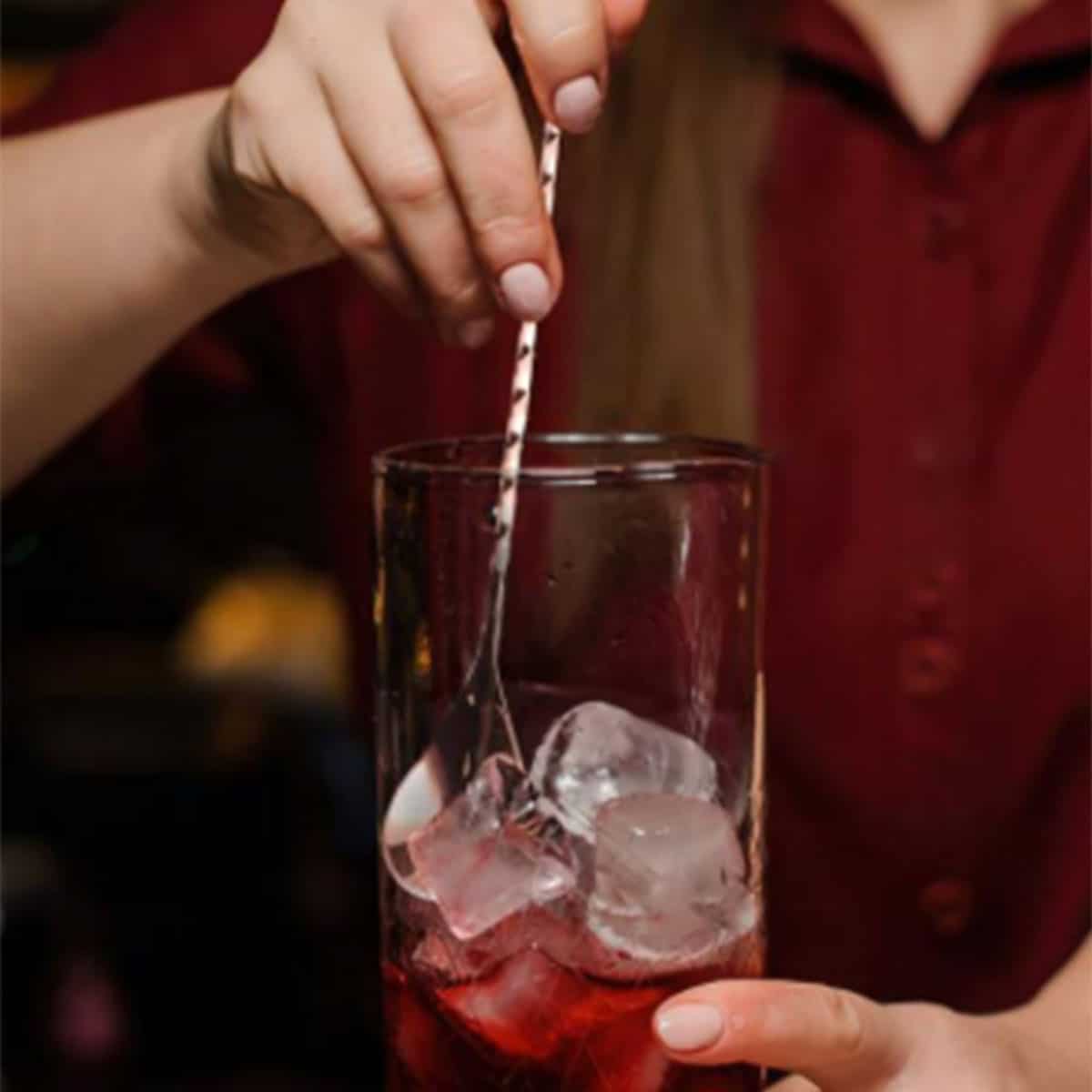 As noted, Shein offers home merchandise across a range of categories in home furnishings and housewares. Although often overlooked, fast-fashion brands including Shein and H&M offer significant home goods assortments.
As with apparel, Shein focuses on trends and priority, giving younger consumers choices in line with their expressed interests.
"We've seen a lot of interest across the home category, including home décor and bedding, bathroom," said Emily Workman, Shein's director of corporate communications. "This is a generation that seems to look for products that help them express themselves authentically in every aspect of their lives."
We've seen a lot of interest across the home category, including home décor and bedding and bathroom. This is a generation that seems to look for products that help them express themselves authentically in every aspect of their lives.
– Emily Workman, Director of Corporate Communications, Shein
Home is important to Shein, particularly as part of its ambition to remain engaged with shoppers as they grow older and move out of their parents' homes and into their own living quarters.
"As a company that's been around for 10-plus years, we do have many customers who have grown up with us," Workman said.
Gen Z has grown up with fast fashion, but it is a late arrival. If the fast-fashion era in the United States can be said to begin with the opening of the first H&M store in 2000, then pretty much the whole of Gen Z takes fast fashion as a given, a bit like they consider the Internet a natural part of their social environment. Although sources offer somewhat different age ranges, generally, the start date for Gen Z is put between 1995 and 1997, with the latter date seeming to be somewhat more common. Gen X and Millennials also have embraced fast fashion. However, Gen Z priorities tend to make the group more skeptical of anything that is meant for quick use and disposal, market research has suggested.
New Considerations
Marsha Everton, principal and founder, market researcher Aimsights Group, said Gen Z consumers have been looking for alternatives to fast fashion as it initially has been operated as younger consumers seek more environmentally friendly means of stylish self-expression. Driven by social media, fast fashion does suit the criterion for modern popularity in that it's an inexpensive way of adopting new looks that are Instagram-ready. Still, showing off fashion sensibilities isn't the only thing that concerns Gen Z, Everton noted, adding younger consumers "look for more sustainable ways of living. One of the statements that we consistently hear from Gen Z is that they will have to take the lead on saving our planet."
Shein has been positioning itself in a way that addresses Gen Z sensibilities. Shein gains some advantage in its supply-chain methodology of manufacturing products from small initial runs and based on demand so it doesn't put more on the market than it can sell. In doing so, the company points out, Shein minimizes the energy, raw materials and production waste that would go into bulk manufacturing.
Everton said, "The fashion trend that we forecast to have more staying power is based in the circular economy with greater emphasis on high-quality and still affordable and individualized clothing that is more durable and used longer, and recyclable."
More retailers are looking at the circular economy as a way to address sustainability concerns. Such operators include Ikea, which is taking back furniture it sold for resale; and eBay, which is expanding its refurbished product operations across a range of items including small kitchen appliances and vacuums. Walmart, too, is delving into refurbished products, but its focus is electronics.
The fashion trend that we forecast to have more staying power is based in the circular economy with greater emphasis on high-quality and still affordable and individualized clothing that is more durable and used longer, and recyclable.
– Marsha Everton, Principal and Founder, Aimsights Group
As it develops, the circular economy is becoming more proactive. These days its backers are encouraging consumers to purchase products with the intent of returning them to the marketplace. In part, that's due to monetary incentives provided by companies such as Poshmark that encourage consumers to sell their old possessions and resell products purchased used.
Now, however, Shein has made a more thoroughgoing move into the circular economy with a new program that responds to consumers who are enthusiastic about recycling used goods. The company stated that Shein Exchange took inspiration from customers who, through community-created Facebook groups and social platforms, have expressed an interest in resale destinations where they can buy and sell previously purchased Shein items without the barrier of sometimes-high platform fees. In October of last year, Shein set up Exchange to provide a one-stop destination for customers to become active participants in circularity while it promotes the benefits of purchasing pre-owned products.
Consumers can use the Shein app to access the Exchange. An easy-to-use interface lists previous purchases made with the retailer on a to-sell forum so they can be recycled easily, the company stated. Shein Exchange is in a pilot stage that includes the United States with plans for global expansion. The company considers Shein Exchange part of its ongoing efforts to address the issue of textile waste and build a future that is more circular.
At a time when certifications and declarations help guide consumers to authentically sustainable products, Shein became a signatory of World Circular Textiles Day, a coalition of brands, suppliers and other organizations who are helping shift the fashion and textiles industry toward full circularity by 2050.
"The goal of Shein Exchange is to make resale just as easy and convenient as buying something brand new, while also igniting a cultural movement of circularity within our own Shein community,", said Adam Whinston, Shein global head of environmental, social and governance, as he introduced the resale feature. "We're calling on our community to mobilize and keep previously owned clothing in circulation for as long as possible. By harnessing the reach and the influence of our growing community, we believe that shopping resale can become the new normal in our industry."
Exchange is one of several initiatives developed by Shein to satisfy eco-conscious shoppers, Workman said.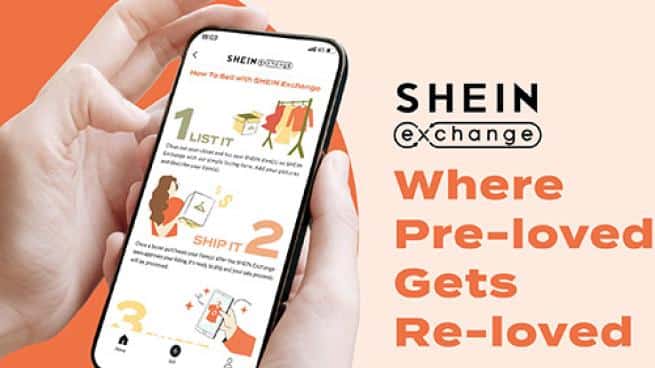 "We continue to implement sustainable/sustainability-driven initiatives," she said. "In 2022, we launched evoluShein, a purpose-driven collection featuring recycled [fiber]. It's an affordable option for shoppers seeking to make a positive impact with their product choices, and we've seen a great response from customers. We've also had a great response to Shein Exchange. In the time since we launched Shein Exchange, thousands of items have been listed."
Although environmental awareness is important to them, Gen Zers are also frugal, which gives them another motivation to resell possessions. In part, that can be attributed to their stage of life when their available financial resources are limited. The Q1 2023 Consumer Trends Report from marketplace platform Jungle Scout made the case that Gen Zers are partial both to the environment and saving money. The market researcher noted that 42% of consumers surveyed said they purchased a pre-owned item online in the past year and that saving money was a key reason. Gen Zers were the most likely, at 21%, to describe purchasing used items as part of their money-saving strategy with Gen Xers coming in second at 20%.
It's a good idea not to oversimplify Gen Z motivations. Even as the demographic grew up with greater concern about a changing environment, many Gen Zers were young children during the Great Recession, and then a dozen years later, the entire demographic confronted the COVID-19 pandemic with its resulting social and economic turmoil. In a study focused on the 18-25-year-old group sponsored by Bank of America in the summer of 2022, Gen Zers were more likely than other generations to cite the desire to comfortably afford material items, at 45%, as a motivator to achieving financial success versus 34% of Millennials, 30% of Gen X, 30% of Baby Boomers. According to the study, Gen Z identified discipline, at 56%, being financially savvy, at 37%, organization, at 35%, motivation, at 34%, self-awareness, at 29%, frugality, at 20%, and confidence, at 20%, as traits that help in achieving financial success. And Gen Z is putting its money where its traits are with 66% of demographic members in the Bank of America study indicating they are actively saving money to help them reach their financial goals.
Given their financial consciousness, the Gen Zer shift from fast fashion to recycled fashion should be considered in the light of principle and practicality.
Other Avenues
Shein isn't just evolving with its customers by launching sustainability initiatives. On April 1, the company held its initial Shein X Design Summit, in Los Angeles, to encourage participation from independent designers and connect them with the company's flagship incubator program, Shein X, which is designed to take their businesses to the next level. The day-long summit included a slate of participants who could discuss brand development along with other designer-dedicated programming and networking opportunities, including panels with LaQuan Smith, designer and founder of LaQuan Smith; Laura Kim, co-creative director at Monse; Maeve Reilly, a celebrity stylist; Gary Wassner, CEO of Hilldun Corp.; Evette, co-founder of Act of Faith and founder of EXO Cosmetics; Racquel Natasha, influencer, designer and founder of Natasia swimwear; and Josephine Skriver, model and co-founder of JOJA.
Authenticity and a social-media-empowered and democratized form of brand development and connection have been part of the Gen Z perspective on product discovery. Shein is feeding into this by encouraging a new generation of designers. After all, new designers and brand developers have certain advantages in connecting with Gen Z given that many are young and have shared real-life and online experiences. The retailer continues supporting incubator designers with a tab on its home page specifically linking shoppers with products developed with Shein X participants.
George Chiao, Shein's U.S. president, commented on the summit, saying, "At Shein, we're committed to empowering aspiring entrepreneurs. Since we launched Shein X in 2021, thousands of entrepreneurs have been able to elevate their brands on the global stage through the program. This year, we're looking to onboard 1,000 more, and we're excited to partner with visionaries and veterans from across the fashion industry to guide and support the next generation of designers and artists."
The Shein X incubator program is advancing its presence in the United States by engaging with consumers through its promotion of influencers, makers, designers and entrepreneurial communities so it can reflect the consumer preferences and priorities of younger consumers in general, Gen Z customers in particular.
"Shein is a global company with a local approach," Workman said. "To meet customer needs and preferences in the U.S., we have grown our team here as well as in other key markets around the world. Shein continues to establish and grow its corporate hub in the U.S., and we now have broken the 1,000 mark of employees in the country: warehouse employees plus office staffers. In 2019, our U.S. Shein team was only about 15 employees, and today we have more than 400 staffers. A majority work out of our L.A. hub at The Row, including some employees who have been with the company since day one. Other U.S, staffers work out of offices like Washington, D.C."
Workman said the company is getting ready to open up distribution centers across the United States and so is investing in and shortening shipping times for consumers. The addition of facilities, including a new Whitestown, IN, distribution center, is important given younger consumers are used to receiving deliveries within a day or two of order. And Shein continues to look for ways to understand the new generation of U.S. consumers and how to serve them.
"We know our customers find fashion inspiration from friends, family and social media, and we're always focused on identifying ways to connect with our fans and meet them where they are," Workman said.
The Gen Z link between social media and shopping is strong but multifaceted. It includes following celebrities to emulate their styles; spending time checking up on specific influencers and content creators for ideas and recommendations; and posting items on Instagram to get shopping feedback from their friends and family.
Social media shopping is attractive to Gen Z in large part for its entertainment values. Blogs, reals and posts are taking a more show-biz approach to selling, which is increasingly influencing established e-commerce operators who today are livestreaming and developing other event-oriented programming to promote purchasing.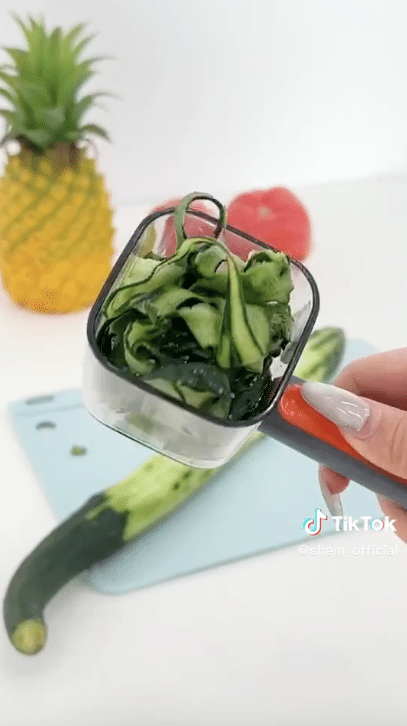 In its Q1 2023 Consumer Trends Report, Jungle Scout determined that 43% of Gen Z consumers start their online product searches on TikTok, a higher number than those who start on Google. Even with the impact of inflation on the marketplace today, 32% of Gen Z consumers shop online at least once daily compared to 25% of Millennials, 15% of Gen X and 7% of Baby Boomers. For younger consumers, shopping entertainment is popular, and purchasing is part of the fun. According to Jungle Scout, only 37% of Gen Z consumers are cutting back on fun/impulse purchasing in the face of inflation, compared to 56% of Gen X and 43% of Millennials.
Shein has a significant TikTok presence using the hashtag @shein_official. The videos include a lot of wardrobe choices featuring Shein apparel, but that's not all. For example, the Shein TikTok site included a demonstration of a "Shein Find" housewares item, a vegetable peeler with an attached cup that collects shavings as a consumer uses it. Another recent TikTok demonstrated how to use a beauty tool to get an increased volume for hair that just seemed too flat for the content provider.
During the 2022 holiday season, social media selling was an issue being watched more closely than ever, and evidence suggests that Gen Z was focused on using sites involved as a key part of their shopping process. In the research report What Gen Z Thinks About the Holiday Shopping Season 2022 issued by SimplicityDX, which works with sellers to enable social selling, 80% of Gen Zers among 1,000 surveyed said they planned to tap social media to find gifts, with 41% saying they would use the channel in most or all of their shopping. Simplicity DX described social media as a mainstream shopping destination for Gen Z shoppers based on survey results including that 93% of the demographic incorporates social media as part of the buying process.
Further, 51% of Gen Zers believe social media is a great outlet to learn about new products and 22% said it is a good resource on which to buy. Additional research and final purchasing often occur on sites such as Shein. In the report, 74% of Gen Zers said they prefer to switch to a brand site after finding something on social media. Despite the range of social media available, 60% of Gen Z shopping activity occurs on the combination of Instagram and Tik Tok.
"We're really excited about how we delivered for customers during the holidays, and we're looking forward to continuing to delight shoppers in new and exciting ways in 2023," Workman said. "Ahead of the holidays, we surveyed our customers, and clothing, shoes, and jewelry were the hottest items they planned to purchase during the season. We saw this was true, with a lot of interest in the home and accessories categories as well."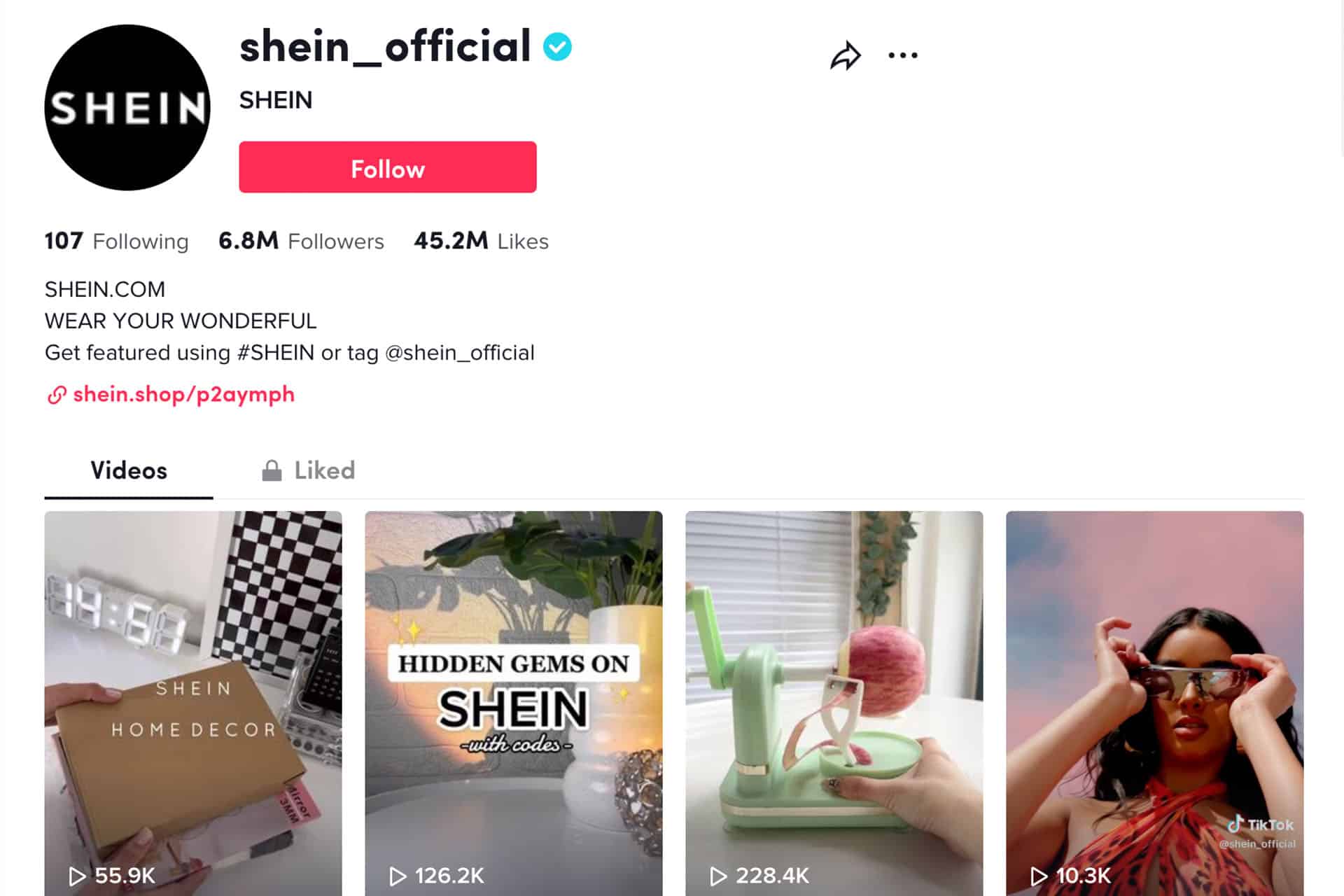 Shein has eight social media accounts listed on its website ranging from Facebook to Snapchat. On Instagram, Shein has a dynamic connection to consumers that include providing looks of different kinds and occasions including for its sponsored music festival. In its support of the 2022 Stagecoach Festival, at the Empire Polo Club in Indio, CA, Shein offered the types of activations that are becoming increasingly common in marketing to younger consumers. On the festival grounds, the Shein Saloon included the Sheglam Beauty & Freckle Bar for glam touch-ups; Cowboy Karaoke rides on the Shein Bedazzled Bull; and a Customizable Rhinestone Cowboy Hat Station. It also posted how to enter a contest for Stagecoach tickets plus travel and accommodation.
Influencers and other content providers are live on the page, which also recently included a livestream with singer/songwriter Priscilla Block, who helped introduce a collection of apparel for festival season. The company also promoted its design summit on its Instagram page. So, Shein is using social media as a full-range advertising opportunity that has the benefit of creating online communities of the sort that Gen Zers embrace.
In its Annual Digital Media Trends Survey, Deloitte pointed out that Gen Zers and Millennials both gravitate toward more interactive and social experiences that allow them to find community, explore new worlds and share what inspires them and then invite friends along on their virtual adventures. Shein recognizes and embraces such online behavior, giving consumers a variety of ways to engage with it, whether directly, through its own presentation of products or through peers, influencers and celebrities, not to mention events such as the Shein music festival.
In the Deloitte survey, Gen Zers in the U.S. were most likely to say they spend more time watching user-generated videos developed by peers, creators and influencers than they intend, 70% versus 66% for Millennials and 54% for Gen Xers. Then, 59% of Gen Zers say they are watching more user-generated content than six months ago, just behind Millennials at 63% and ahead of Gen Xers at 56%. In addition, 57% of Gen Zers said they spend more time watching user-generated video content online than TV shows and movies on streaming services, again just behind Millennials at 60% but ahead of Gen Xers at 45%.
For now, Shein remains primarily an apparel site with a fairly robust assortment of housewares and home furnishings that serve its core audience of younger consumers. However, the e-retailer is determined to mature as they do, which suggests that household products will become more important to the company.
Shein has gained ground outside of China. It is actively working to commission audits of the factories it uses. On April 18, Shein further address this with its release of Vision 2045, a report which commits the company to a goal of using more responsibly sourced materials and supporting the circular economy while also reducing its overall carbon footprint by 25% between now and 2030. As such, Shein continues to respond to its customer current and emerging priorities.