Ayesha Curry has launched her new line of Bay Area-inspired cookware and kitchenware products with Meyer Corporation by celebrating with a kickoff party in San Francisco.
A best-selling author, restaurateur, chef and lifestyle expert, Ayesha Curry's 2021 collection of cookware and kitchenware products join the lifestyle brand offered by Meyer. Ayesha collaborated closely to create the new products which include cookware, cast iron, bakeware, kitchen tools and pantryware products.
"I'm really excited about the new designs and refreshed Bay Area-inspired color palette of my new kitchen products and hope that they help spark interest in spending more time making delicious meals," said Ayesha Curry. "From the very beginning, my goal in creating my kitchenware line has been to encourage the habit of gathering at the dinner table, which is so important for strengthening relationships with friends and family and providing kids with the best foundation to learn, grow and be healthy."
New to the Ayesha brand are:
Ayesha Curry Hard-Anodized Nonstick Cookware
The cookware has a durable three-coat PFOA-free nonstick surface that was designed for long-lasting, effortless food release and easy cleaning. With a charcoal exterior finish, the collection was made to be modern and beautiful enough to bring oven-to-table.
Ayesha Curry Enameled Cast Iron and Pre-Seasoned Cast Iron
The Ayesha Curry Cast Iron collection is expanded with these collections, designed to give a modern twist to a classic and require no seasoning for immediate use. The Enameled Cast Iron is offered in new colors, Redwood and Anchor, and includes a 12-inch skillet and a 6-quartDutch oven with a lid. The Pre-Seasoned Cast Iron includes a 12-inch square grill pan and a 12-inch skillet.
Ayesha Curry Ceramic Dripping Can
An update on the Ayesha Curry Bacon Grease Can, the new ceramic dripping can was made to attractively contain flavorful drippings after cooking bacon, chicken, pork and other foods. It comes in three new colors:, Redwood, Anchor and Mustard.
Ayesha Curry Nonstick Bakeware
Made from heavy-duty steel, the interior surface was designed to promote even baking and browning and longer-lasting nonstick performance. The copper-colored bakeware comes in a 5-piece and a 7-piece set.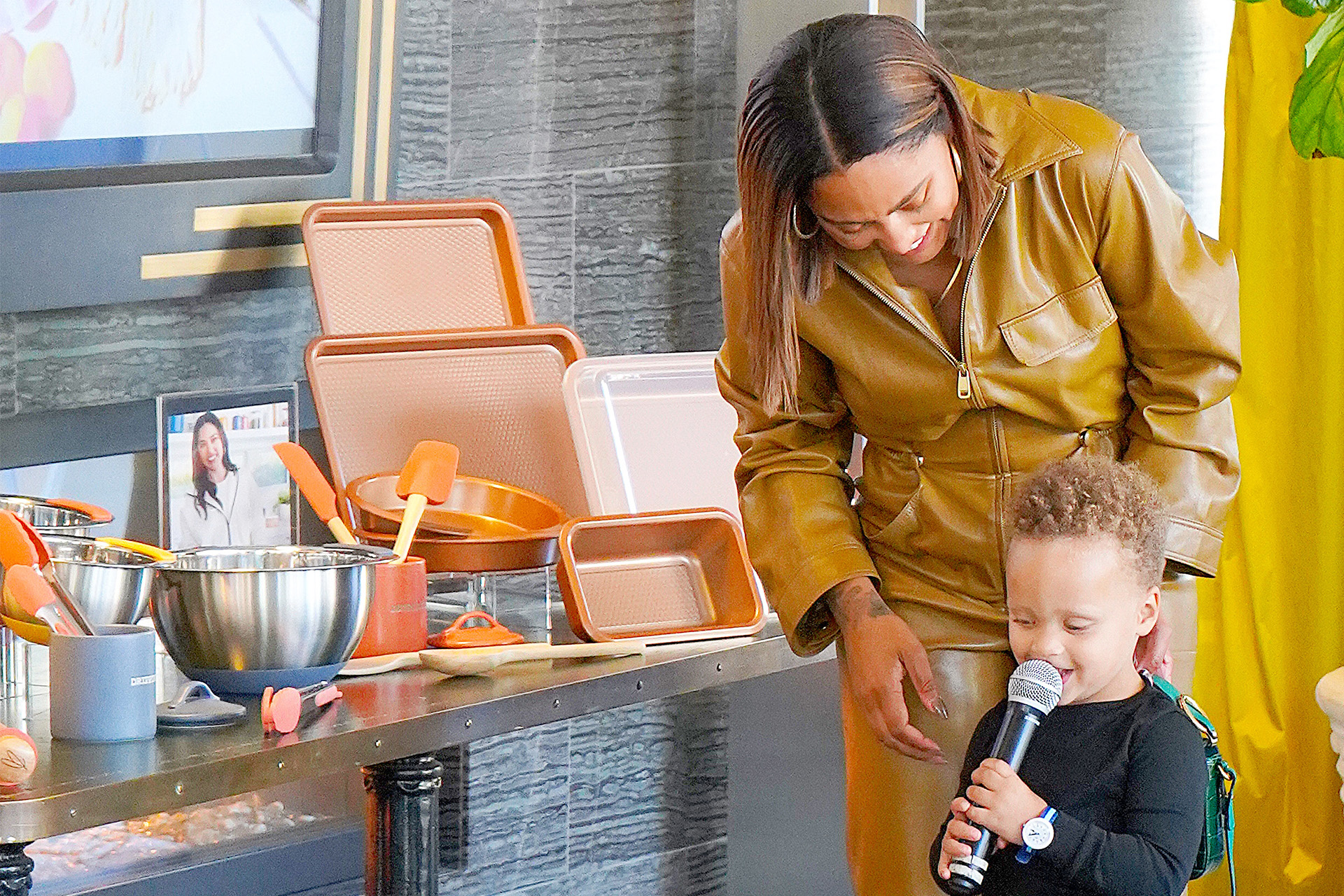 Ayesha Curry Kitchen Tools
Made from parawood and stainless steel, the kitchen tools feature long handles built to reach into deep bowls and pots. Specific tools, such as the spatulas, turners and spoonulas, include heat-safe silicone. The kitchen tools include a 4-piece tool set in the Redwood and Anchor colors; a 6-piece tool set in the Redwood and Charcoal colors; and a 3-piece locking tongs set in the Redwood and Anchor colors.
Ayesha Curry 3-Piece Mixing Bowl Set
New in pantryware, the mixing bowl set is made from stainless steel with a silicone grip on a wide-rimmed edge in contrasting colors of Mustard, Redwood and Anchor. The bowls have a silicone base to prevent sliding.
Ayesha Curry 18 x 22-inch Reversible Pie Board with Guide and Rolling Pin.
Made from parawood, the pie board is designed with measurements etched on one side to roll out dough to the exact circle called for in a recipe. Four different pin guides on the 14-inch rolling pin were made to roll out dough to the exact thickness specified.
Ayesha Curry 17-ounce Salt Cellar with Two Compartments
This salt cellar features a hinged lid made for smooth open and shut and easy access to seasonings.
The 2021 Ayesha Curry cookware and kitchenware products are available this fall at retail stores nationwide and at PotsandPans.com.