Cooking is a big deal again — after a period before the COVID-19 pandemic when some people wondered if take-out culture was going to increasingly dominate eating in the United States, with some wondering if Millennials were ever going to learn how to cook —  and consumers are flexing their culinary muscles but also looking for better, faster and easier ways to prepare meals and have some fun doing so.
In the pandemic, while people were stuck at home, cooking became more than a necessity, it became an activity, often a family activity, when chances to do things outside the home were unavailable. Backed by an Internet full of lessons, advice and recipes, consumers became competent, then confident.
Now, as consumers build on their knowledge of cooking and the lessons learned about and around it during the pandemic, kitchen tool producers are coming out with aesthetically pleasing products made both to do a better job and potentially complement or replace products cooks may have grabbed during a period of limited available but no longer meet their standards. If the kitchen is the heart of the home and family gathering place in tough times, and inflation is no joke to a lot of consumers, it may become a refuge again a place where the right products can make things more joyous.
Crate & Barrel seems to feel that way. Among its feature spring presentations is a lineup of kitchen tools designed to do specific jobs better and more attractively.
Sebastian Brauer, senior vp for product design, development, and metaverse at Crate & Barrel said consumers are looking for what he described as "livable luxe." It's a phenomenon that took root in the pandemic but hasn't gone away, as consumers already have invested to make their homes more accommodating of work and play. In terms of how that has played out for Crate & Barrel this spring, the expression in design terms is one of California living and the West Coast sense of relaxed sophistication.
Consumers have embraced comfort and good feelings in the domestic space but are still willing to put some effort into living well especially when it comes to food, whether for themselves, their families or guests.
Part of the lookbook presentation that Crate & Barrel offered for spring (pictured above) was a lineup of kitchen tools that were colorful but also helped accomplish specific tasks more effectively. If they have become better cooks over the past couple of years, Americans want to get the job done efficiently and in a way that's pleasing. In those cases where people made cooking an occasion for the whole family, that can be doubly true.
The collection offers bright yellow handles across a range of products including a Microplane grater-zester, a Crate & Barrel reamer, a citrus squeezer with measuring cup, a citrus juicer with cup and, in vivid green, a Crate & Barrel serrated citrus knife. The group is complemented by a bamboo digital kitchen scale. The company crafted each to perform functions effectively and look good doing it, with attractive qualities meant to conform with the preferences of today's consumer.
Microplane is debuting something new itself at The Inspired Home Show, the Mini V-Blade Mandoline, a small, compact and even portable food processor, it saves space in the kitchen while performing set tasks easily and effectively, the company pointed out. And it can do so on a counter or in the backyard for barbecues. The Mini V-Blade Mandoline eliminates the need to master knife skills when it comes to slicing soft foods such as tomatoes and mushrooms, which can be difficult to prepare neatly. And it's flexible, delivering slices ranging from a paper-thin 0.10 inch up to a half inch. The Mini V-Blade Mandoline comes at a $24.99 suggested retail price and should begin delivery in spring.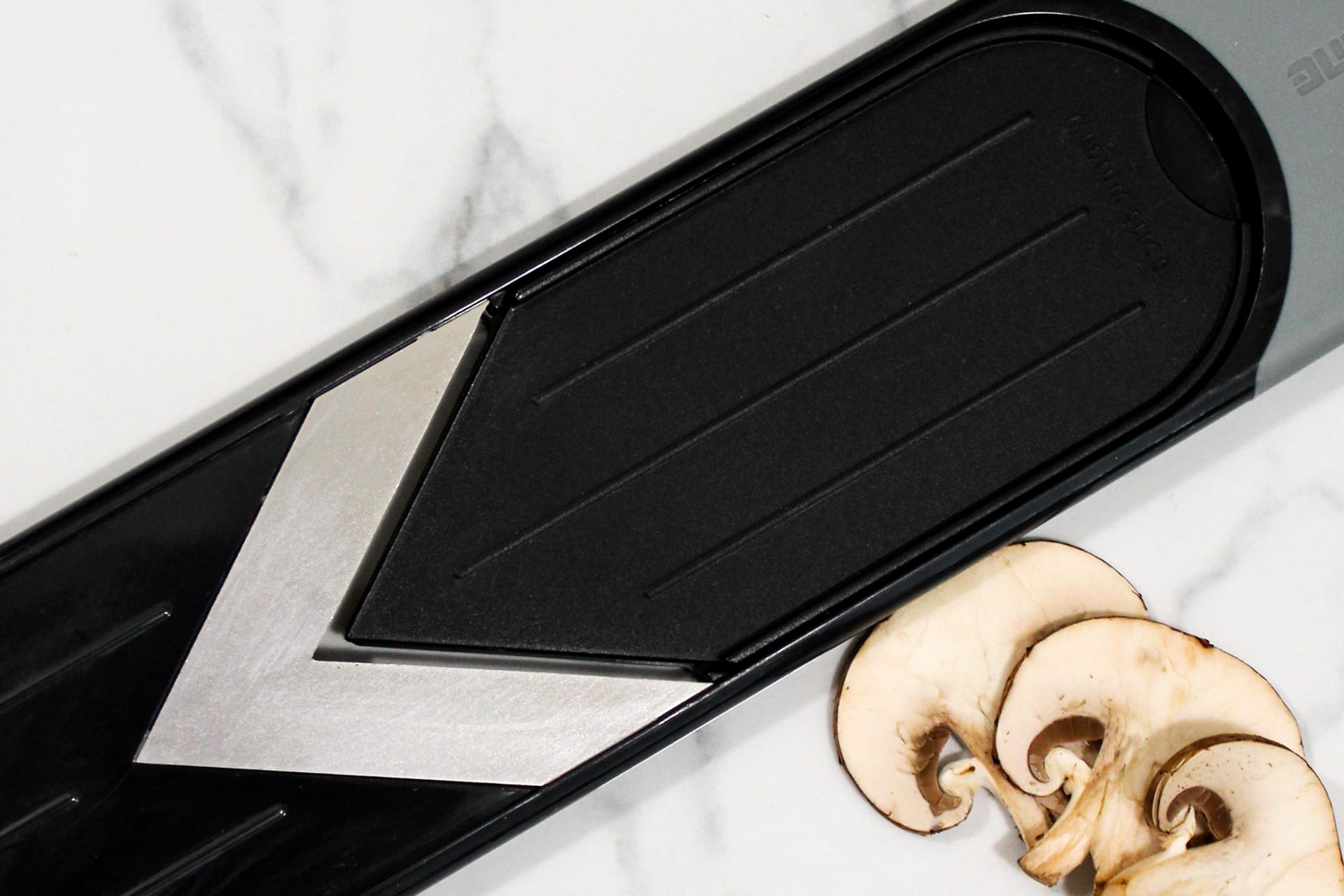 Microplane Mini V-Blade Mandoline
For some consumers, kitchen tasks can be intimidating to the point of avoidance, but they're still necessary to ensure good cooking. Knife sharpening is one such task given that a lot of advice and guidance exists for it, but it's not always consistent particularly given the manufacturing of various blade styles.
To solve one of those problems, Lifetime Brands has debuted the Farberware SmartSharp Knife Sharpener with LED Indicator. It employs a patent-pending optical technology that allows users to set a knife through to get a reading on sharpness. A green light signals the knife is sharp, yellow means a little additional sharpening is needed and a red light signals the knife is dull and a point when thorough sharpening is necessary. To sharpen, a user pulls a knife through the SmartShop's two-stage sharpening slots to get back into full cutting form. The SmartSharp has launched on Amazon for $39.
Adam Krent, vp and director of industrial design at Lifetime Brands, noted, "Knife sharpening is typically an ignored, mundane task. The goal was to create an easy-to-use consumer-friendly product that provides both simple sharpening and an obvious way to check blade sharpness. The final user experience is fun and engaging. The red, yellow, green light feedback is universally understood and rewarding. The patented laser edge-reading technology allows everyone to enjoy both quick blade sharpening along with the benefits of keeping kitchen knives sharp and usable."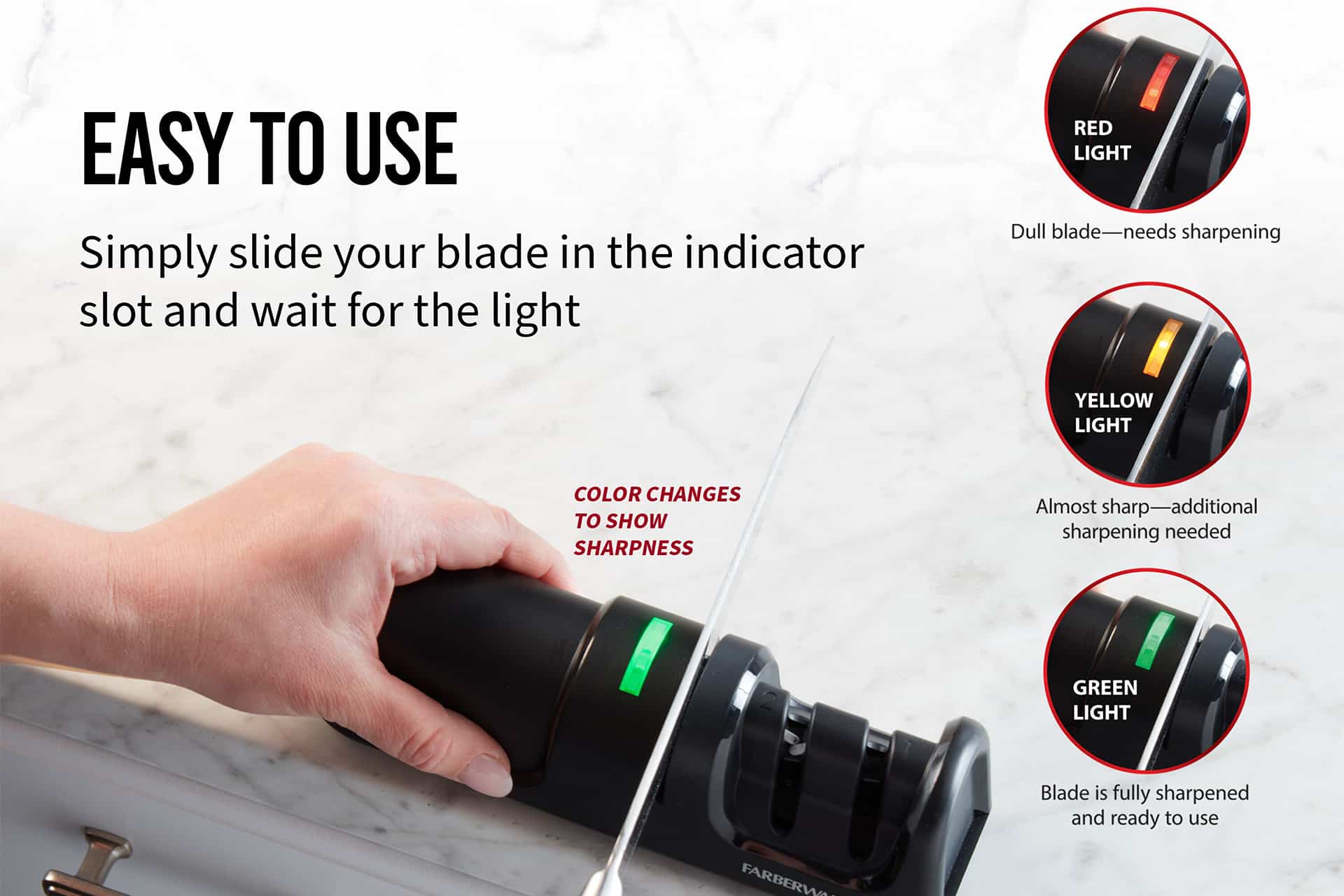 Farberware SmartSharp Knife Sharpener with LED Indicator
Martha Stewart and partner Gibson Homewares are responding to emergent trends in food prep. A reimagined cookware and kitchen tool line-up, Martha Stewart Everyday is intent on providing consumers with effective food prep products that are also affordable at a starting price of $5.99. Still, with a traditional look in clean metal and soft but lively handle colors, Martha Stewart Everyday tools and gadgets evoke simpler times when cooking was the centerpiece of family lives. The effect is to make the kitchen a little homier, more productive and a nicer place to spend time.
"The entire Everyday line has an undeniably retro vibe," says Gibson Homewares senior vp of creative Laurie Gates.
NexTrend Products Garlic Twister is a simple product that has distinct advantages as it can process garlic effectively by bringing the two halves of the device together and giving them a spin. It minces garlic from coarse to fine and, in a nice turn, it can process other foodstuffs including herbs, nuts and chili peppers alone and together, so users can get a nice ingredient mixture in one shot.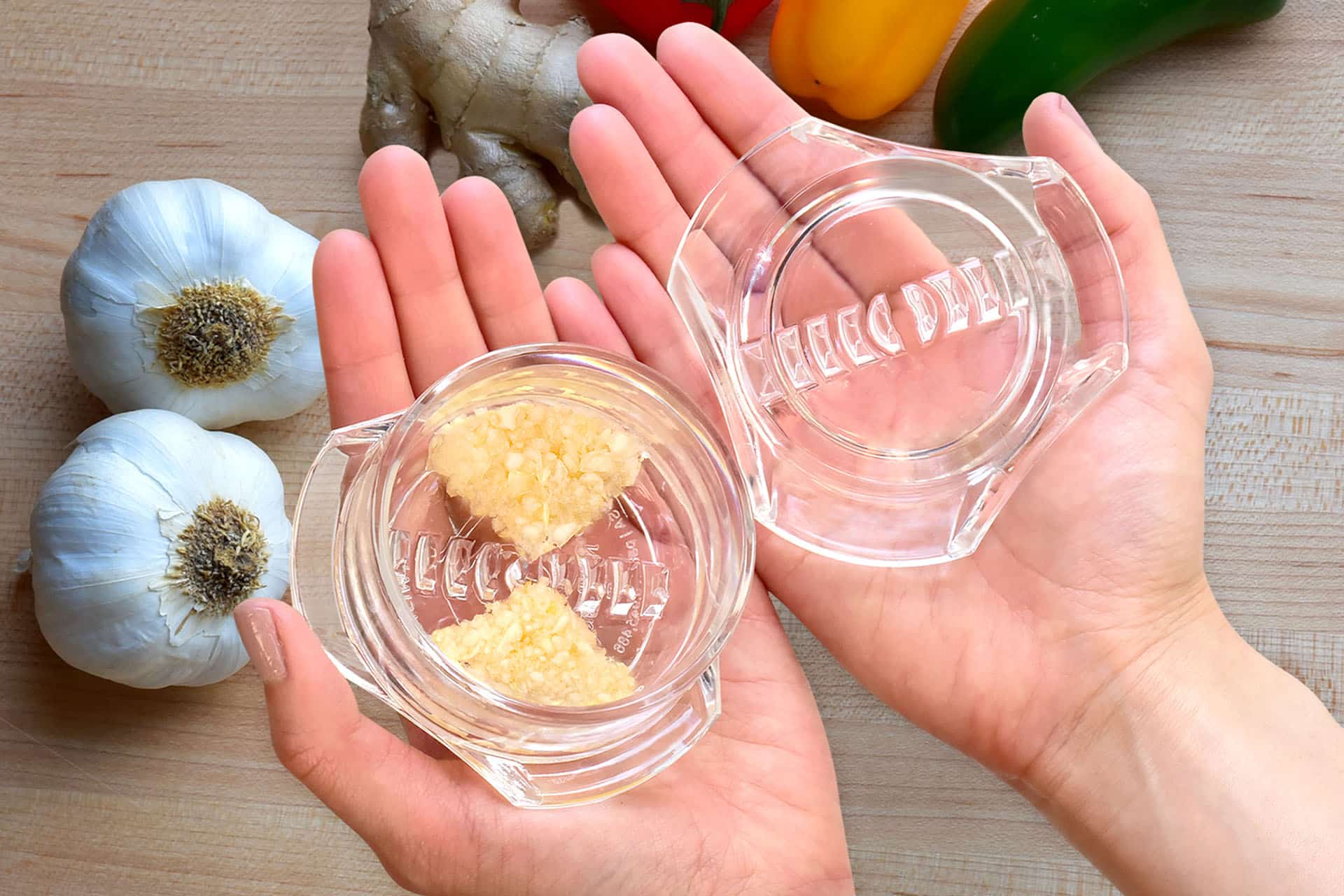 As noted, a lot of consumers have learned to cook or cook more dishes by checking out online videos and recipes. However, such instruction often requires exact measurements. Dexas International developed the Prep-Tech Cutting Board with Integrated Food Scale to make getting recipes right an easier process. Essentially a scale built into an eco-friendly bamboo cutting board, it even includes a "tech slot" that supports a smartphone or tablet to bring the whole web-based cooking process together.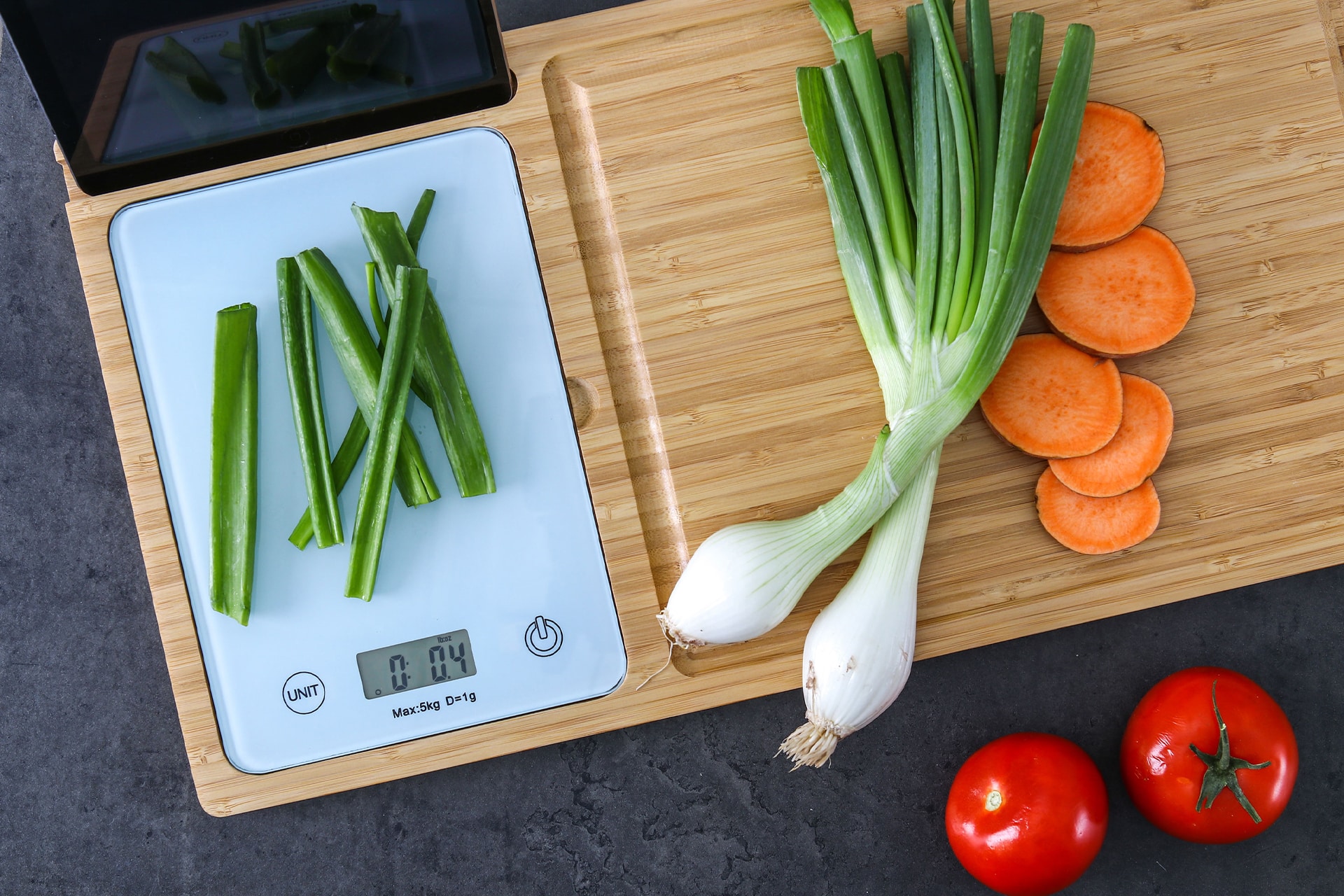 Dexas Prep-Tech Cutting Board with Integrated Food Scale
For the family that cooks together, Kuhn Rikon has debuted the Kinderkitchen line of children's cooking tools. The collection includes a pig mixing bowl, a rooster whisk, a goose mixing spoon, a sheep cutting board and a cat mezzaluna. For its part, the mezzaluna cutter features a childproof blade and secure-grip handle, and comes complete with a sheath for safe storage.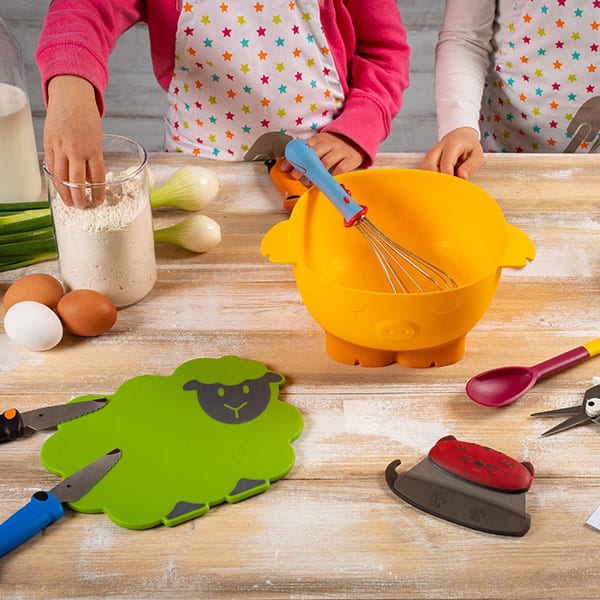 However, Kuhn Rikon hasn't left adults out of the fun with the introduction of its Colori + Art Vegetable Knives and two new Colori Cutting Boards. The knives are all-purpose kitchen preparation tools for peeling and cutting fruit, with ultra-sharp stainless steel blades hand sharpened and double beveled with a silicone non-stick coating to ensure the knives cut easily and precisely without food sticking to the blade. The handle colors range from a vivid red to black with various fruit and herb patterns on the blades and even camouflage. Colori cutting boards are sturdy but soft to prevent rapid knife dulling and are flexible to make it easy for users to slide food straight into your pot or bowl, and they come in colorful patterns now including the flag-inspired Americana, Pineapple, Floral and Leopard.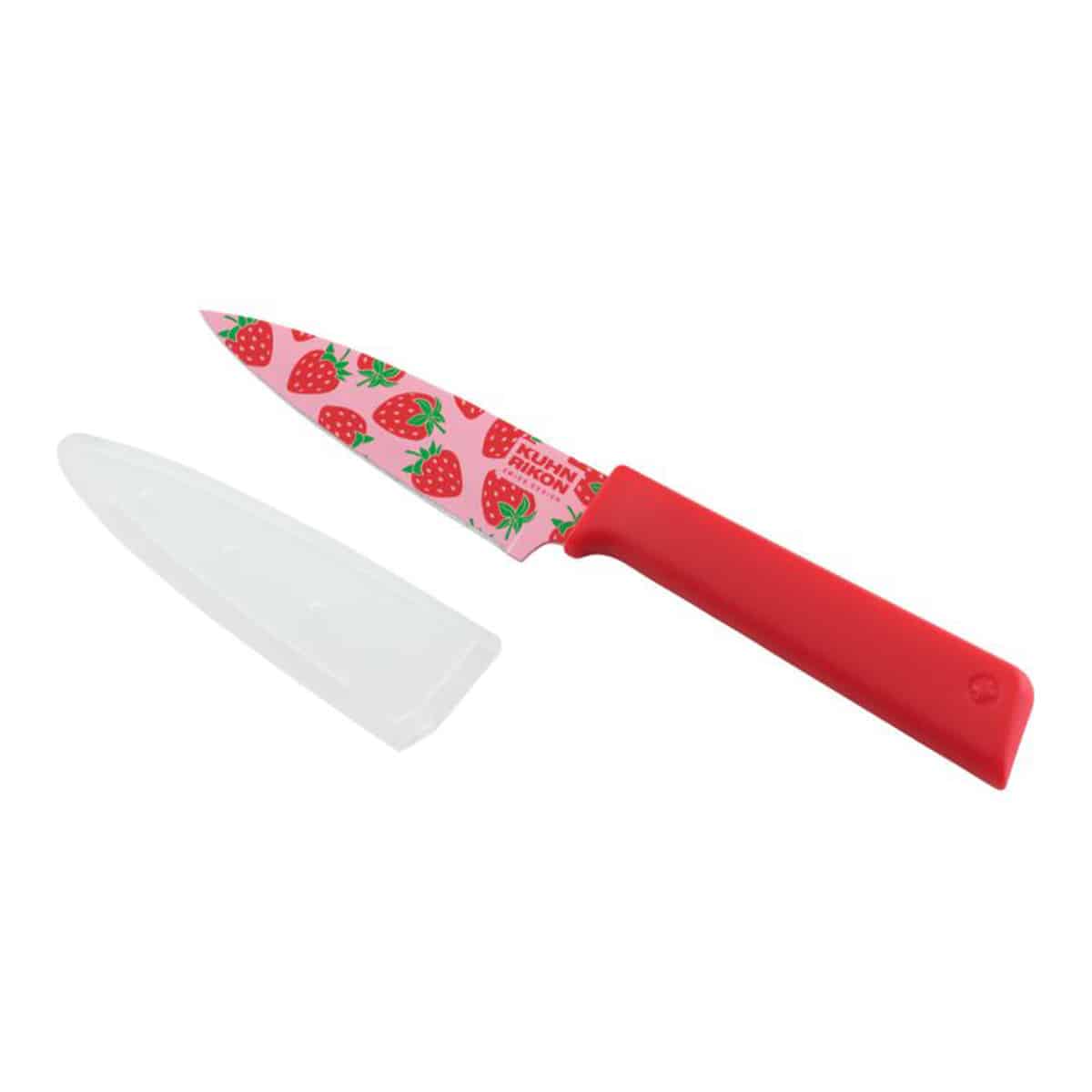 Kuhn Rikon Colori + Art Vegetable Knives
Food fun at home calls for fun food and the Prepara Day of the Dead Taco collection enhances the amusement factor with brightly colored, ornate designs based on Mexican motifs including stylized skulls. A tribute to the Mexican holiday, the products are made of break-resistant heavy-weight melamine so dishes can be prepared in the kitchen then served in one operation without fear of breakage, making what is intended to be fun easy, too. The collection consists of Multi Taco Holders, Taco Carousel and Taco Bowl, as well as a three-section tray. Suggested retail prices run from $9 to $24. 
"Our taco products are in high demand, and we created the Day of the Dead line to honor the Mexican holiday where families and friends come together for food, drink and celebration," said Dean Chapman, Prepara founder.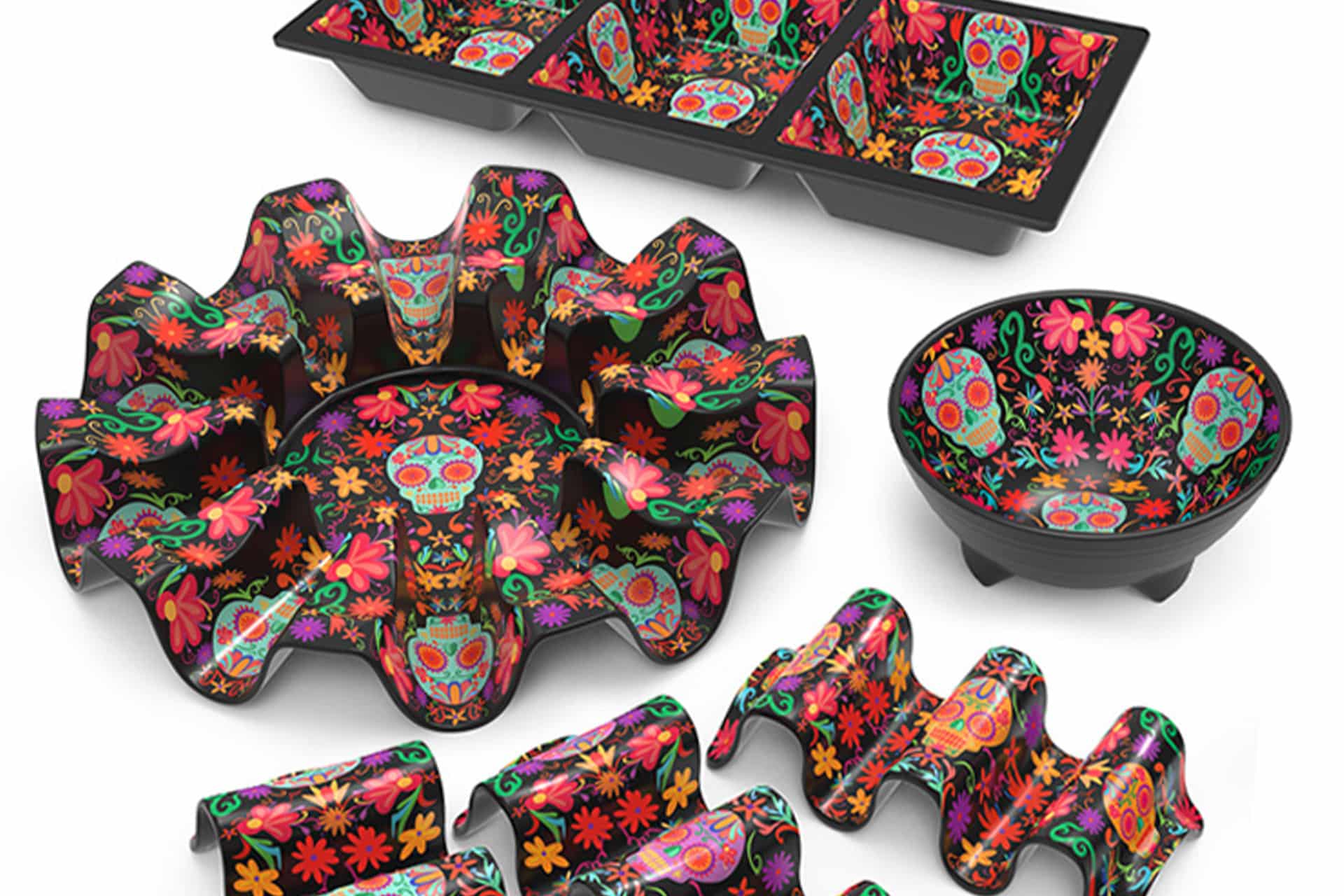 Prepara Day of the Dead line