Many consumers learned to cook or cook better in the COVID-19 pandemic, but they also made food preparation and all they entail a critical part of their lifestyles, which means they are likely to favor products that make time preparing, serving and consuming meals easier, faster, less of a task and even fun.
In that case, companies that manufacture and sell cookware and bakeware may want to consider that specific attributes are going to satisfy different consumers, whether their lifestyle is gathering and cooking with their family and friends in the kitchen or if it means sophisticated dinner parties. In other words, what may have its roots in the pandemic may blossom in different forms. So, multiple opportunities exist to create products that suit the greater interest in preparing food and to prompt consumers to move beyond cookware and bakeware they may have purchased catch as catch can in pandemic times of scarcity or that they had before but that no longer suits their abilities.
If those experts see a falloff in outside interests from consumers who may be reconsidering sticking closer to home as inflation continues, the chance to prompt consumers to replace old or inadequate cookware seems ripe.
To top it off, many of the consumers who integrated cooking at home into their lifestyles are young. Whether living at home, in first apartments or first homes, consumers under 45 were the ones who some feared would never learn to cook. Through the pandemic, they were learning the virtues of preparing meals at home both indoors and outdoors with their immediate families and then their extended families as pandemic protocols waned. As they've embraced home cooking integrally into their lifestyles, younger consumers are likely to keep exploring and trying new cookware.
In the HomePage News Outlook Survey, sponsored by the International Housewares Association, more than half of consumers surveyed said they were somewhat or very likely to purchase cookware or bakeware at some point during the year, 18% said very likely in both cases and 33% saying somewhat likely for bakeware and 34% for cookware. Women were more likely to consider purchasing in both segments, but only narrowly. However, younger consumers aged 18 to 34 and 35 to 44 had a higher likelihood of purchasing cookware, with about a quarter saying very likely in both cases and the younger of the two echelons just trailing the older, 37% to 41%, in the somewhat likely response. Older consumer purchasing interest trails off gradually. At a time when inflation is supposed to be impacting purchasing decisions made by lower-income more than upper-income consumers, survey respondents from households making less than $50,000 a year at 19% very and 32% somewhat likely to purchase didn't much trail respondents from households with incomes above $100,000 annually, at 20% and 37% respectively. Those in the middle were 17% very and 37% somewhat likely to purchase cookware. The numbers were very similar in bakeware.
Cookware and bakeware producers understand that consumers who have been integrating food prep into their lifestyles remain interested in cooking and also how they have pursued their interest through connections online with recipes, demonstrations and influencers of one kind or another. Gibson Homewares is reaching out to consumers with new products branded by someone whose senior vp creative Laurie Gates called the ultimate influencer: Martha Stewart.
Martha has recently been finding new ways to reach out to consumers herself, with The World of Martha Stewart recently breaking on Amazon. The Gibson introductions debuted for participants during The Inspired Home Show, in an interesting twist, two cookware collections that can appeal to the home cook who is getting better and getting organized as well as to the home cook who is entering the gourmet aficionado phase. The Martha Stewart Everyday Delphine Cookware Set in Martha Blue (pictured above) rolls out as a 10-piece enameled aluminum, induction-ready ceramic nonstick set. As such, it offers advanced features that are found more commonly in expensive pots and pans for domestic chefs but at a suggested retail price less likely to scare them off: $169.99. Then, for household gourmets who are ready to pass into a new class with their cooking, the Martha by Martha Stewart Signature Collection is offering tri-ply copper with pieces priced between $150 and $275.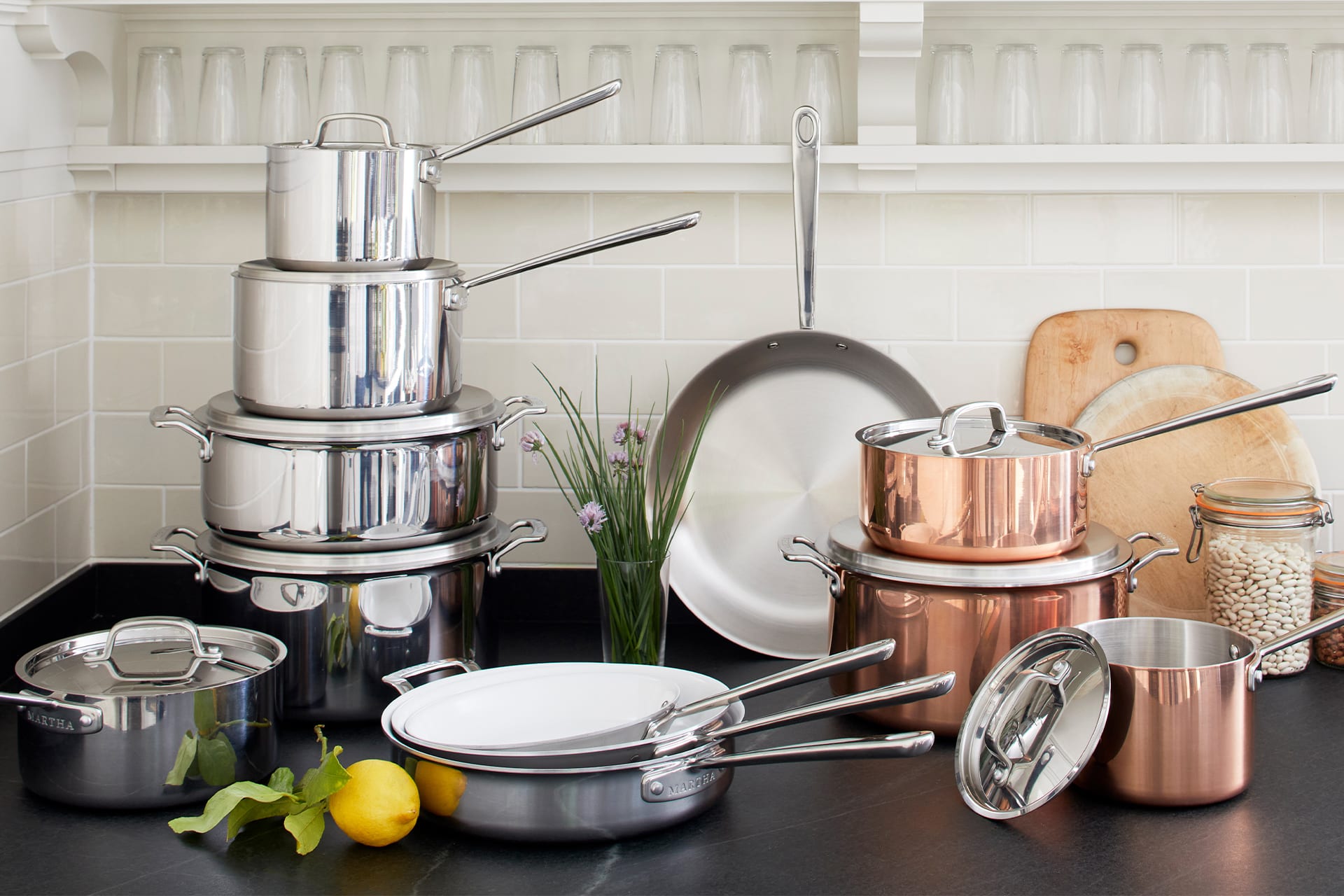 Martha by Martha Stewart Signature Collection
"We saw that a lot of people's cooking skills leveled up during the pandemic, so we worked closely with Martha to bring professional quality cookware into the home space," said Gibson spokesman Leonard Kody.
Gibson is also offering the Sur La Table Kitchen Essentials, targeting the value-conscious customer who likes to make cooking fun with modest price points and whimsical looks.
Viking also sees an opportunity for home chefs looking to reach the next cooking level. The company characterizes the Viking 4-Ply Contemporary Copper 9-Piece Cookware Set as an economical option for home chefs who want to trade up to the beauty and efficiency of copper but who also want durability so they can confidently use the cookware every day. The pieces can stand up to 600 degrees Fahrenheit and go from kitchen to table proudly with their elegant design all for, at the moment, $899.95 at Sur La Table. Critically, they are also induction capable. The proliferation of induction-ready products is a trend in itself, it should be noted, as gas stoves are scrutinized and, potentially, subject to regulation.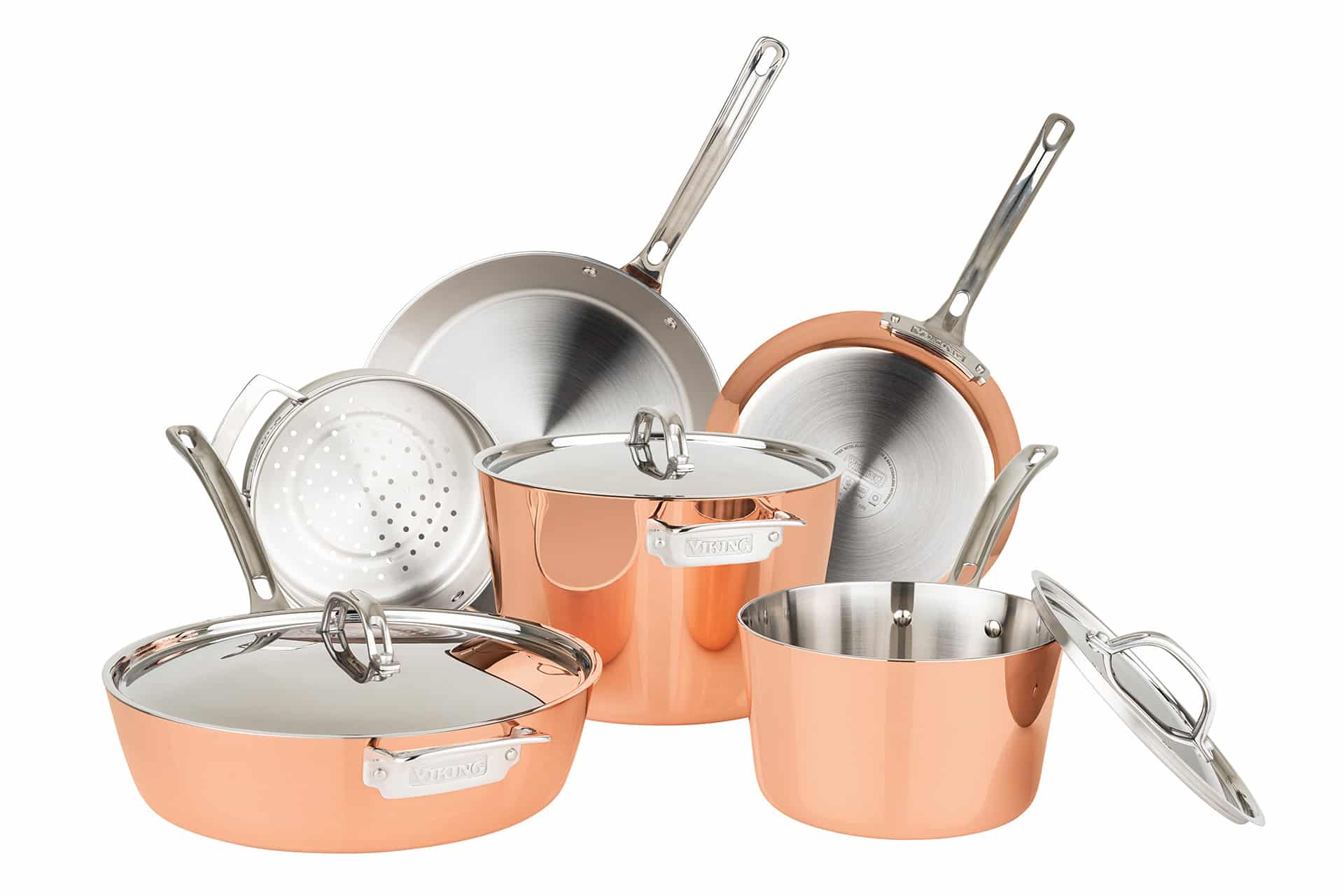 Viking 4-Ply Contemporary Copper 9-Piece Cookware Set
Jeff Malkasian, president of retail brands at Clipper Corporation/Viking Culinary, noted, "Copper cookware is a staple for the home chef that is looking for professional performance for their home. It gives great control over temperature with even heat distribution. The challenge is that most copper cookware is not induction capable. Viking Range has an amazing range of induction stovetops that are continuing to grow in popularity. We expect this trend to continue, especially as consumers move away from gas. Induction is a great next step as it allows very specific and stable temperature control. It was the trend in induction that drove us to look at the technology that would allow the customer that wants copper cookware to be able to use it on an induction cooktop."
As is the case with the Martha Stewart Delphine set, Bradshaw Home is looking to help evolving home cooks have a set of tools at their disposal that can conquer everyday cooking. Its GoodCook ProEase Nonstick 12-Piece Cookware Set is functional, colorful and offers ergonomic handles and knobs so that anyone in the kitchen whether young or old can help out. As such, the set fits into the lifestyle of the developing home chef who cooks with family and friends. Still, with the BestBake MultiMeal Bakeware, Bradshaw is leaning even deeper into the lifestyle realities The handcrafted bakeware allows users to make easy, personalized meals with up to three baking sections, and, so, satisfy multiple family members whether they have particular tastes or dietary restrictions.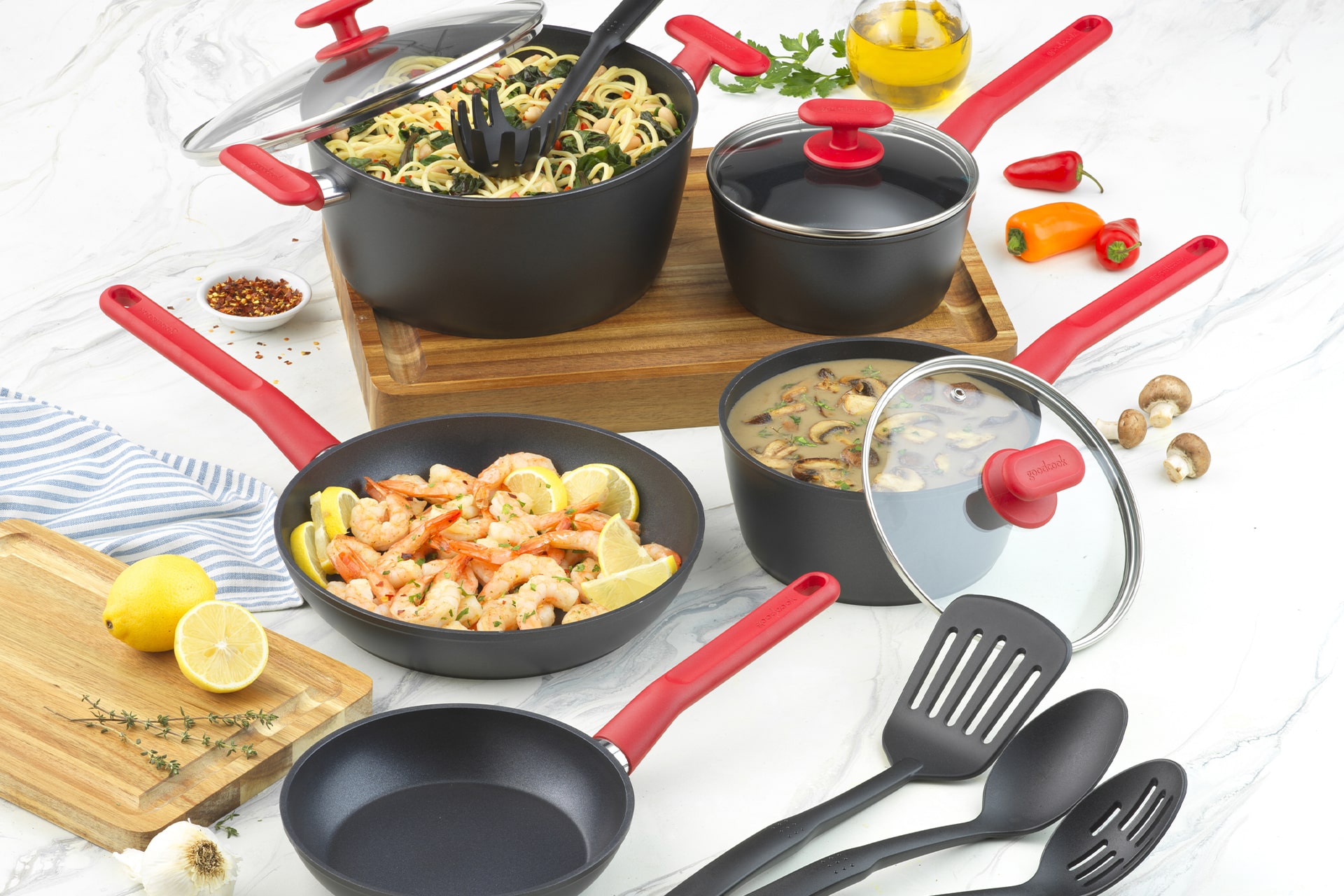 GoodCook ProEase Cookware
Consumers naturally tend to favor that which makes their tasks more simple and pleasant. The extension of ceramic non-stick coatings can certainly make cooking and cleanup easier, which is a good reason for it to appear more frequently. For example, GreenPan Premiere Ovenware offers a ceramic coating in a one-piece heavyweight gauge aluminum design that is functional but stylish enough to go from oven to table.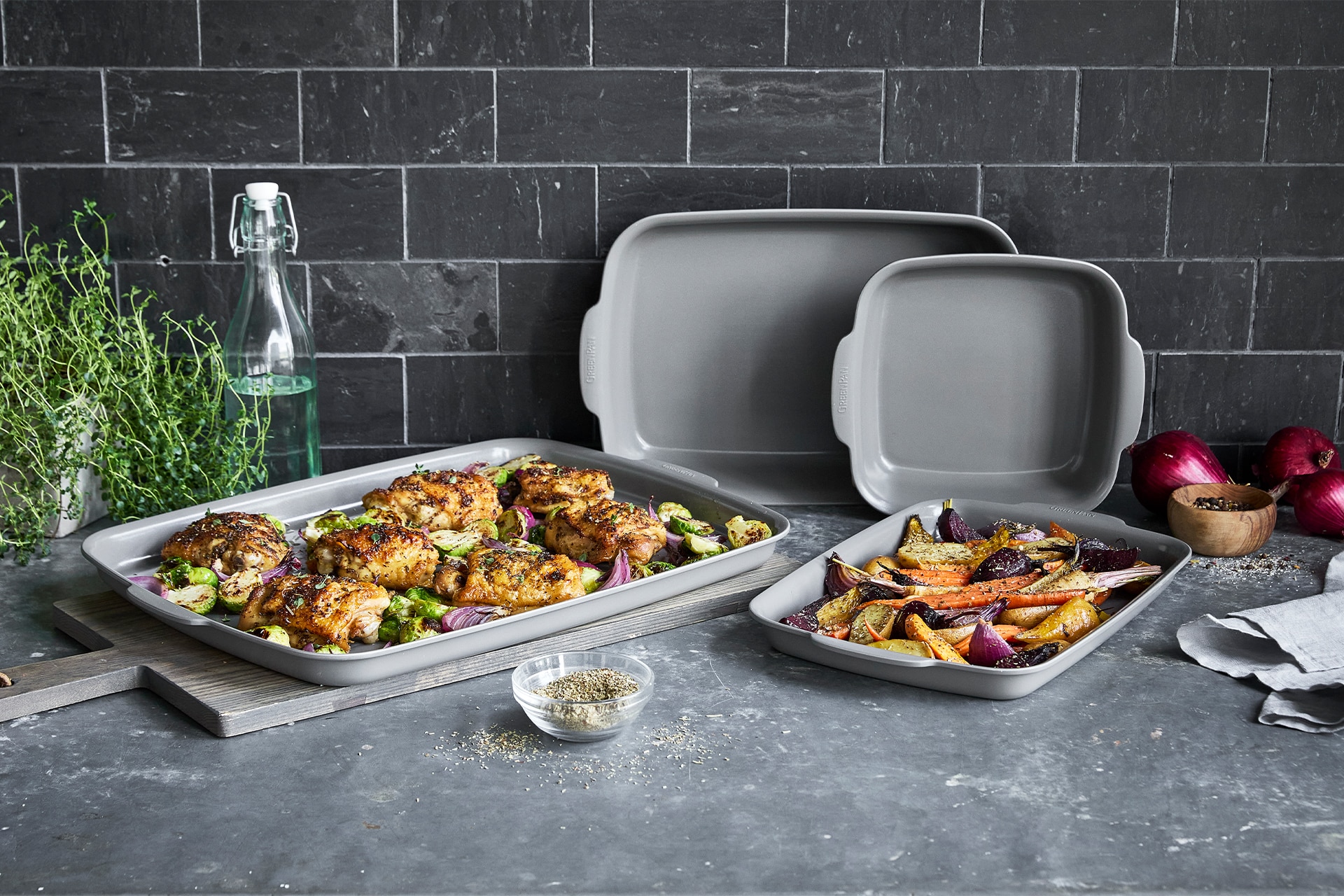 GreenPan Premiere Ovenware
Nonstick bakeware may make additional inroads with ease of use, and RL Industries believes it has an advantage there as it boosts and expands the Baker's Secret brand as the original nonstick metal bakeware. It is rolling out in five bakeware collections Essentials, Classic, Signature, Advanced and Superb, along with corresponding tools, blacked by a revamped website and new packaging for the brand's 50th anniversary.