Lodge Cast Iron has been producing cast iron cookware in the U.S. for 127 years. Joseph Lodge started the Blacklock Foundry in 1896 in South Pittsburg, TN, to begin manufacturing cast iron products, including cookware. After a fire destroyed the foundry in 1910, Lodge rebuilt and rebranded the company as Lodge Cast Iron.
The family-owned business, now in its fifth generation, has expanded in the last century from basic cast iron cookware to product innovations that are now standard, such as cast iron cookware seasoned during production and, most recently, the first U.S-made enamel cast iron, produced at the company's foundry in South Pittsburg.
The past year has been a busy one for Lodge with several new initiatives. Along with introducing the USA Enamel cast iron cookware line, it also debuted a line of Yellowstone-branded products and ventured into the culinary world with a launch of cornbread mixes and sear blends made for cooking in cast iron. Four varieties each of Lodge Skillet Cornbread Mixes and Lodge Sear Blends were developed in partnership with the spice company Old World Spice.
Mike Otterman was named president and CEO of Lodge Cast Iron in 2019. He is the first non-family member to run the company and has more than 25 years of experience in the housewares industry. HomePage News talked with Otterman about Lodge's new initiatives, including the U.S.-produced colored enamel cast iron, the Yellowstone line and his plans for the company.
HomePage News: The USA enamel collection is the first-ever colored enamel collection made in the USA. Why did you decide to begin manufacturing the product line in the U.S.?
Mike Otterman: Lodge has been dreaming of enamel manufacturing in South Pittsburg, TN, for years, but we were always chasing growth in seasoned cast iron. With the recent expansion of our foundry operations, it provided us with the capacity to make USA Enamel a reality.
HPN: What advantages does it give you over other colored enamel cast iron suppliers? 
MO: We focused on a beautiful representation of the Lodge brand and a product solution that appeals to a new generation of entertaining and culinary enthusiasts. A graceful silhouette, high-impact accents, bold colors, a very functional design —  all underpinned by great Lodge cast iron.
HPN: Please describe the planned retail rollout for the collection. Which channels will it be sold through and when will it be on store shelves?
MO: Lodge USA Enamel is rolling out to premium retailers this holiday season, including Williams-Sonoma, Dillard's, Crate & Barrel and many other specialty housewares retailers.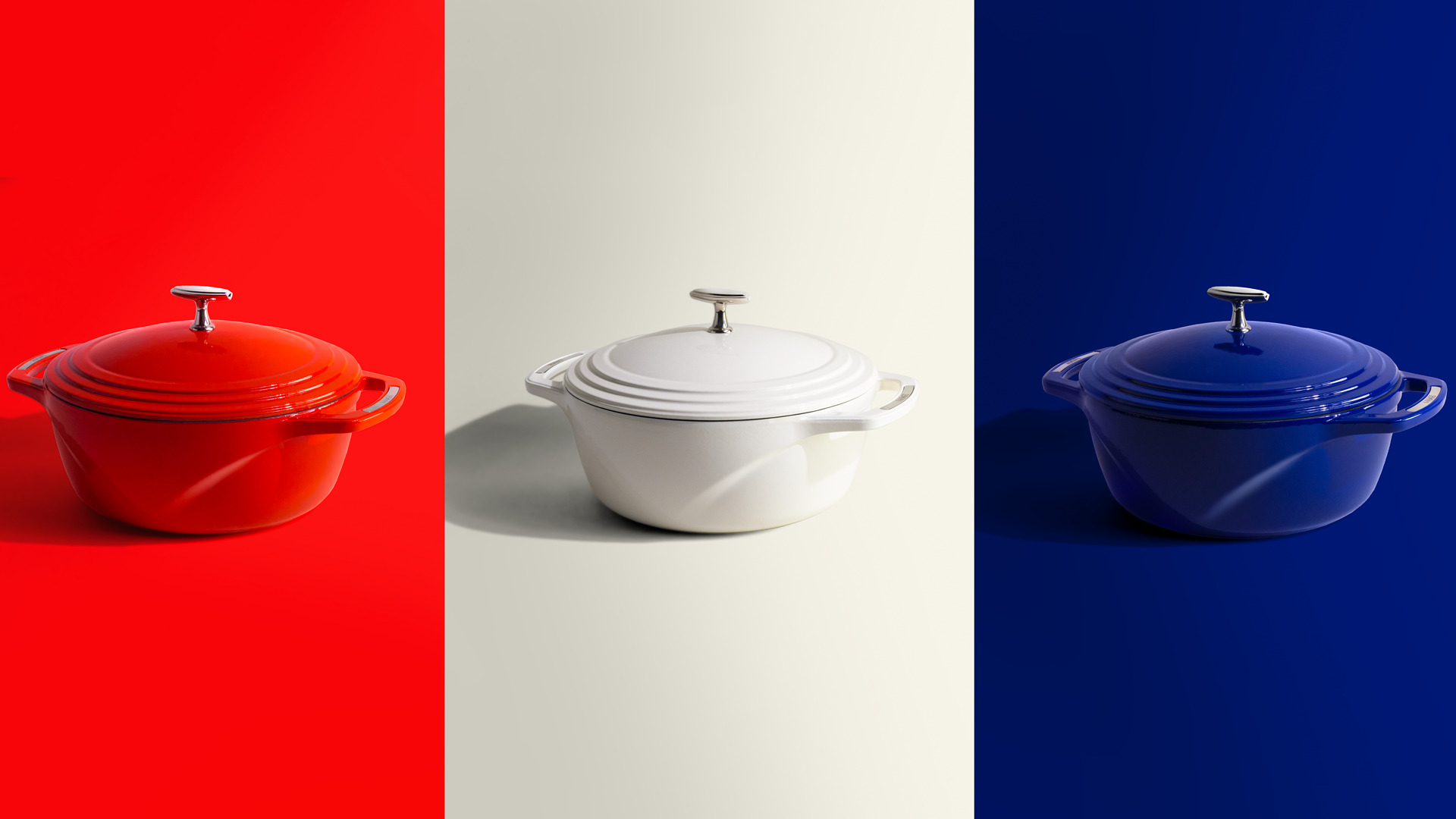 Lodge USA Enamel Collection
HPN: What do you plan next for the line in terms of marketing and product development? Do you plan to increase the color offerings from the current red, white and blue initially introduced?
MO: Lodge believes strongly in the universal beauty of our current color palette and will be focused on building out additional shapes and sizes in the future.
HPN: In 2005, Lodge introduced Essential Enamel, a line of porcelain-enameled cast iron cookware that is imported. Apart from production origin, what is the difference between the Essential Enamel and USA Enamel lines?
MO: Our Essential Enamel line provides both function and value to home chefs. The elevated USA Enamel assortment combines exceptional styling and depth of color, making for gorgeous oven-to-table presentation along with the consistency of USA-made craftsmanship and iron manufacturing.
HPN: How long did it take to create the enameling facility, and is it part of one of your foundries or a separate facility?
MO: This was a labor of love and time. We began the USA manufacturing build pre-COVID and battled quarantines and supply chain challenges to begin production early this year.
HPN: At The Inspired Home Show last March, Lodge introduced a line of products with the Yellowstone brand in conjunction with the TV show. Why did you partner with the brand?
MO: In a word: Authenticity. The Yellowstone ranch (on the TV show) cooked on Lodge cast iron both in the kitchen and at the campsite multiple times in the early seasons. Given the 1896 heritage of Lodge and the multi-generational story of Yellowstone, it made for a perfect co-branded partnership.
HPN: How has the partnership benefited Lodge?
MO: The excitement behind the Yellowstone franchise has introduced Lodge to many new consumers.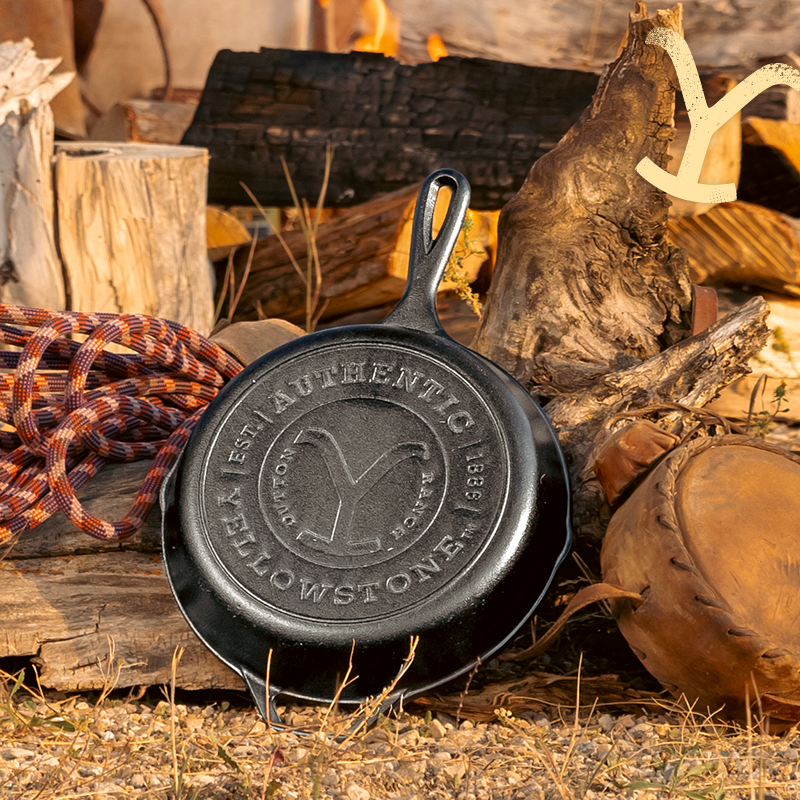 Lodge Yellowstone Cast Iron Authentic Y Skillet
HPN: Do you plan to expand the Yellowstone line?
MO: We have a strong assortment of nearly a dozen items that will continue to be marketed into 2024 and beyond, but we are always considering fresh new Yellowstone designs.
HPN: Are you considering other co-branded licensing partnerships?
MO: Our focus remains on the Lodge name and any potential future partnerships would have to deliver the same authenticity and heritage that comes from well-seasoned cast iron.
HPN: What was your vision for Lodge when you joined the company five years ago? How has it evolved from when you first arrived?
MO: Lodge has made world-class cast iron for generations. The opportunity from day one was to protect our values while introducing the Lodge name and the benefits of cooking on cast iron to more people.
HPN: How is Lodge evolving its overall marketing strategy: leveraging a legacy U.S. brand so it appeals not only to longtime die-hard users but also to a new generation of home and outdoor cooks?
MO: Lodge cookware has tremendous passion from both indoor and outdoor cooks. The heat retention of cast iron, the chemical-free, easy-release surface, the sustainable nature of cast iron production and the lifetime durability of the cookware have tremendous appeal to all consumers.
HPN: What is your vision for the company over the next decade?
MO: The oldest method of cookware production is the most relevant surface for today's world. Food tastes better cooked in iron and the surface is all natural — our job is to introduce the benefits of seasoned cast iron to more people and help them have a great experience cooking in their skillet the first time.