The Spring New York Tabletop Show played this week to positive reviews by suppliers who said they had full slates meetings with retailers eager to discover new designs to help drive a back-half rebound from what has been a soft start to 2023.
This is the second edition of the New York Tabletop Show at 41 Madison Avenue since the operation of the show was assumed by the Tabletop Association formed after building owner Rudin Management abdicated its longtime management of the show beginning with the October 2022 market. The Tabletop Association is made up largely of showroom tenants at 41 Madison Avenue, as well as some tabletop companies and organizations that do not lease space at the building.
Among retailers pre-registered to attend the spring market, according to tabletop executives, were Overstock, Linen Chest, Macy's, Bloomingdales, Hudson's Bay, Tuesday Morning, Belk, Wayfair, Amazon, Saks, Big Lots, Costco, Bed Bath & Beyond, Zola, One Kings Lane, Lord & Taylor, Food52, JCPenney, Walmart, TJX, TJX Canada and Ross Stores.
"There is a lot of interest in what's new by retailers here, and there is more new product here than the past couple of years," said Sal Gabbay, CEO of Gibson Homewares, which was showcasing several new tableware and kitchenware designs across its many brands, notably it is expanding Sur La Table and Martha Stewart collections. Gabbay noted how the pandemic sales surge followed by supply-chain disruption and then a sales slowdown each contributed to muffling new product launches and delivery the past couple of years. "Business is challenging for retailers," Gabbay said. "New is needed to help elevate the business."
Tabletop and housewares industry veteran Thomas Miang Perez, CEO of the recently established U.S. operation for Denmark's  Rosendahl Design Group, confirmed the hearty appetite for new products among retailers at the show. Rosendahl Design Group offers such tableware, giftware and kitchen accessory brands as Rosendahl, Kahler, Holmegaard and Lyngby (colorful porcelain tableware pictured above).
"Newness: The retailers need they need it," Perez said inside the new 41 Madison Avenue showroom shared by Rosendahl and Alessi.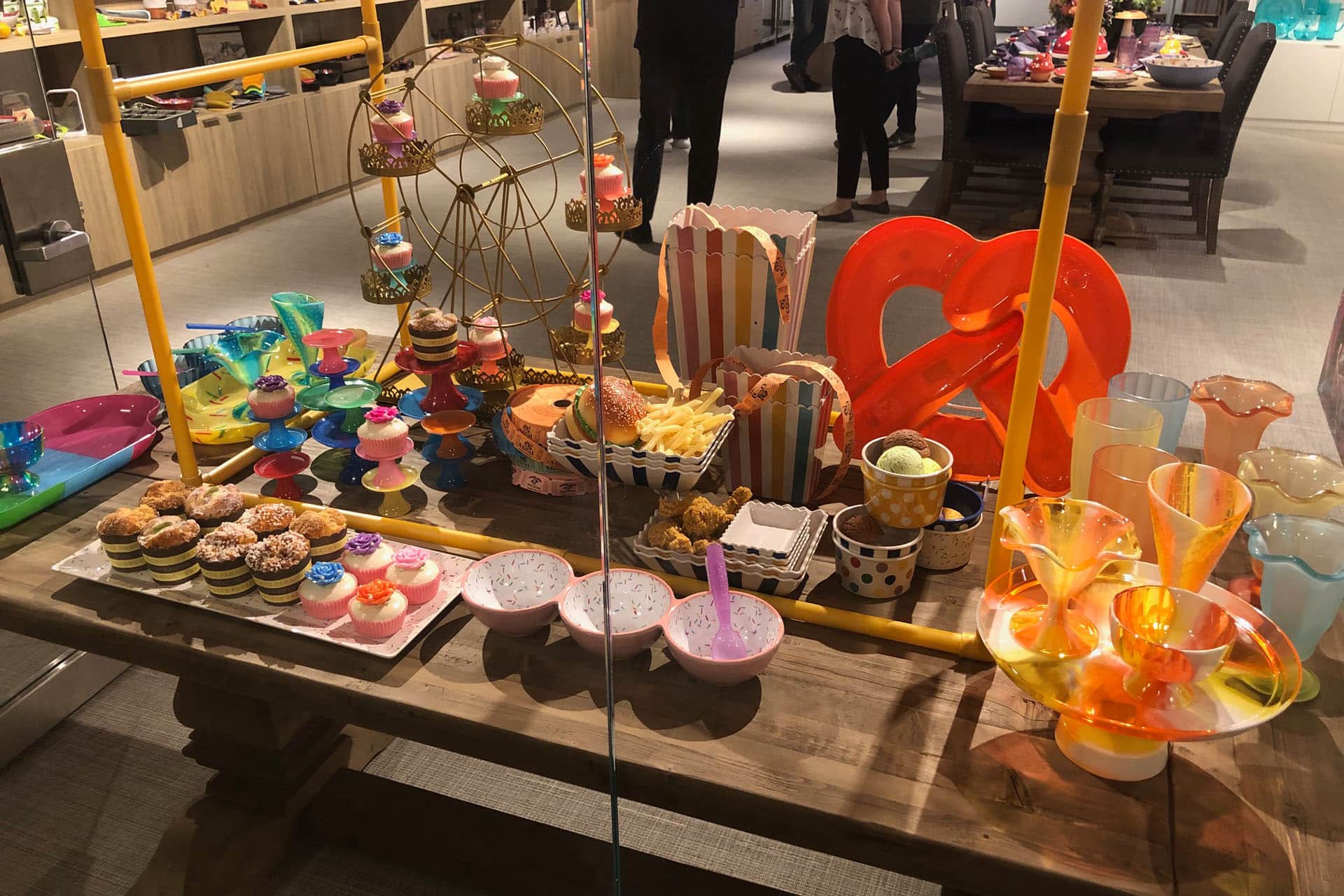 Entertaining tableware and serveware from plasticware maker Jia Wei. 
New for spring market was a temporary exhibit established by the Tabletop Association called the Galleries at 41 Madison. Companies in the initial exhibit were MadeSmart (kitchen/household organizers and serveware), MyRegistry.com (gift registry services), Canvas Home (dinnerware), Mode Living (table settings) and Von Gern Home (placemats and table accessories). Tabletop Association officials said they hope to expand the temporary exhibit at future markets. The next New York Tabletop Market is set for this fall, October 10-13.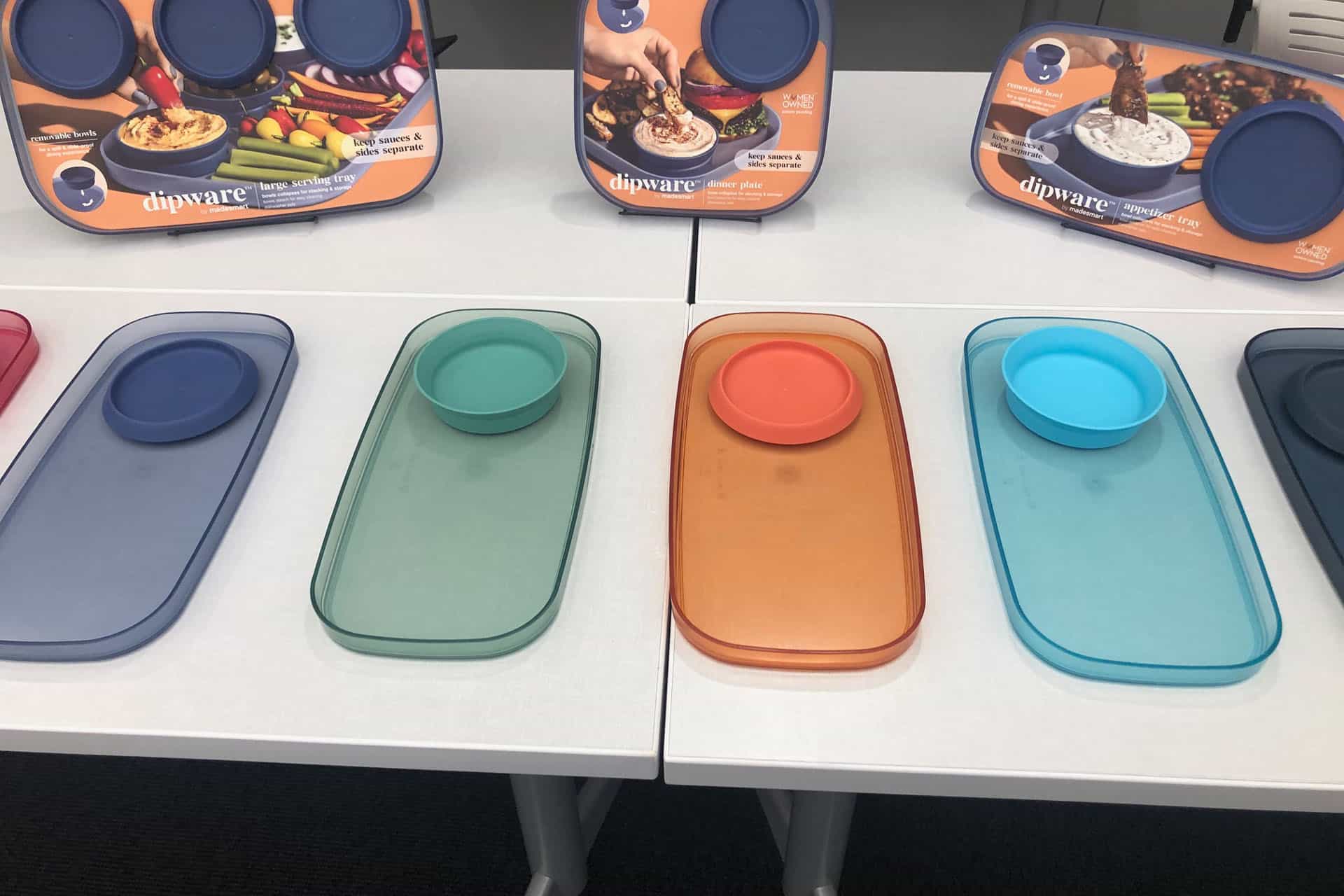 MadeSmart's Dipware dinnerware and serveware fitted with collapsible silicone bowls. 
MadeSmart founder and CEO Devee Joy McNally said participation in the tabletop show allowed the company known for its kitchen and bath organizers to showcase its launch of a collection of Dipware dinnerware and serveware fitted with collapsible (and on some models detachable) silicone serving bowls.
For Gibson, the spring Tabletop Show marked an opportunity to celebrate the retirement of veteran tabletop designer and entrepreneur Laurie Gates. Gates had served as Gibson's senior vice president of creative since Gibson acquired the Laurie Gates ceramic tableware business and brand in 2014. Gates is handing off Gibson's design leadership to Aaron Stewart, formerly lead designer for Martha Stewart Living Omnimedia (no relation). Martha Stewart made a surprise visit to the Gibson showroom Monday afternoon during a send-off reception for Gates.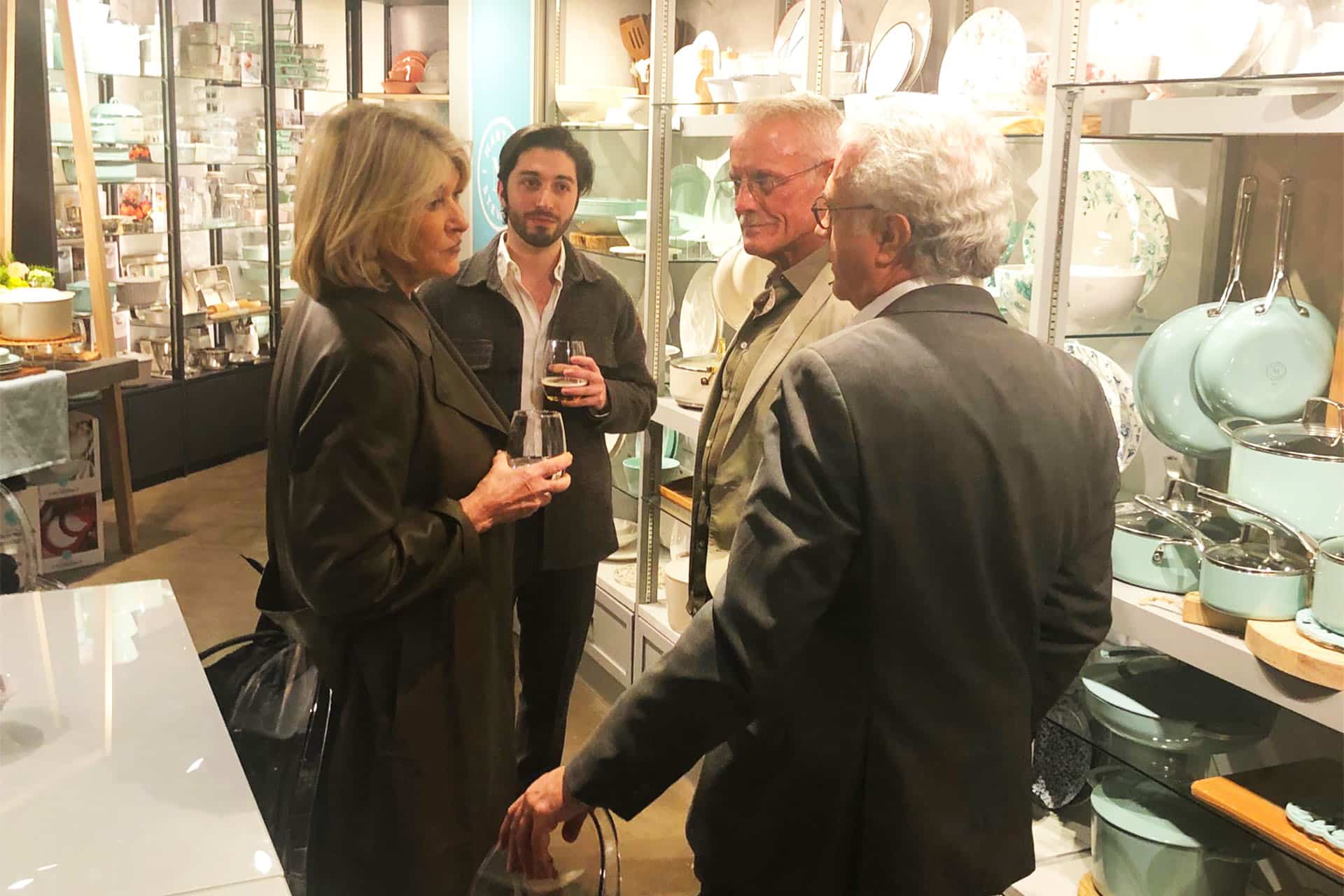 Martha Stewart meets with Gibson's Sal Gabbay and Laurie Gates during the New York Tabletop Show.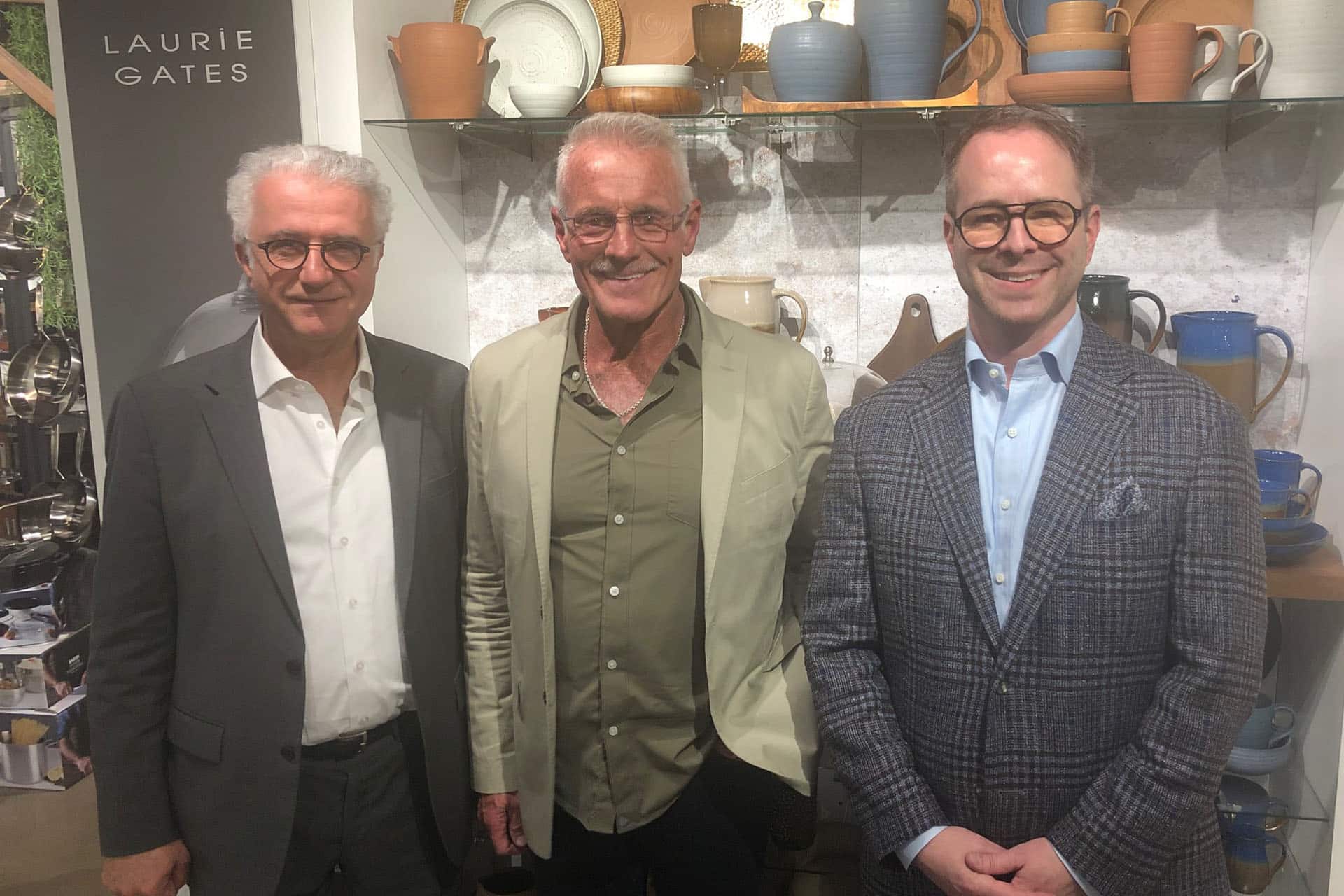 Retiring Gibson creative leader and longtime tableware designer and entrepreneur Laurie Gates (center) with Gibson CEO Sal Gabbay (left) and incoming Gibson creative leader Aaron Stewart. 
The Spring New York Tabletop Show underscored continuing cross-category diversification and development that has traditional tabletop brands moving into complementary kitchenware.
Turkish porcelain tableware specialist Porland, for example, highlighted its Cookland collection of induction-ready porcelain cookware.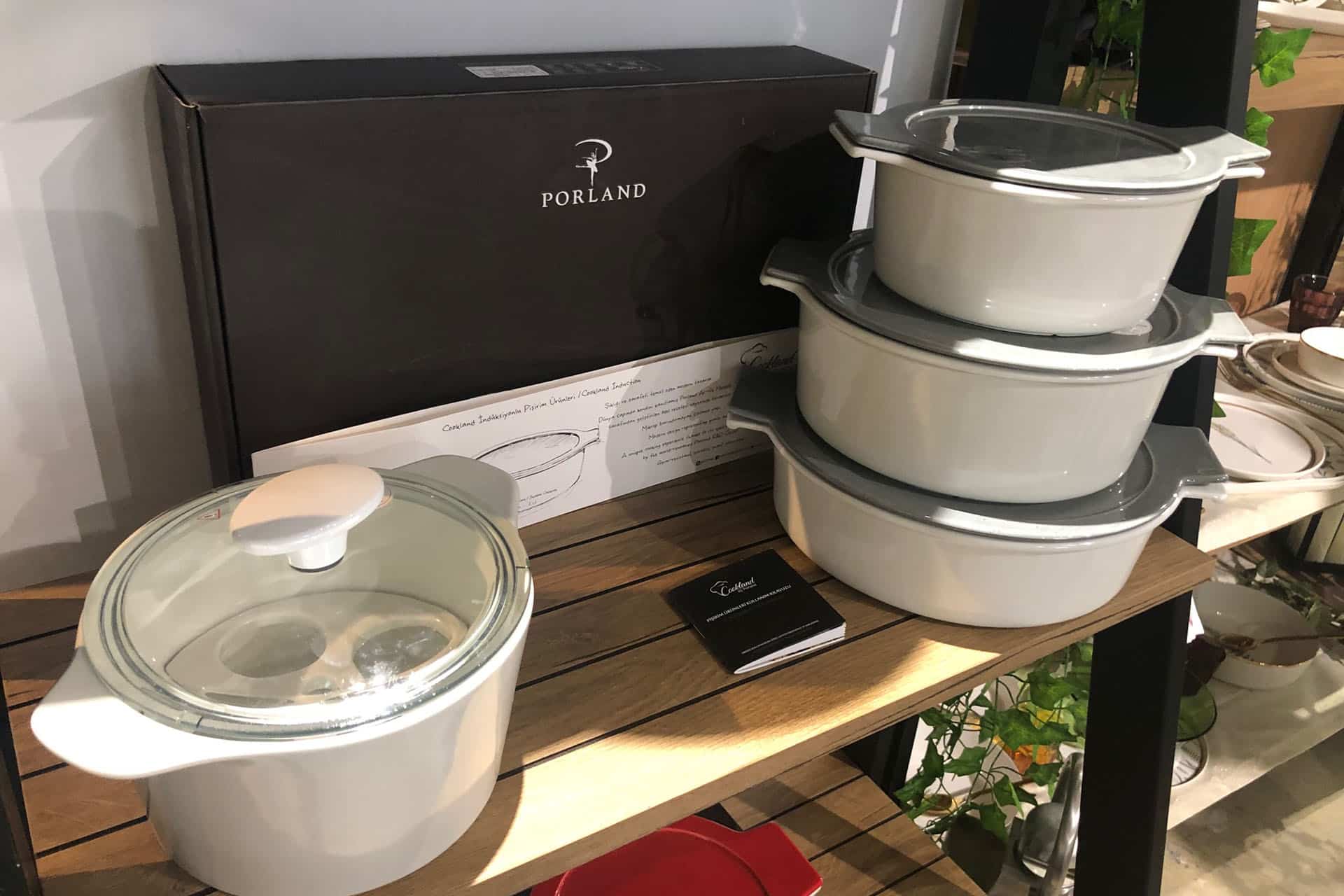 Cookland induction-ready porcelain cookware by Porland.
Overandback, known for its ceramic tableware, used the Tabletop Show to present an expanding assortment of kitchen accessories and textiles, demonstrating what CEO Glen Levitan said is a company plan to expand its retail and e-commerce presence as a one-stop dining product resource. The company also presented a vibrant, floral-patterned tabletop collection called Spring Garden in collaboration with Seattle-based illustrator and surface designer Jess Phoenix.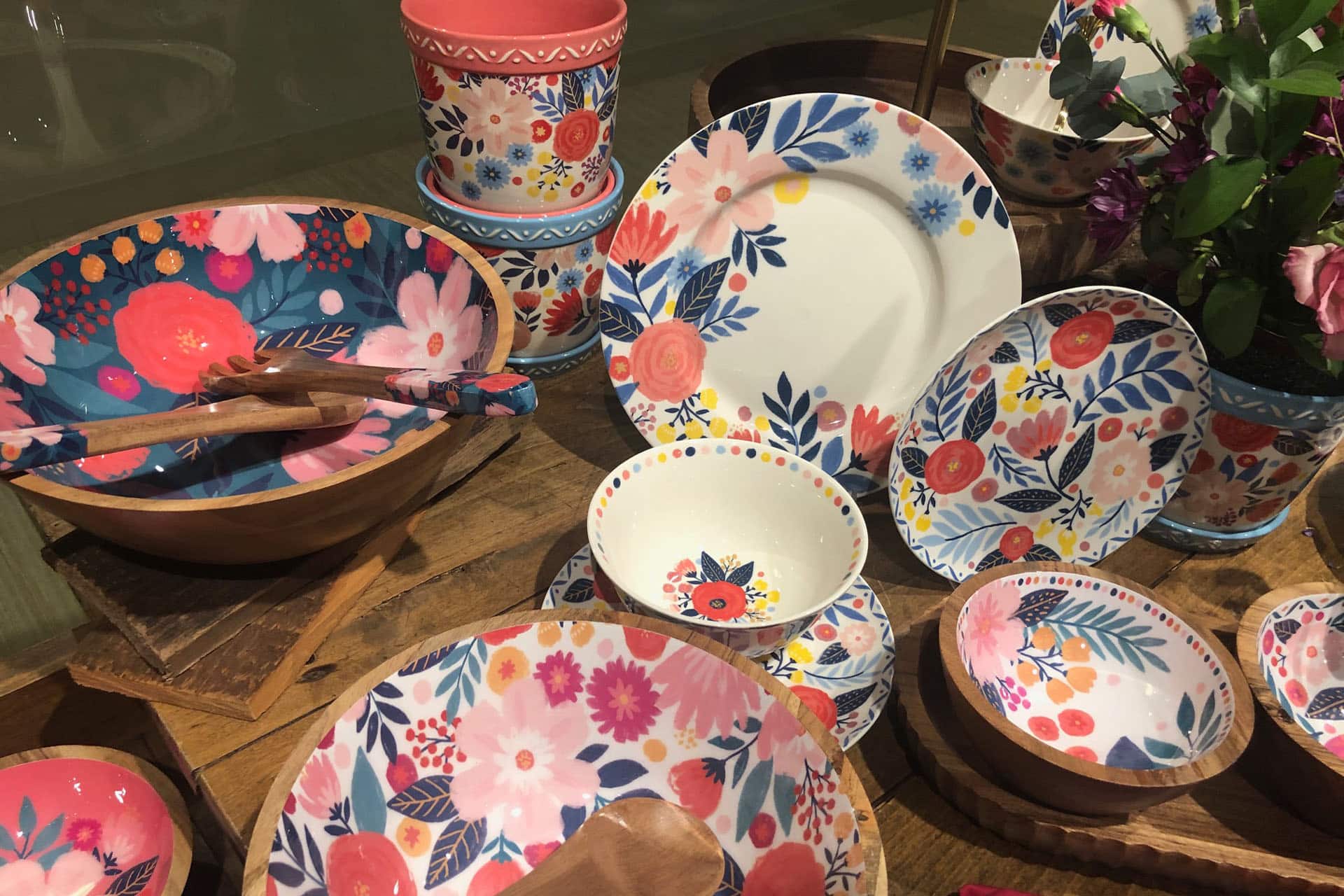 Overandback's Spring Garden tableware collaboration with illustrator Jess Phoenix.