Next week's Las Vegas Market will showcase a wide array of home goods, including gourmet housewares, tableware, textiles and décor. The show runs January 29-February 1 for permanent showrooms, January 29-January 31 for Gift & Home temporaries and January 29-February 1 for Home Furnishings temporaries.
Scroll through the slideshow below for a preview of products that will be on display in Las Vegas.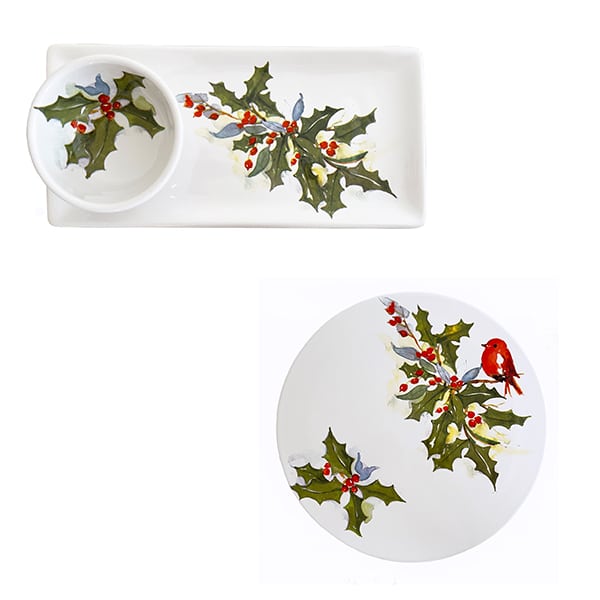 Abbiamo Tutto WinterWonderland Holly and Berries
Featuring a winter design of holly branches with berries, the rectangle tray and small dipping bowl set and round platter/cake plate retail for $68 and $62, respectively.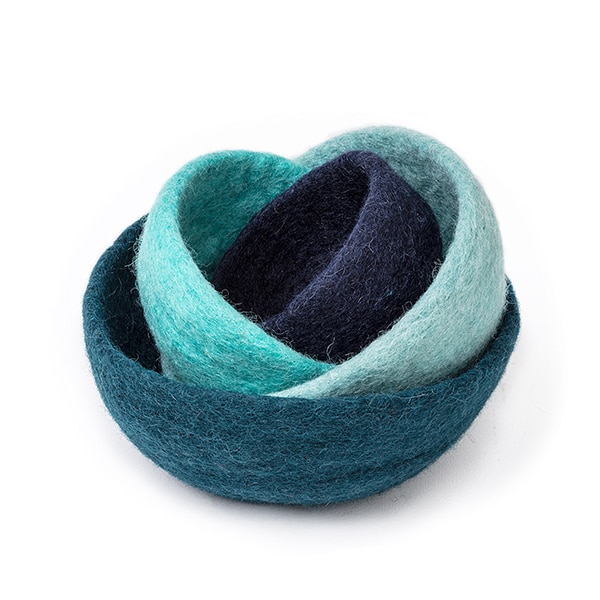 Abbott Nesting Bowls (Next Step Reps)
This set of four nesting bowls is made from 100% sheep wool and handcrafted in Nepal by local female artisans. The bowls come in shades of blue and nest within one another to keep organized when not in use. 
The bowls have an MSRP of $40.99.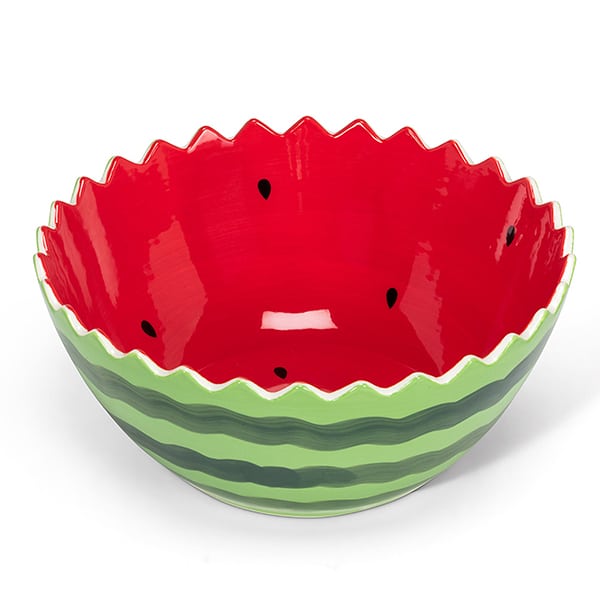 Abbott Large Watermelon Bowl (Next Step Reps)
This large bowl crafted out of stoneware has a zig-zag rim designed to look like a watermelon from the green rind to the bright red interior. 
The Large Watermelon Bowl has an MSRP of $31.99.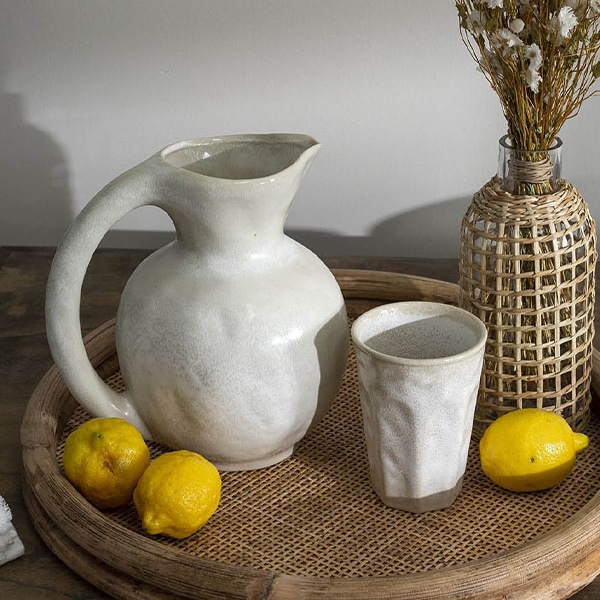 Accent Decor Ashen Collection
Part of Accent Decor's new kitchen collection, this ceramic tumbler and pitcher have a hand-painted finish and were designed to bring style and function to the tabletop.
The pitcher retails for $24, the cup retails for $6.95.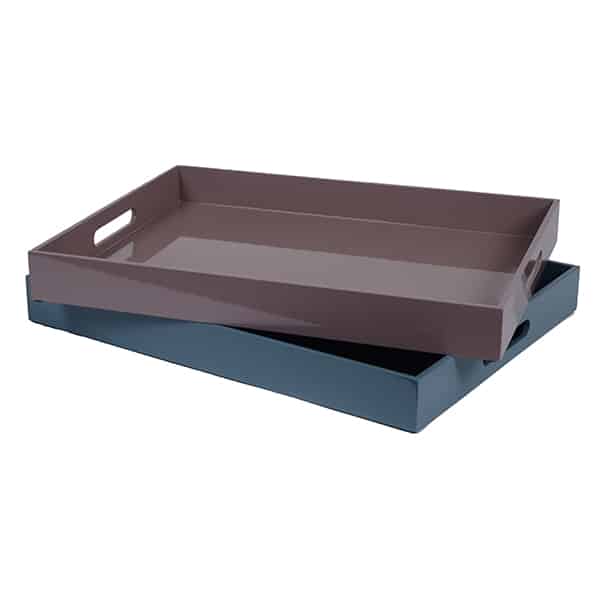 Albert L. (Punkt) Inc. Tray Collection
The Mauve and Blue Grey trays come in all sizes carried by the company from napkin trays to large serving trays. The trays retail between $26 and $160 for the different sizes.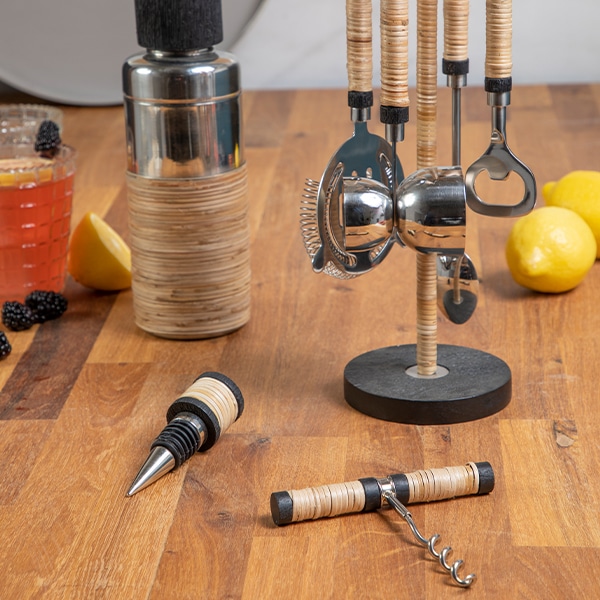 Be Home Arendal & Rattan Barware
This assortment of bar tools is a modern twist on a timeless classic, according to the company. The collection fuses black mango wood and hand-wrapped rattan.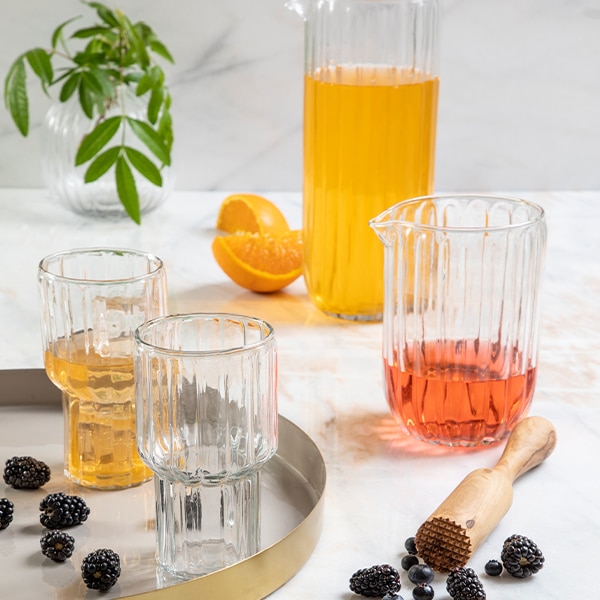 Be Home Shae Glassware Collection
This collection has slender, minimal glasses with a ribbed texture. The glasses are crafted by hand from pressed glass in small batches, making each set one of a kind.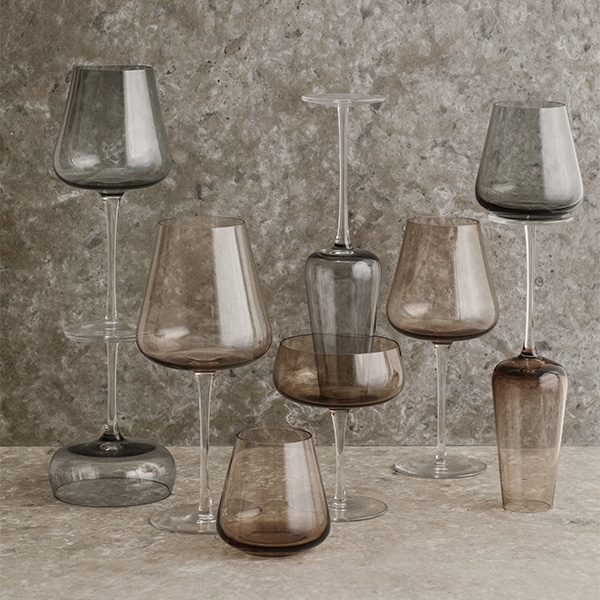 Blomus Belo Glassware
Available in warm coffee and smoky grey colored glass, the Belo line was designed by German Frederike Martens and is mouth-blown by artisans. The glassware is available as a red wine glass, white wine glass, champagne flute, champagne saucer, tumbler, water carafe and wine decanter. The stemware features a colored glass body held by a clear glass stem.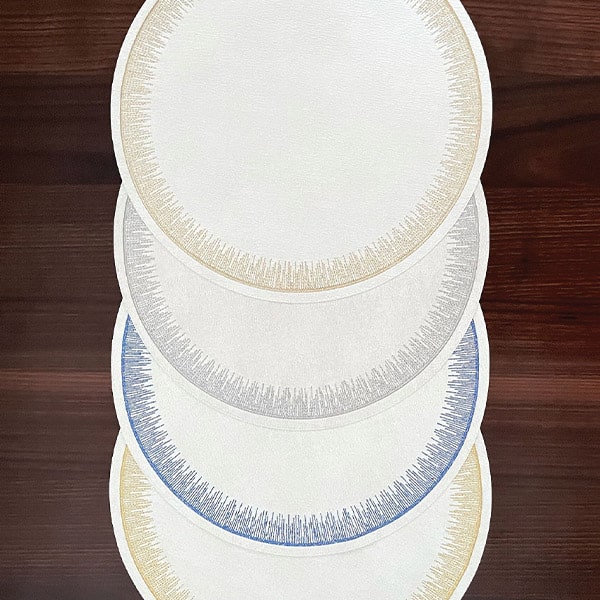 Bodrum Flare Placemats
These round placemats feature embroidery that was designed to be subtle, yet eye-catching. The 15" placemats retail for $140 for a set of four.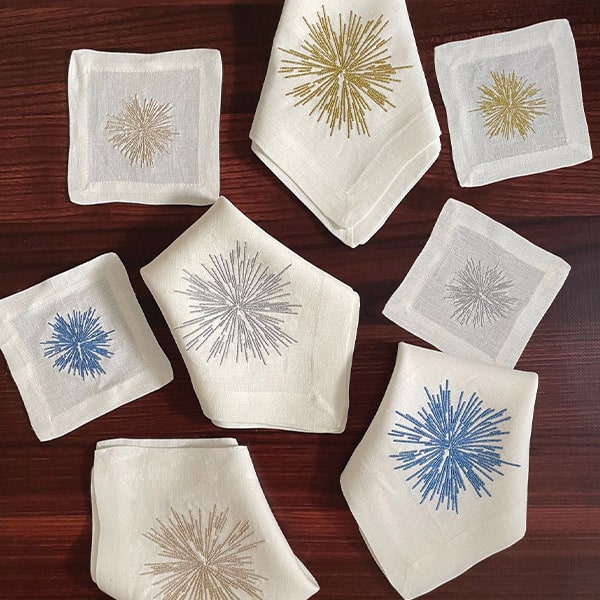 Bodrum Starburst Napkins and Cocktail Napkins
These holiday party napkins feature metallic embroidery on white linen. The napkins retail for $135 for a set of four, while the cocktail napkins retail for $54 for a set of four.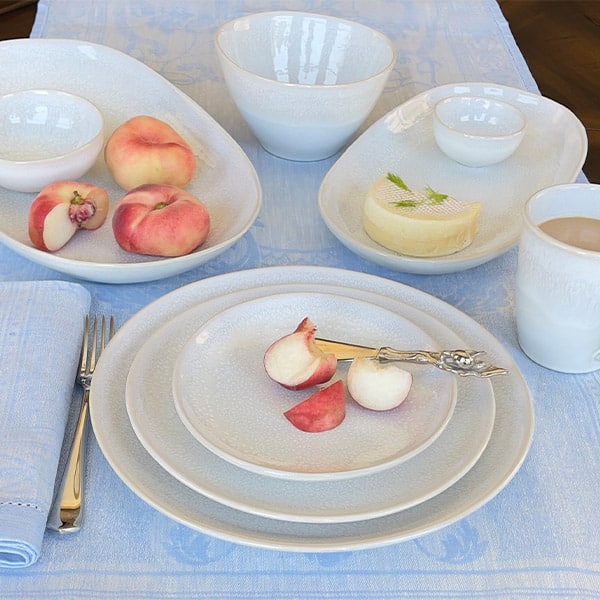 Carmel Ceramica Lily Valley Stoneware Collection
The stoneware collection is designed to be reminiscent of the floral beauty found in Carmel and Big Sur. The stoneware has a gentle reactive glaze and is dishwasher and microwave safe.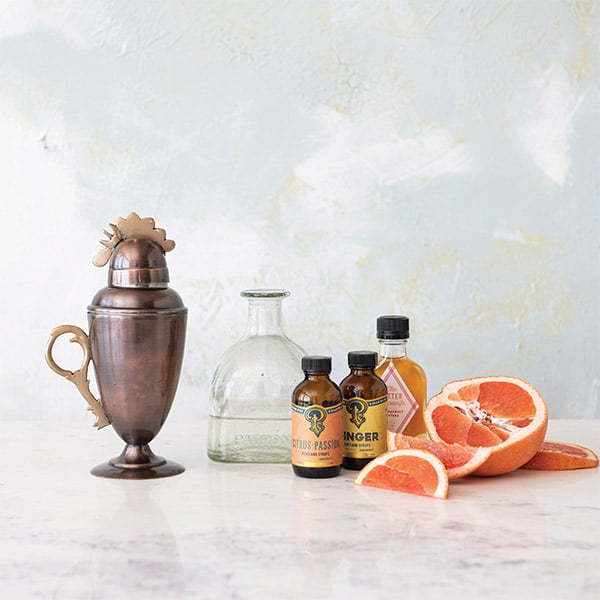 Creative Co-Op Rooster Cocktail Shaker
This stainless steel, vintage reproduction cocktail shaker has brass accents and an antique copper finish in the shape of a farmhouse rooster.
The cocktail shaker has an MSRP of $64.50.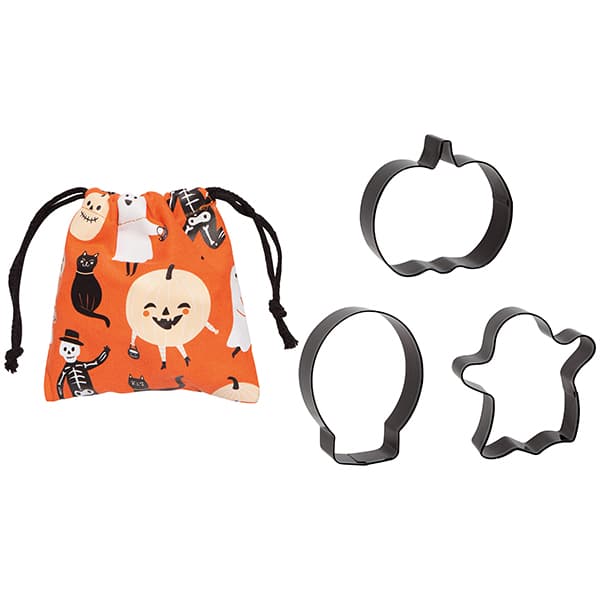 Danica Jubilee Boo Crew Cookie Cutter Set of 3
This set of three assorted Halloween cookie cutters comes in a ready-to-gift drawstring pouch.
The cookie cutter set has an MSRP of $16.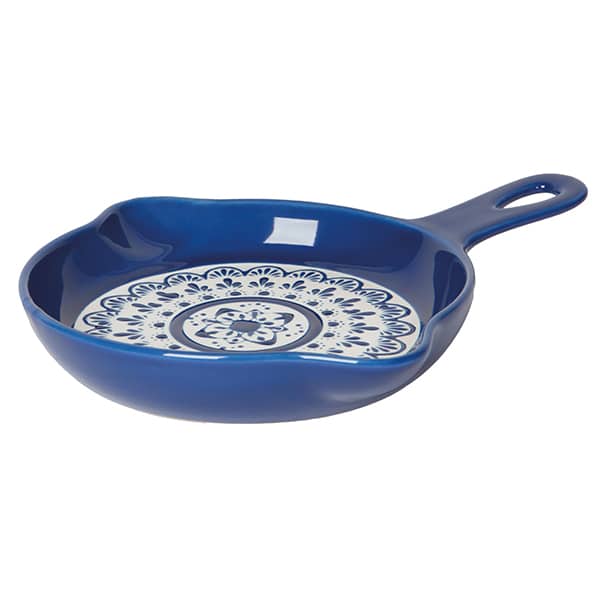 Danica Heirloom Canape Embossed Dish Porto
This porcelain canape dish has a Mediterranean-inspired design and is dishwasher, microwave and oven safe up to 482F.
The dish has an MSRP of $12.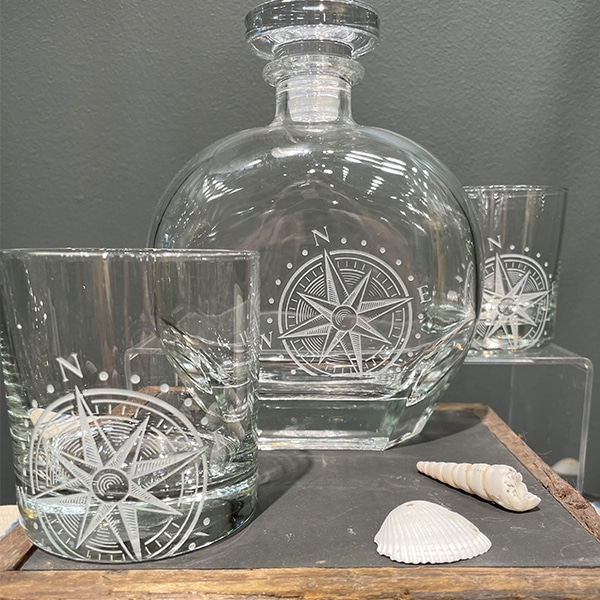 Glassautomatic Inc. / Rolf Glass Compass Star Collection
This glassware collection with a compass design features a whiskey decanter, rocks glasses, stemless wine glasses, red wine glasses and beer pints.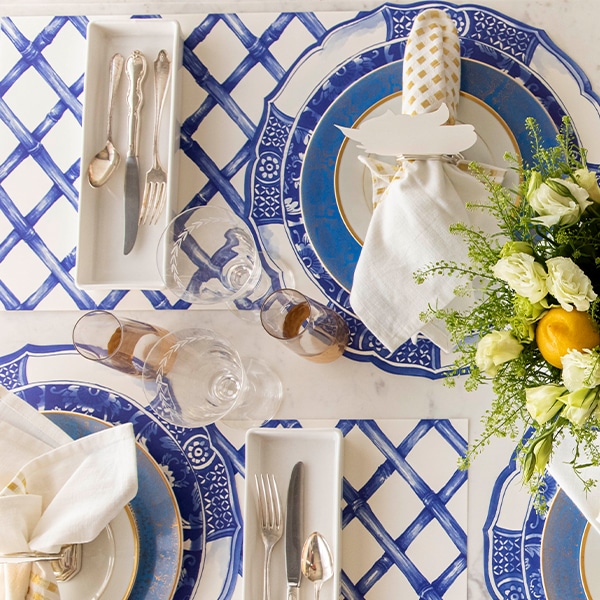 Hester & Cook Blue Lattice Placemat
This paper placemat serves as an elegant backdrop for dinners, buffets, and beyond, says the company.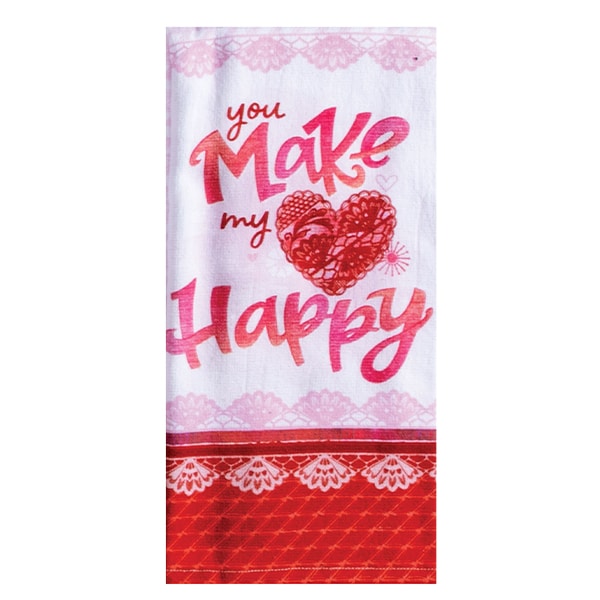 Kay Dee Designs Valentines Tea Towel (Next Step Reps)
This 100% cotton tea towel features a flat weave face and terry cloth back.
The tea towel has an MSRP of $8.99.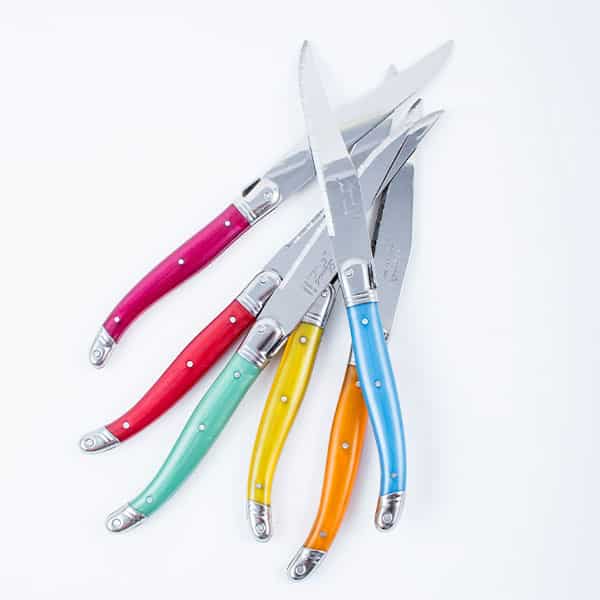 Laguiole Rainbow Knives (Kiss That Frog)
This set of six stainless steel knives from the Midi-Pyrenees region of France feature colorful resin handles.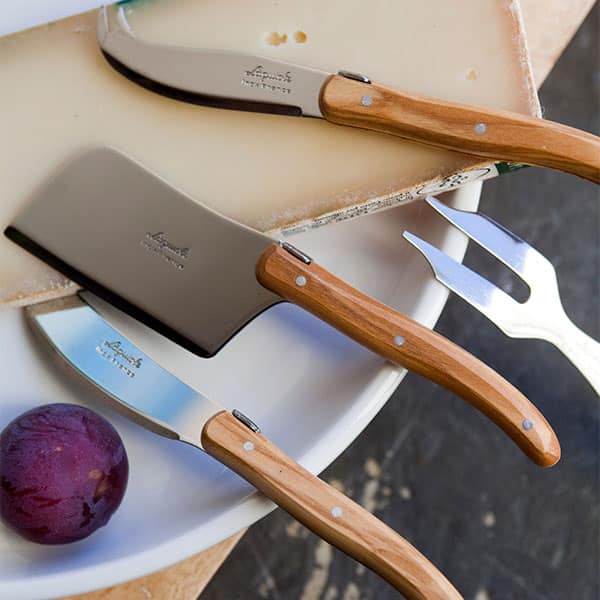 Laguiole Olivewood Large Cheese Set (Kiss That Frog)
From the Midi-Pyrenees region of France, these cheese set utensils have olive wood handles with platine detail. The set features a hard cheese cutter, a soft cheese spreader and a fork-tipped knife.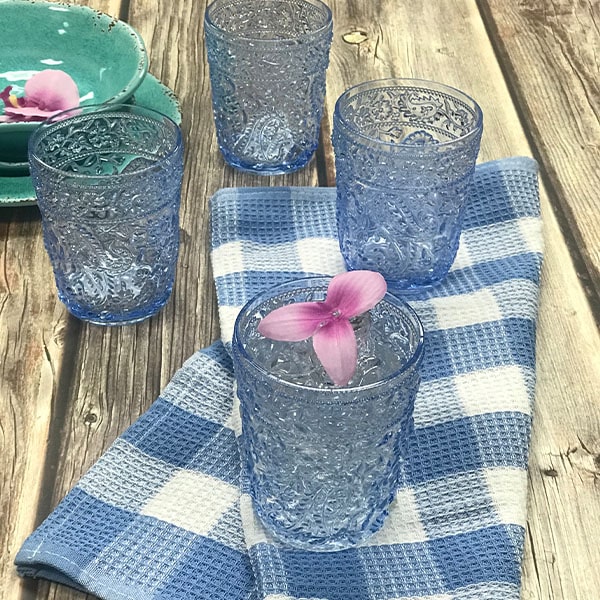 LeadingWare Group Paisley Drinking Wares
These BPA-free acrylic and Tritan material drinking wares are perfect for all kinds of events and parties along with indoor/outdoor and daily use, according to the company.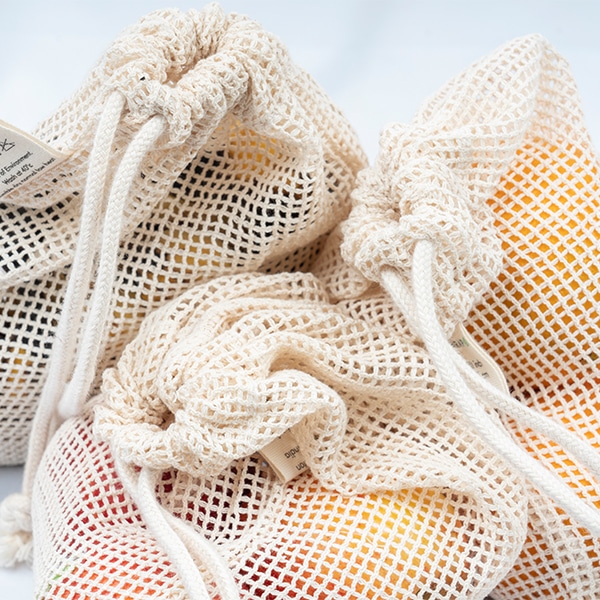 Lito Linen and Towel Mesh Product Bag
These reusable produce bags are made from 100%  biodegradable cotton that is non-toxic and unbleached. The bags are durable and reusable, says the company, good for carrying and storing heavy items or produce like onions, potatoes, carrots, apples or oranges.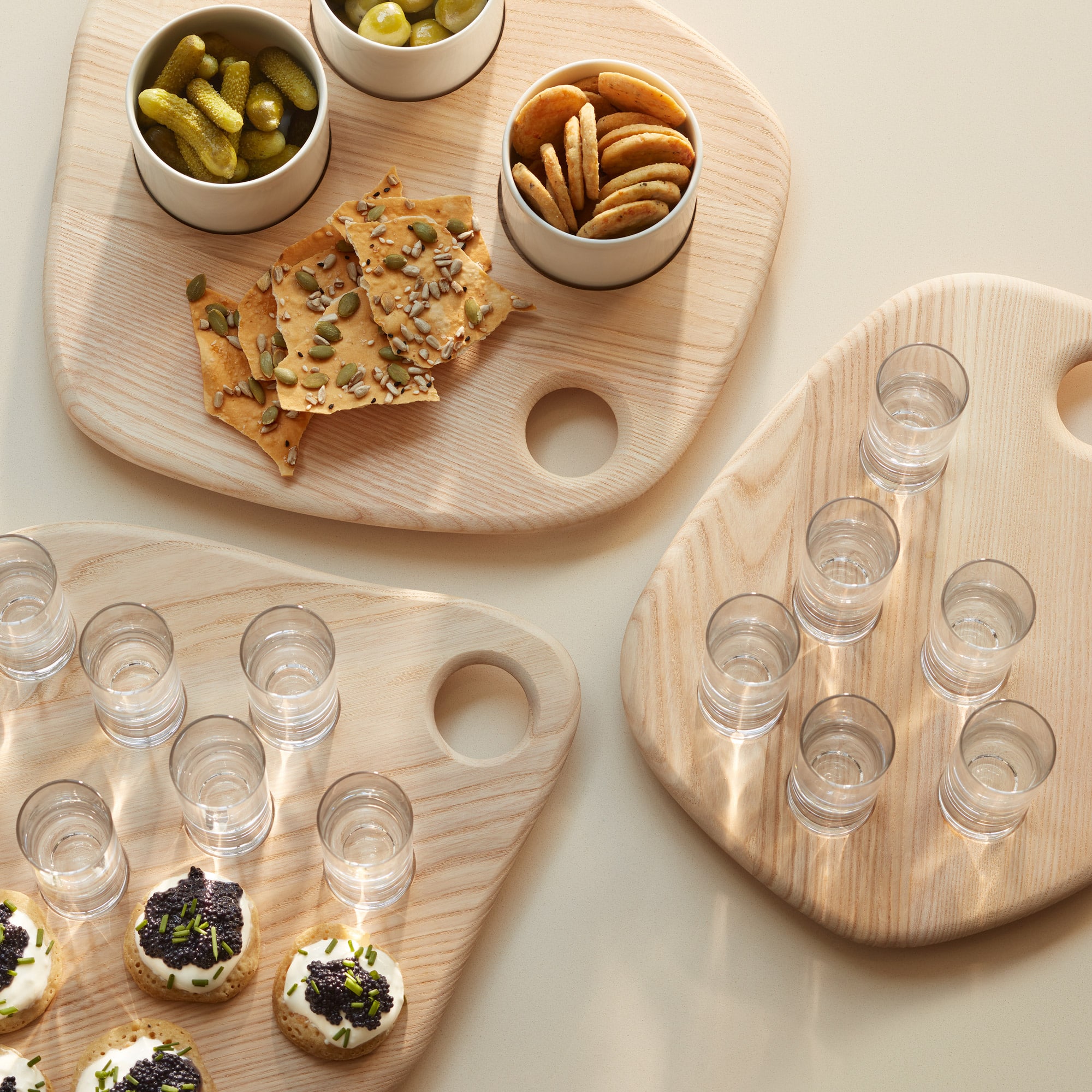 LSA International Palette Boards
These organically-shaped wooden boards have been designed to be carried like an artist's palette for ease when serving. Cylindrical glasses and porcelain bowls can be arranged to serve appetizers and snacks alongside shots.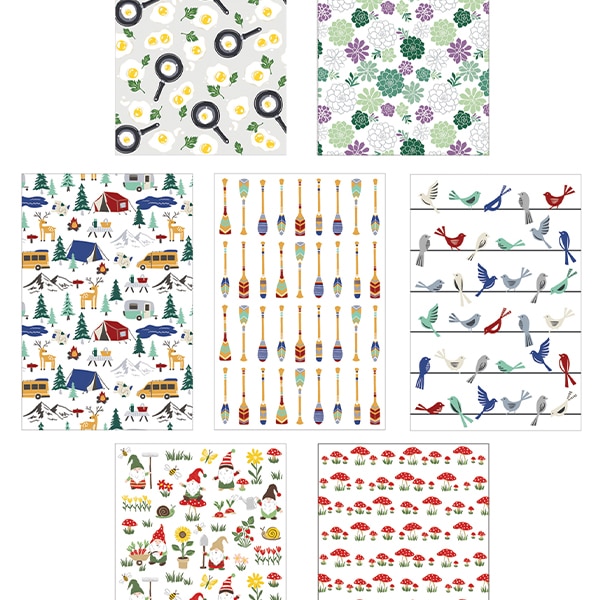 MuKitchen Designer Print Towels
These multicolor, oversized towels come in unique designs. The towels are cotton for softness and absorbency and have a hanging loop for convenience.
The towels retail for $8.99.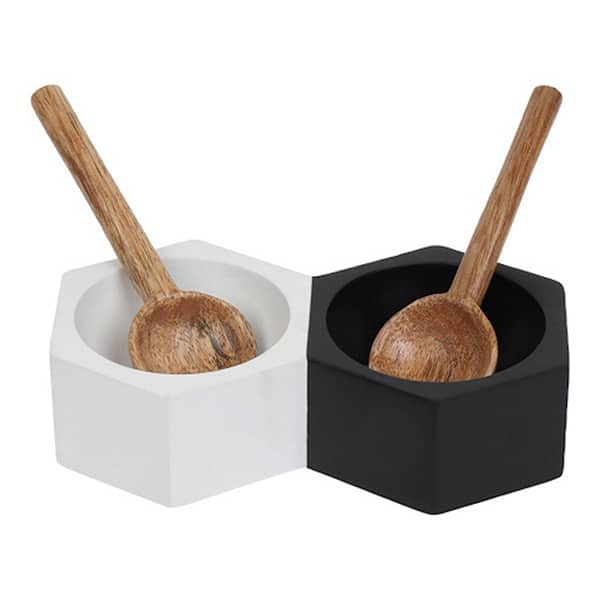 My Savory Table Marble Salt & Pepper Set (Next Step Reps)
This salt and pepper container set comes from the company's Transitional collection which is made to touch on the balance between traditional and contemporary, old and new and warm undertones with a hint of cool tones for a timeless yet modern feel.
The salt and pepper container set has an MSRP of $25.99.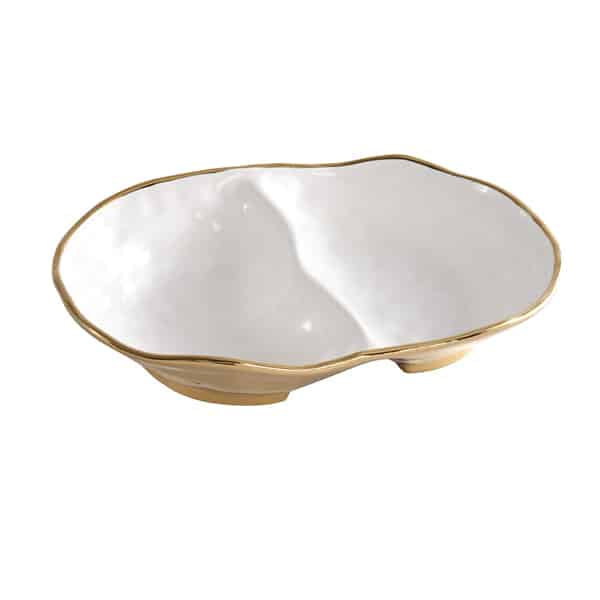 Pampa Bay Moonlight 2-Section Bowl (Next Step Reps)
The Moonlight 2-Section Bowl is made with high-fired porcelain and gold titanium. The bowl is dishwasher safe, tarnish free, stain resistant and freezer to oven to table.
The Moonlight 2-Section Bowl has an MSRP of $44.99.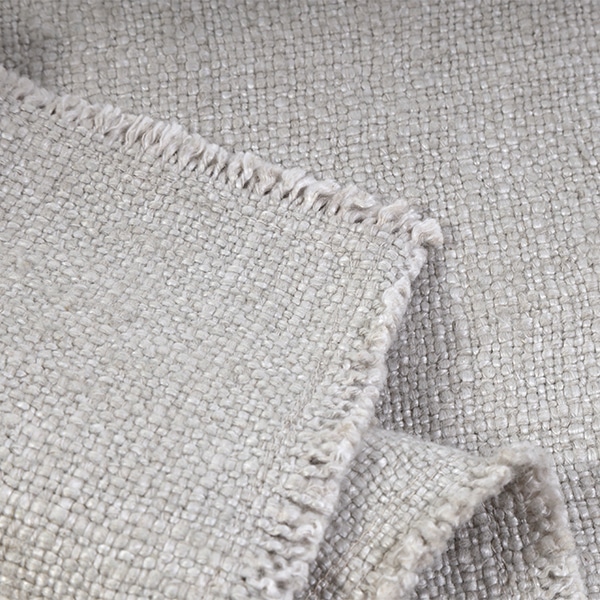 Pom Pom at Home Oakville Placemat
This placemat has a soft, heavyweight weave texture with frayed edges designed to feel organic and natural, says the company.
A set of four placemats has an MSRP of $62.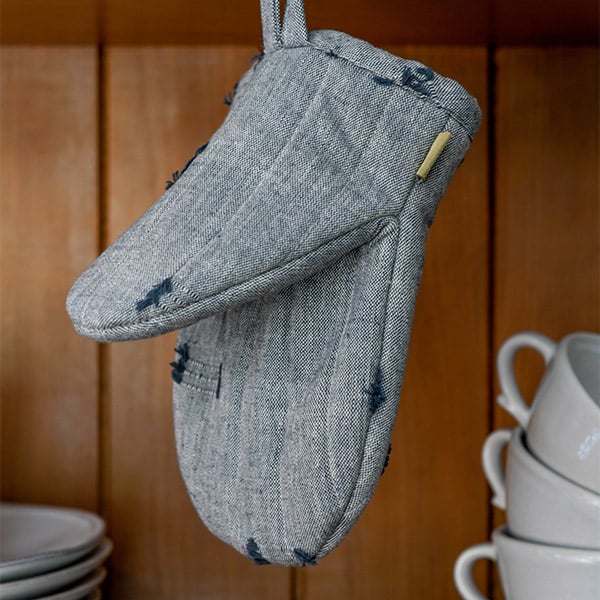 Raine and Humble Short Oven Gloves
According to the company, the short oven gloves are ideal for stovetop cooking or use with a countertop air fryer or slow cooker. The gloves are made with 100% recycled cotton with natural dyes. They are available in slate blue (pictured), ruby red and burnt olive.
The Cord Wrapper Cord Organizer
This cord organization gadget can be used on small kitchen appliances, office devices and more. The organizer uses a heat-resistant adhesive and applies to most surfaces in four simple steps: wipe it, peel, stick it and wrap it, says the company.
A two-pack of cord wrappers has an MSRP of $19.99.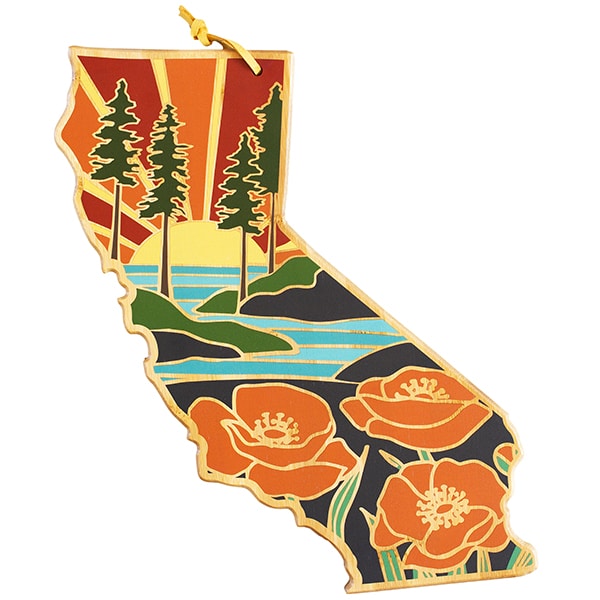 Totally Bamboo Summer Stokes California Board (Next Step Reps)
This board in the shape of the state of California features landscape artwork by Summer Stokes. The artwork is made to highlight the natural splendor of the state, says the company. A UV printing technique is used to add color to boards while ensuring a lasting finish.
The Summer Stokes California Board has an MSRP of $40.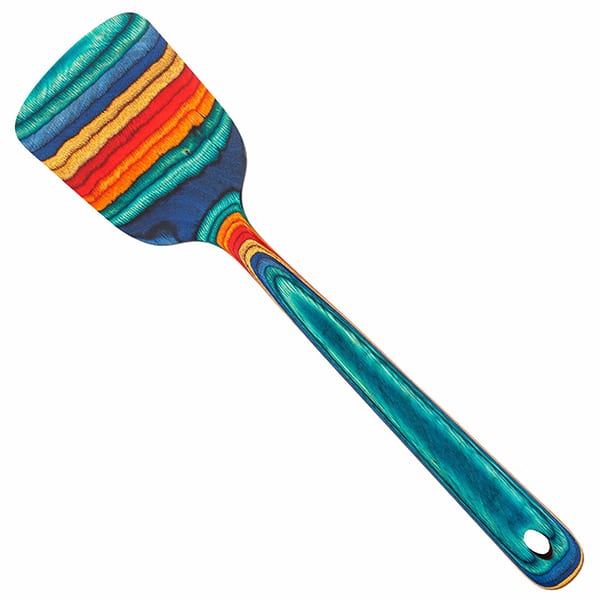 Totally Bamboo Baltique Montego Bay Collection Spatula (Next Step Reps)
This spatula is crafted from layers of colored birch wood to create a color array. The collection is inspired by the sunsets on the shores of Jamaica with a blend of cool teal, deep blue, golden sand, sunset red and orange. 
The spatula has an MSRP of $13.99.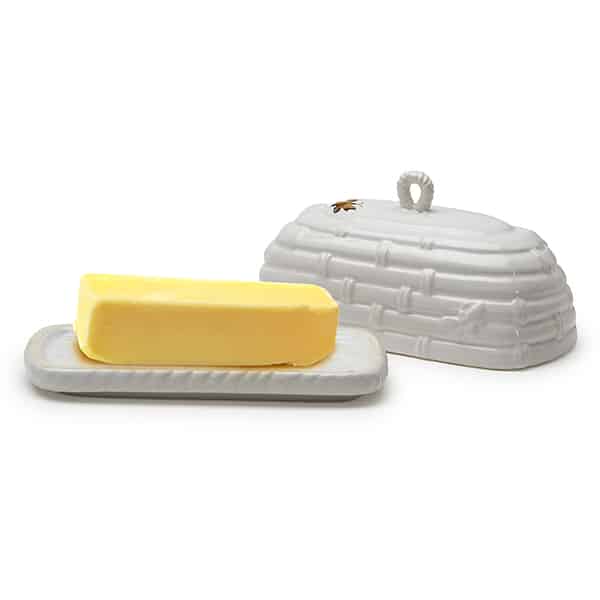 Two's Company Golden Bee Butter Dish
This beehive dish is made from porcelain with golden bee accents designed for butter and various kinds of cheese.
Verve Culture Italian Pasta Chitarra with Rolling Pin
Made of beechwood with stainless steel guitar-like strings, the chitarra is designed to make long strings of pasta the old-fashioned way, according to Verve Culture. The dual-sided unit produces 3mm and 6mm noodles. 
The Italian Pasta Chitarra has an MSRP of $49.