The IHA Chief Housewares

Executive

 

SuperSession

 returned this week as an in-person education and networking event for home and housewares industry leaders.
Day one of the two-day event at the Hilton Rosemont O'Hare kicked off with an industry executive panel exploring the lasting impact of managing businesses through the pandemic. Other sessions examined the opportunity for IHA members to support pending congressional legislation on ocean shipping reform; the new consumer-centric retail model focused on unified commerce; changing consumer comfort levels because of the COVID Delta variant; and employment legal consideration related to such COVID issues as vaccine mandates and return-to–workplace policies. 
Housewares Hot Seat: The New Beginning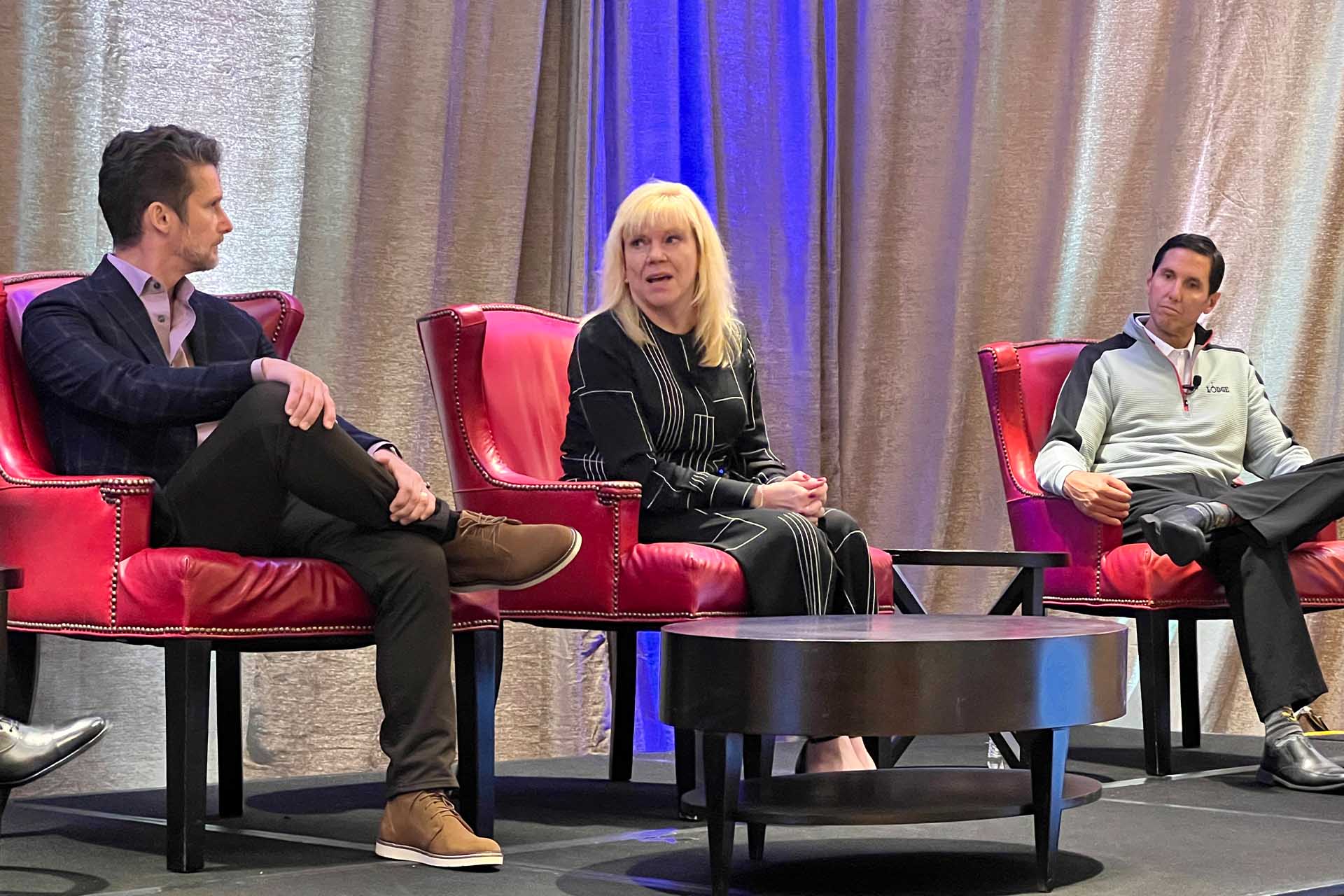 Transparency with consumers and retailers, the usage of data on a frequent basis to build a consumer-centric approach and innovating beyond product were some ideas discussed today during "Housewares Hot Seat: The New Beginning" at IHA's CHESS.   
Mike Otterman, the president and CEO of Lodge Cast Iron, Kris Malkoski, Business Unit CEO of Newell Brands and Glenn DeStefano, president of StoreBound, discussed some of the post-pandemic growth strategies companies can use. 
DeStefano said one of the most important things was transparency to the team and retailers, letting them know what needs to be done and how it can be accomplished in the new world.   
On the retail side, DeStefano noted that the transactional aspect of interacting with retailers has become more challenging virtually. However, Malkoski said this could be a benefit, as frequency of communication has increased without the aspect of travel; it is easier to stay in front of the retailer. 
On balancing consumer-centric marketing, Malkoski talked about the importance of researching how the pandemic affected consumers to better reach them. DeStefano saw TikTok as a great resource, using the relationship as a cross-functional standpoint to talk to the consumer and retailer at the same time. Otterman saw the authenticity of Lodge as the cornerstone of their brand engagement, with staying true to the brand as the way to success. 
The panelists noted it is valuable to innovate beyond the product when it comes to marketing, messaging and satisfying the consumer and retail customer. Malkoski stated Newell has focused on increasing content with better messaging to highlight the product, while Otterman said Lodge has decided to stop chasing promotional opportunities in favor of singular opportunities the company does well.  
Tracking the Return to Normal: How High-Frequency Data Offers Insight 

Into

 Consumers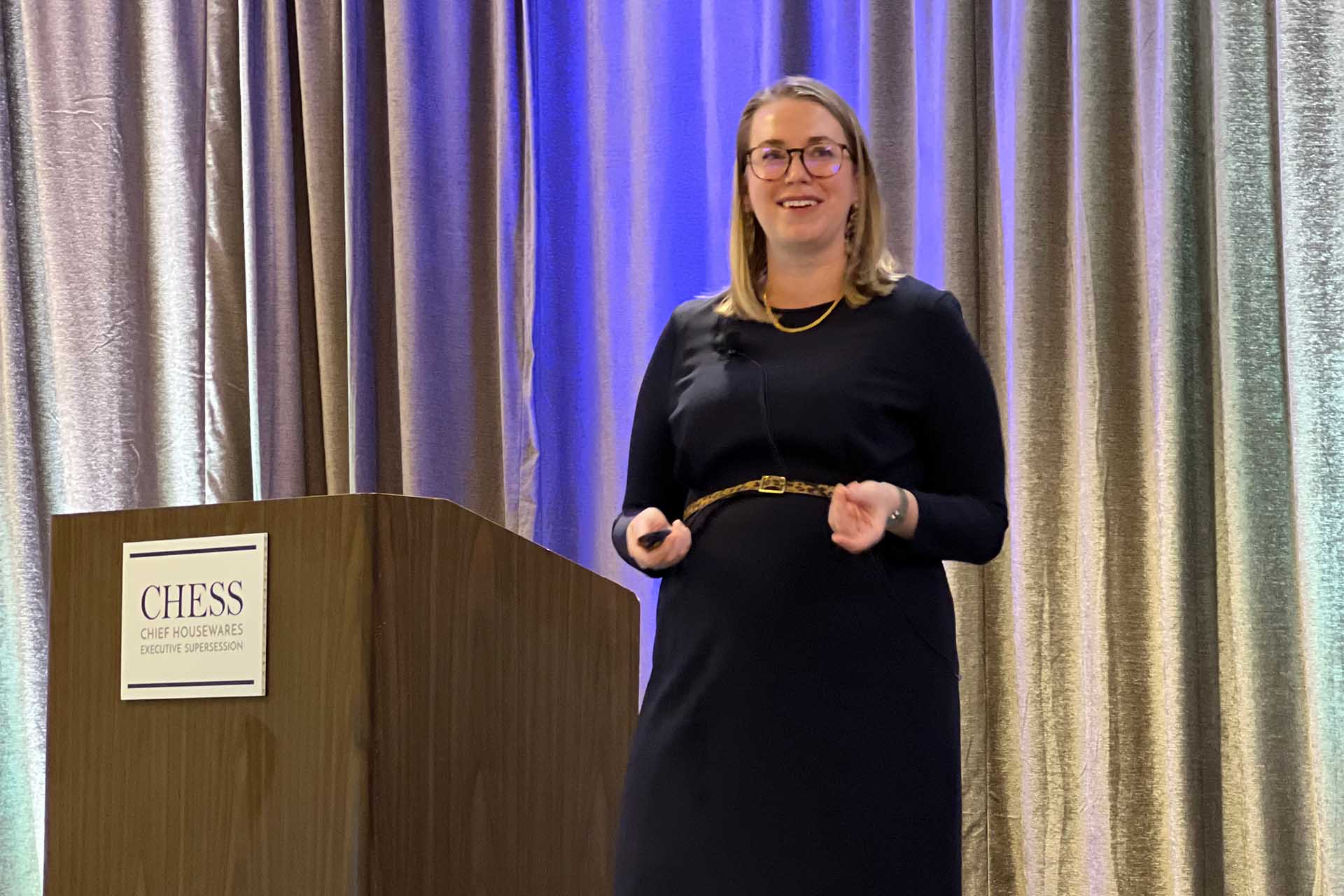 Tracking consumer attitudes and their shifting attitudes across a wide range of categories from COVID-19 concerns to dining and social events to spending and shopping is important for planning and thinking about the workforce.  
Claire  Tassin, a retail and e-commerce analyst for Morning Consul,t works to deliver insights on what people think in real-time, discussed these attitudes in the CHESS session, "Tracking the Return to Normal: How High-Frequency Data Offers Insight Into Consumers." 
Tassin examined concerns through three lenses: generationally, income-wise and community-wise:  
COVID-19 Concerns  
Generationally, there is a tension between older individuals with an increased risk of severe COVID cases leading to greater concern and younger individuals engaging in unsafe behaviors. The pandemic has varied for low- and high-income brackets with high-income consumers having saved money with their spending surging. Community-wise, Tassin sees urbanites' spending rising and suburban consumers eager to be out and about.  
Dining and Social Events  
Consumers under 40 are the most likely to return to social activities given the lower risk for COVID. High-income consumers have easier access to testing, are more likely to be vaccinated and will pay a premium to choose experiences that are in line with their preferred protocols. In communities, suburban areas have the advantage of access to larger public spaces with distance more readily maintained.  
Spending and Shopping  
Though online shopping growth is somewhat higher for younger generations, online shopping grew during the pandemic for all income groups. Community-wise, urban consumers show the most growth in online shopping, benefiting from the delivery options available in cities.  
Looking forward, Tassin said concern levels are most volatile at demographic levels, influenced by swings in headlines and specific trends. A return to social events will be led by younger, wealthier, suburban communities, and spending will rebound led by young and urban consumers who demonstrate increasing comfort with, and preference for, shopping in stores.  
The New Hybrid Workplace: How Your Company Can Avoid Hiccups and Earn Hurrahs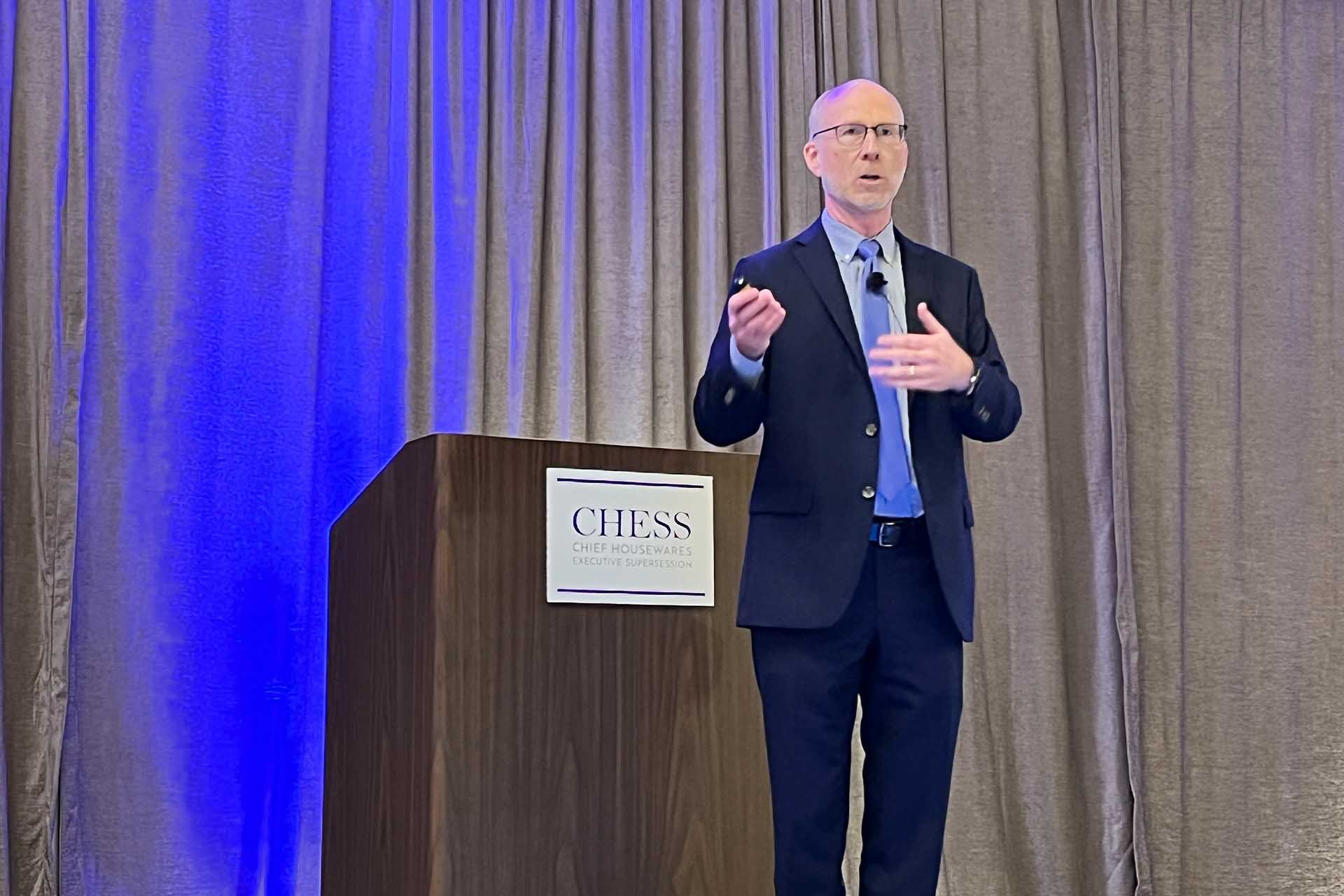 The coronavirus has changed the nature of the workplace creating a new "hybrid workplace" with employees splitting time between the office and working from home, with return-to-workplace issues including COVID-19 vaccination mandates, workplace changes, work from home accommodations and establishing best practices.   
David Michael, a management-side employment attorney and partner at Gould + Ratner, examined the latest developments on the workplace in the CHESS session, "The New Hybrid Workplace: How Your Company Can Avoid Hiccups and Earn Hurrahs."  
COVID-19 vaccination mandates are one of the biggest employment law topics, Michael said, citing an EEOC guidance that said, "The federal EEO laws do not prevent an employer from requiring all employees physically entering the workplace to be vaccinated for COVID-19, subject to the reasonable accommodation provisions of Title VII and the ADA." However, the EEOC also states, "Once an employer is on notice that an employee's sincerely held religious belief, practice or observation prevents the employee from getting a COVID-19 vaccine, the employer must provide a reasonable accommodation unless it would pose an undue hardship." Michael stressed it is important to check state and local laws and ordinances carefully when outlining guidelines.  
When thinking about return-to-workplace, Michael said, it is important to answer the questions: when, where and how. Do employees return full-time or in a hybrid model? Do they return at once or on a gradual basis? Is it the employee's choice to return?  
Companies must also consider necessary workplace changes including masks, social distancing, visitor access restrictions, ventilation updates, plexiglass, reconfiguring conference rooms, bathroom access and food and drink access, Michael stated.  
When it comes to a hybrid model and work-from-home policies, the best practice, Michael said, was to develop a policy.   
He created a list of things companies should do including:  
Determine who is eligible. 

 

Decide who dictates the arrangement and if it is temporary. 

 

Evaluate if employees are performing all essential job duties and update job descriptions. 

Make hours of work clear. 

 

Put a timekeeping system in place. 

 

Establish communication expectations. 

 

Institute in-workplace presence expectations. 

 

Create a system for reporting absences. 

 

Look into expense reimbursement and use of company equipment and materials. 

 

Resolve how company information and data will be protected.
 




The View from Washington: A Progress Report on Supply Chain & Tariff Relief Action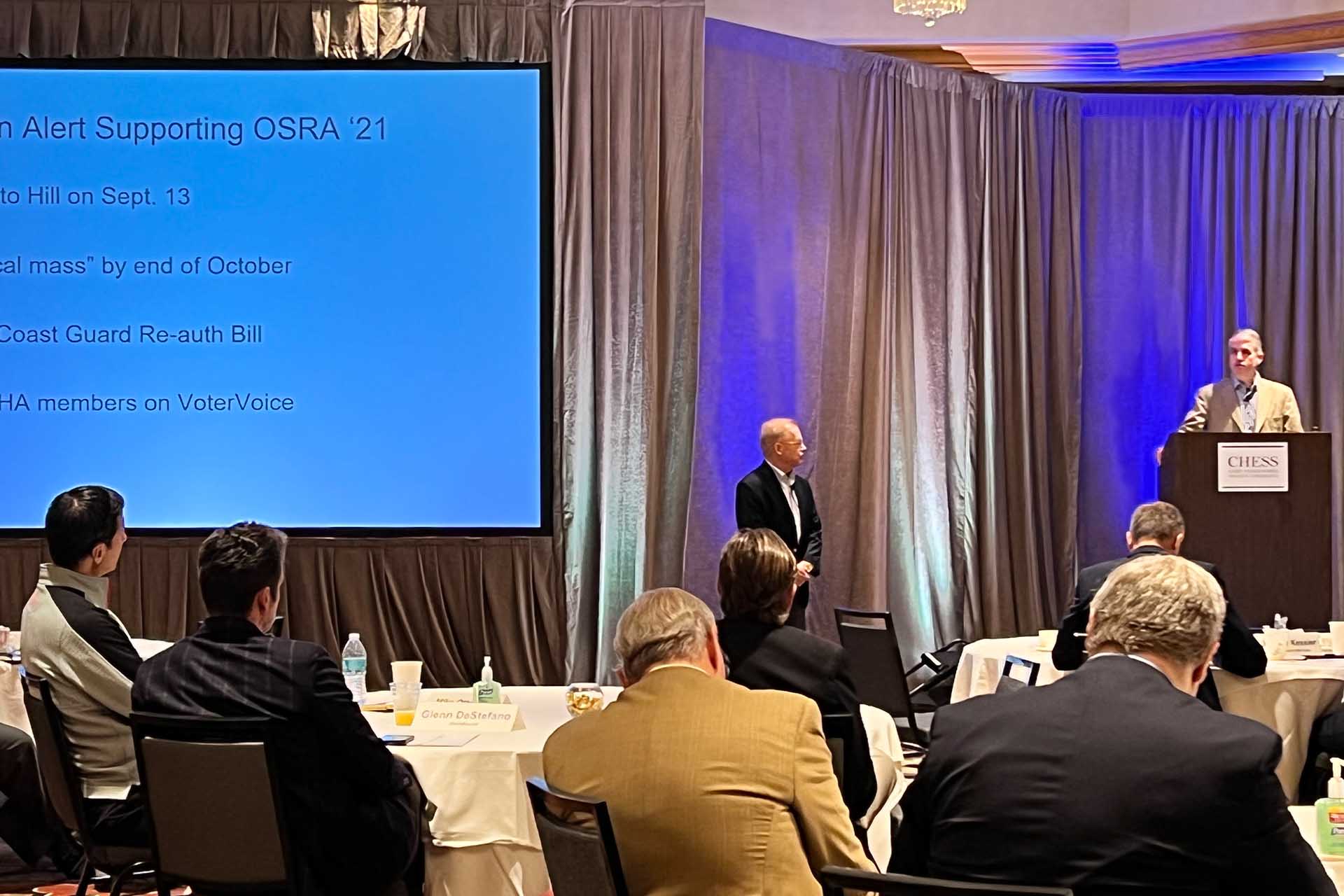 Supply chain issues plague the entire economy. Surging demand, limited inventories and workforce shortages resulted in the perfect storm for supply chain breakdowns. The shipping container, the workhorse of globalization, sits at the eye of the storm," says government relations consultant Craig Brightup. 
Brightup, CEO of The Brightup Group, opened CHESS 2022 with this assessment of the current crisis that is hampering global business in Q4.  Brightup, who leads IHA's office in Washington, D. C., outlined measures underway in Congress to solve the supply chain/shipping container crisis and to negotiate potential tariff revisions. Rafe Morrissey, of Morrissey Strategic Partners, LLC, joined Brightup in urging IHA members to communicate with U.S. legislators to take action on several fronts. 
Ocean Shipping Reform Act of 2021 
Brightup reported that international conflicts and cost increases related to the supply chain crisis have propelled an unusually rapid response in Congress. Additionally, since these problems add to inflation, bipartisan legislative action is in everyone's interest.  
IHA has taken the lead in the Detention and Demurrage Coalition, in cooperation with the National Industrial Transportation League, the trucking industry and many industry associations to advise legislators on the HR 4996 Ocean Shipping Reform Act of 2021 (OSRA). 
This bill:
Equals scales for shippers with ocean carriers

 

Establishes minimum shipping service contracts

 

Provides the Federal Maritime Commission (FMC) with greater enforcement power

 

Burden of proof shifted to ocean carrier/marine terminal

 

Authorizes FMC to order refund relief and civil penalties

 

Permits third-party challenges in complaints vs. carriers

 

Anti-retaliation safeguards to protect complainants    

 
Action Alert: Support OSRA '21 
Brightup and Morrissey explained the campaign to educate legislators about the urgent need to address this crisis. They have prepared a letter template for IHA members on VoterVoice that makes it easy to contact your representatives.   
Morrisey urged IHA members to submit their letters to Congress before October 30 to effect change and improve business conditions. The letter template is available at https://detailsmatterpetersllc.com/action-center. 
Trade and Tariffs 
IHA works closely with the National Retail Federation and belongs to the Americans for Free Trade coalition.  Business leaders are actively monitoring the Biden administration's actions to ease tensions with the EU and its continuation of Sec. 301 tariffs on Chinese goods. The administration is doing a "top-to-bottom" review of U.S.-China policies for tariff reconsideration within the context of China's controversial actions with internal minorities and regional neighbors. 
Brightup also discussed the U.S. Innovation and Competition Act, S. 1260 and lawsuits before the U.S. Court of International Grade (CIT). 
The New Retail:

 

Born in China, Going Global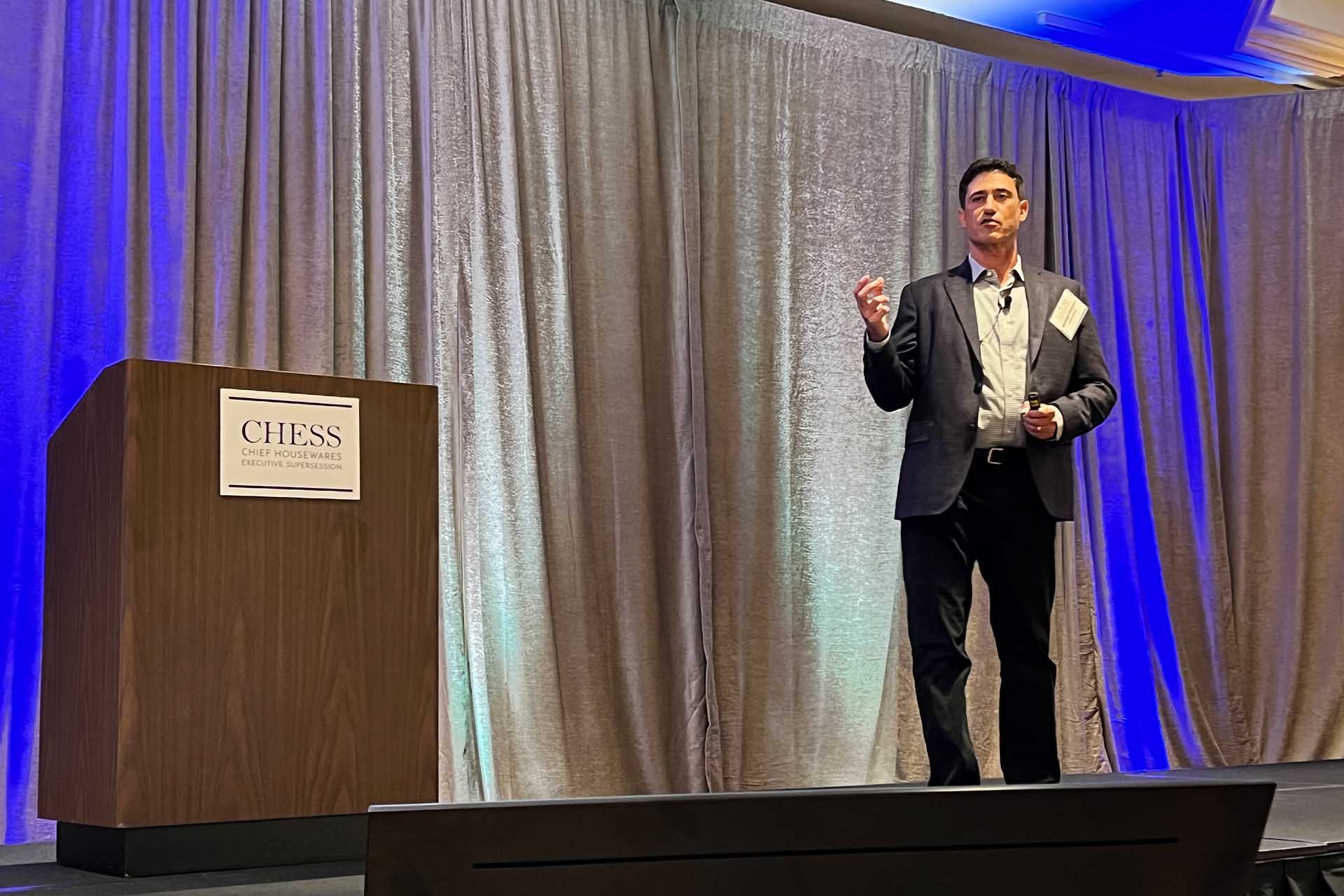 "Humans are born with an internal hard drive. Today we all walk around with an external hard drive in our hands. Retailers must find the space between," explained Michael Zakkour, founder and CEO of 5 New Retail, as he compared consumers to the cyborg characters in popular science fiction stories. 
Zakkour outlined how technologies and digital tools across all areas are transforming marketing, sales and distribution for creators and purveyors of goods and services. He stated that this model can be experienced today in China and Asia, which is four to five years ahead of the U.S.  
Reframing the familiar omnichannel view of retail, Zakkour presented the concept of unified commerce which joins interactions, channels, systems and products. 
Today's consumers have a "spoil me or else…" mindset and want ubiquity and limitless choices.  
In his view, consumer-centric digital commerce includes:
New Retail – t

he complete integration of online/offline/tech/social commerce/media

 

New Consumption 

– new journeys /new demands/new spaces

 

New Technology 

– the means to an analog end  

 

New Supply Chain 

– fulfillment/supply chain/logistics as enabler and competitive advantage 

 

New Finance 

– fintech/digital payments/crypto/NFTs

 

New Organization: retailer/wholesaler/media/marketplace/tech
In order to leap beyond continuous improvement to transformation and reinvention in the evolution of retail and brands, the agile business rethinks where and how to sell in terms of: 
Ecosystems

: 

Amazon, Walmart, Target, Shopify, Home Depot

 

 

Platforms

: Thematic content aggregators: YouTube, Netflix, Instagram  Google

 

 

Habitats

:

  

Digital and physical—where product appears in experiential environments.

 
Zakkour illustrated how businesses in China use QR codes to embed shopping experiences in social media and physical products and how to apply live streaming. He showed cashless stores that integrate physical and digital environments in three-dimensional universes. 
He closed with comments on the retail transformations based on data science technologies for understanding the consumer journey and managing the supply chain.